Columbine's religious tiles must be mounted, says judge
Columbine High School had banned from its walls 90 tiles memorializing two slain students because they contained religious imagery. One family wanted to paint the date of the tragic shooting along with the words "Jesus Wept." Another used a cross. Another wanted to say, "Jesus is Lord." But on Monday, U.S. District Judge Wiley Daniel said the ban violated the families' freedom of expression, and said the tiles must be posted within 20 days. The school's attorney is recommending an appeal, but The Denver Post editorializes, "We hope that, upon reflection, the school will recognize Judge Daniel's decision as the right one and gracefully accept it." The Rocky Mountain News sees an even larger lesson: "This lawsuit is a useful demonstration that you can equally well get sued if you don't allow the expression of constitutionally protected religious views. … A school violates the free exercise clause if it permits secular tiles but not religious ones."
Anti-hatred law isn't funny, says Mr. Bean
Proposed legislation in Britain outlawing the incitement of religious hatred would mean the death of religion-based comedy, says Rowan Atkinson. "Having spent a substantial part of my career parodying religious figures from my own Christian background, I am aghast at the notion that it could, in effect, be made illegal to imply ridicule of a religion or to lampoon religious figures, said the comedian, famous for his roles as Mr. Bean and Blackadder, in a letter to The Times of London. But Home Secretary David Blunkett, who proposed the legislation, says Atkinson's fears are misplaced. "Fair comment is not at risk, only the incitement to hate," he said.
Dan Rather: Coming home 9/11, I read the Bible
The CBS anchor talks to Texas Monthly magazine about covering the terror attacks:
That first day, I got home at five-fifteen in the morning. I know from past experience that you can't just have a glass of milk and go to bed. There's always a long glide down. This time, there was no glide down. My head was so full. I had to be back at the office at nine the next morning. I tried to read for a while, something completely different. I read the Bible. Frequently that will take my mind off things. It didn't. Then I picked up whatever I could find. I tried to read Richard Reeves's new book about Richard Nixon. I got through three sentences. I ate, paced, tried to sleep. Sleep wouldn't come.
Bono on grace (again)
"It's a powerful idea, grace. It really is," the U2 lead singer tells Launch.com. "And, you know, we hear so much of karma and so little of grace. Every religion teaches us about karma and, well, what you put out you will receive. And even Christianity, which is supposed to be about grace, has turned, you know, redemption into good manners, or the right accent, or, you know, good works or whatever it is. I just can't get over grace—[it's] so hard to find." Actually, Mr. Bono, we heard you the first time.
German sect protects Jews against biological and chemical attacks
Beth-El Industries, run by a group of German Protestants, is seeing a surge in work since the September 11 terror attacks in America. The community—which believes that Jesus will return only if all Jews return to Israel—creates air-filtration systems for use after nuclear, biological, or chemical attacks. "Its business is based not on any intent to generate profit, but rather on ideology," says Tel Aviv's Ha'aretz newspaper. "The group believes that it has a responsibility to protect the Jews from experiencing another tragic Holocaust. In other words, one can say with inescapable irony, the members of the group will breathe easier knowing Jews are protected from poison gases by their invention." The Wall Street Journal covered the group and its air-filtration business back in 1998. "We must help defend Israel because, as it says in the Bible, the Messiah will save only the Jews and a small group of goyim who live peacefully amongst them," community elder Gerhart Streiler told the paper then. "We have no interest in converting the Jews, as they are God's chosen people. On the contrary, they are our ticket to the coming of the Messiah!" Now the company is getting its first orders from the U.S.
Other stories
Responding to terrorism:
Church life (and death):
Other stories of interest:
Related Elsewhere:
See our past Weblog updates:
October 18 | 17 | 16 | 15

October 12 | 11 | 10 | 9 | 8

October 5 | 4 | 3 | 2

September 28 | 27 | 26 | 25 | 24

September 21 | 20 | 19 | 18 | 17

September 14b | 14a | 13 | 12 | 10

September 7 | 6 | 5 | 4

August 31 | 30 | 29 | 28 | 27

August 24 | 23 | 22 | 20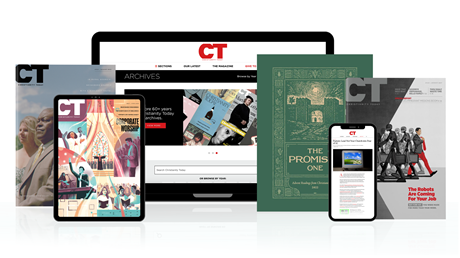 Subscribe to Christianity Today and get access to this article plus 65+ years of archives.
Home delivery of CT magazine
Complete access to articles on ChristianityToday.com
Over 120 years of magazine archives plus full access to all of CT's online archives
Subscribe Now
Rebuilding the Walls of Columbine
Rebuilding the Walls of Columbine