Have militant antiabortionists become bioterrorists?
More than 140 abortion clinics and Planned Parenthood offices around the country have received envelopes with white powder and letters claiming to have infected the opener with anthrax. "It is perverse that these individuals here at home, who are themselves terrorists by virtue of their actions, would seek to capitalize on the events of the last days and weeks to further their own extremist agenda," said Planned Parenthood president Gloria Feldt. The Washington Post and Boston Globe don't quote prolife activists, and NPR's Morning Edition quotes Donald Spitz of Prolife Virginia. "There are many of us who do feel that you did a courageous thing by putting yourself in danger by sending out these letters," he told the terrorists. "Know that you did save many babies, that many people who support you." Spitz has regularly advocated the shooting of abortion doctors. So why didn't any news organizations quote any real prolife activists? And why aren't the real prolife activists being proactive in condemning this? The National Right to Life Committee has a daily "News & Views" feature, but hasn't even mentioned the attacks. Even the National Coalition for Life and Peace, an organization devoted to condemning clinic violence as it condemns abortion, doesn't have anything on its Web site. Concerned Women for America offers almost daily prolife news, but there's nothing condemning antiabortion terrorism. We've heard Muslim leaders around the world say that Osama bin Laden and the Taliban don't represent true Islam. Why aren't we more vocal in saying that actions like this don't represent true prolife activism?
Bibles found at World Trade Center site
"On a second floor [of the Pentagon], right next to where the jet sheared off a section of the building, was an undisturbed stool," USA Today's Andrea Stone reported September 14. "And on it was a thick, open book. Fellow searchers who had gotten a close look said it was a Bible. It was not burned. Nor was anything around it or on the two floors above it. 'I'm not as religious as some, but that would have me thinking,' [a] soldier said. 'I just can't explain it.'" But the story wasn't true: the book was a dictionary, not the Bible. Now, after a lot of digging, New York Post columnist Rod Dreher announces that the story was merely premature—and in New York, not Washington.
When the two broad-shouldered, dusty men showed up at The Post on Friday, people knew where they had come from before they opened their mouths. They were ironworkers, and what they carried also bore the ineradicable reek of the Sept. 11 fire: a pair of singed, crushed Bibles found Friday in the rubble. … The men believe it was no accident that they discovered the holy books, battered but intact, amid the desolation.

"There's no individuality to anything. It's all been destroyed," said Dave. "For two Bibles to be found, and in the same pile, it's amazing. … The Man is there, I'll tell you that."
Dreher must be on the "odd religious things found at Ground Zero" beat. He also broke the story about the iron crosses created by the World Trade Center wreckage.
Related Elsewhere
See our past Weblog updates:
October 22

October 19 | 18 | 17 | 16 | 15

October 12 | 11 | 10 | 9 | 8

October 5 | 4 | 3 | 2

September 28 | 27 | 26 | 25 | 24

September 21 | 20 | 19 | 18 | 17

September 14b | 14a | 13 | 12 | 10

September 7 | 6 | 5 | 4

August 31 | 30 | 29 | 28 | 27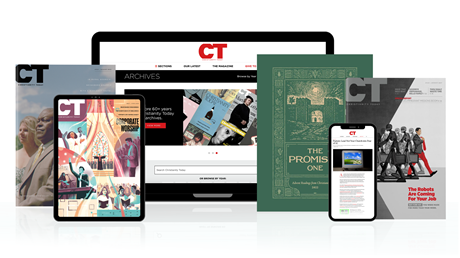 Subscribe to Christianity Today and get access to this article plus 65+ years of archives.
Home delivery of CT magazine
Complete access to articles on ChristianityToday.com
Over 120 years of magazine archives plus full access to all of CT's online archives
Subscribe Now
Antiabortion Terrorists Take Advantage of Anthrax Scare
Antiabortion Terrorists Take Advantage of Anthrax Scare