Screwtape on TV anchors
The winner of HarperCollins's contest, "The Screwtape Letters—Now it's Your Turn to Play Devil's Advocate," has been announced, and it's quite enjoyable. Amy Schwartz, a journalist with The Washington Post and an observant Jew, imagined Screwtape corresponding with a junior devil whose assignment is a television anchor. But Schwartz avoids predictability: "You may think I refer to the importance of tempting a subject who, if properly turned, can help mislead, confuse and ultimately recruit to our side the many millions of additional souls in his viewing audience," Screwtape writes. "Not so! … What makes this particular task truly noteworthy is the combination of a private person of limited gifts with a powerful and outsized public persona. Purely from a gastronomic perspective, the potential rewards are awesome. Such twistings and turnings of insecurity and self-justification, such excellent and succulent depths of self-deception!"
Since this is a semi-official "sequel" to one of Lewis's best-known works, it may be a harbinger of how HarperCollins will handle the controversial sequels to the Chronicles of Narnia. Like several of the names floated for that project, Schwartz does not share Lewis's Christianity. But that doesn't mean she doesn't respect it—and can't promote Christian truth in her work. "It may seem odd for an observant Jew to nourish a lifelong passion for the works of a Christian theologian," Schwartz says in the intro to her piece. "But I find much of Lewis's humane wisdom to be universal, and this is especially true of the psychological and spiritual insight that fills The Screwtape Letters."
Her entry, in fact, includes a section where the anchor decides he should become "born again." Only he does so not to embrace Christ, but to gain "access to the inner circles of power, their shared language, their Bible study classes and men's fellowships and prayer breakfasts." Screwtape is delighted: "In allowing your patient to salt his broadcasts with moral-sounding but empty verbal gestures, a sort of surface moral vocabulary, all for the purpose of signaling his membership in a select peer group, you are using the Enemy's dearest tools in the service of mere snobbism. This is delightful, and it promises more gains in future."
No, she's not C. S. Lewis. But her piece is well worth a read.
Another Inkling
Lewis has been garnering much attention since 9/11. Many people, including AOL Time Warner's co-COO, are quoting from his "Learning in War-Time" speech. And others are pointing out the surprising line in Voyage of the Dawn Treader: "What awaited them … cannot be told in his words because after September 11 he forgot about keeping his diary for a long time."
According to the Los Angeles Times, Lewis isn't the only Inkling helping folks through the war against terrorism. J. R. R. Tolkien's Lord of the Rings is seeing a resurgence, of course, because of the film (releasing December 19). But, says the Times, "Its epic themes of good versus evil and the importance of individual choice resonate powerfully as the world again faces war." The lengthy article is full of praises for the book, but the final word goes to Mike Foster, North American representative of the Tolkien Society: "'The Lord of the Rings' is the story of a long and difficult battle against great evil, taken on by the humblest. If that doesn't have any meaning now, I don't know when it would."
Religion after 9/11:
Persecution:
Politics & law:
Media:
Confidentiality:
Church life:
Catholicism:
Being a good neighbor vs. being a good Christian:
Money and business:
Other stories of interest:
Related Elsewhere
See our past Weblog updates:
October 25 | 24 | 23 | 22

October 19 | 18 | 17 | 16 | 15

October 12 | 11 | 10 | 9 | 8

October 5 | 4 | 3 | 2

September 28 | 27 | 26 | 25 | 24

September 21 | 20 | 19 | 18 | 17

September 14b | 14a | 13 | 12 | 10

September 7 | 6 | 5 | 4

August 31 | 30 | 29 | 28 | 27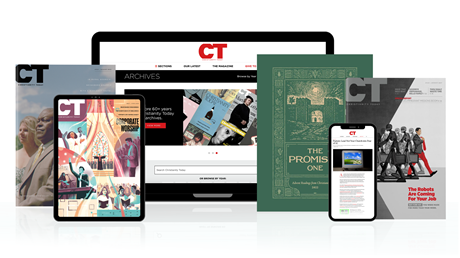 Annual & Monthly subscriptions available.
Print & Digital Issues of CT magazine
Complete access to every article on ChristianityToday.com
Unlimited access to 65+ years of CT's online archives
Member-only special issues
Subscribe
HarperCollins Releases a Semi-Official C.S. Lewis Sequel—But It's Not Narnia
HarperCollins Releases a Semi-Official C.S. Lewis ...