More outrage over comments
Pundits and papers have moved on from criticizing Bill Maher and Jerry Falwell, but that doesn't mean others aren't being told to shut up. In The New Republic, even Billy Graham gets hit. Literary editor Leon Wieseltier takes umbrage at Graham's comments at the National Day of Prayer and Remembrance service that "many of those people who died [in the September 11 attacks] are in heaven right now, and they wouldn't want to come back. It's so glorious and so wonderful."
"This was Mohamed Atta's eschatology, too," Wieseltier writes.
It is not consoling, it is insulting. … Nothing that transpired on September 11 was wonderful, nothing. The only effect of these fantasies is to loosen the American grip on reality at precisely the moment that it needs to be tightened. … Belief and unbelief are a disagreement, but they do not disagree about what is significant, and the vocabulary in which they conduct their disagreement is for certain purposes the only adequate vocabulary. And so Billy Graham's degradation of that vocabulary should have sent all intelligent souls in perplexity running from the church.
Or maybe all intelligent souls would realize that heaven really is a glorious and wonderful place, and that sometimes grieving people—in this case, a grieving nation—need that reminder.
Another speaker at that service is also coming under fire. Houston Press, an alternative weekly newspaper, takes aim at Kirbyjon Caldwell, pastor of Houston's Windsor Village United Methodist Church and one of President Bush's closest spiritual advisers. It seems that at a memorial service for terrorist attack victims, Caldwell said Americans should blame the church, not Osama bin Laden, for the terror. "The church has failed to walk and operate in the power and authority that has been given only to the body of Christ," he explained. "Had we as a body of Christ been focused and faithful and praying for bin Laden, I don't know what would have happened. But I sure know he could have been shaken by the power of God." There's not much direct commentary in the Houston Press article, but writer Tim Fleck takes a mocking tone.
Across the pond, Dawn Gilkes, wife of vicar Don Gilkes, asked children at her church to pray that Osama bin Laden and other Muslims would (gasp!) convert to Christianity. One parent complained, "In the current climate to voice sentiments like this, particularly in front of children who are as young as five, is entirely unacceptable. … To have them subjected to this … is outrageous as far as I am concerned." The unnamed parent says the Anglican bishop of Blackburn will express his disapproval for the comments.
Guillermo Sobero confirmed dead
The California man who was kidnapped along with missionaries Martin and Gracia Burnham was beheaded, the U.S. embassy in the Philippines confirmed today. His remains were discovered by the military last week. Meanwhile, three more Filipinos have escaped from the Abu Sayyaf guerillas, and they report that the Burnhams are well. The Muslim militants are "treating the Americans with respect … maybe because they are foreigners,' coconut farmer Faizal Benasing told reporters. "They ate bananas just like us … We saw them last night." Benasing says he converted from Christianity to Islam during his captivity. "I joined them because the Islam faith is true," he said, insisting that he was not forcibly converted.
Faith-based initiative: not this year
Despite earlier hopes that the September 11 attacks would re-energize support for Bush's faith-based initiative, charitable choice's chief backer in the Senate says it's probably not going to happen this year. " It's always difficult to pass something, and this year there is especially heavy competition," Rick Santorum (R-Penn.) tells the Associated Press. Meanwhile, Web fans will rejoice that the White House Web site finally offers a section promoting the faith-based initiative, complete with news and speeches.
More Supreme Court Nos
Weblog has already noted several cases the Supreme Court has refused to hear. Here are a few more. Two have to do with workplace discrimination. A Texas police officer sued for his job after he was fired for wearing a cross pin on his uniform. And a Mississippi hospital counselor claims she was fired because she objected to homosexuality (she refused to give relationship advice to a lesbian). The Supreme Court turned down both cases, so both workers will remain fired.
The Supreme Court also set aside a lower court's ruling allowing the city of Tucson, Arizona, to charge a National Day of Prayer group to use a public park. The justices sent the case back to the federal appeals court, asking them to reconsider the case in light of the recent Good News Club decision, which again reiterated that once the state opens the door to community organizations it can't discriminate against religious ones.
After Sept. 11:
Church and state:
Persecution:
Politics and Law:
Spreading the Word:
Catholicism:
Other stories of interest:
Related Elsewhere
See our past Weblog updates:
October 11 | 10 | 9 | 8

October 5 | 4 | 3 | 2

September 28 | 27 | 26 | 25 | 24

September 21 | 20 | 19 | 18 | 17

September 14b | 14a | 13 | 12 | 10

September 7 | 6 | 5 | 4

August 31 | 30 | 29 | 28 | 27

August 24 | 23 | 22 | 20

August 17 | 16 | 15 | 14 |13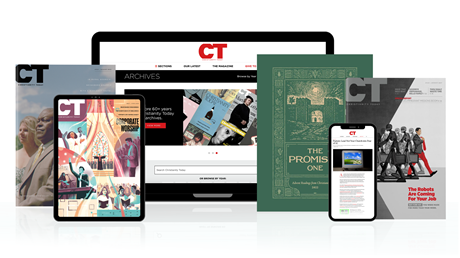 Subscribe to Christianity Today and get access to this article plus 65+ years of archives.
Home delivery of CT magazine
Complete access to articles on ChristianityToday.com
Over 120 years of magazine archives plus full access to all of CT's online archives
Subscribe Now
"Weblog: Graham, Caldwell, Vicar's Wife Criticized for Post-9/11 Comments"
"Weblog: Graham, Caldwell, Vicar's Wife Criticized ...