The steering committee of Christian Churches Together in the U.S.A. (CCT-USA) is grateful to Dr. Tom Oden for addressing the issue of Christian unity, but we wish to correct several misunderstandings:
CCT-USA represents something fundamentally new, not an expanded National Council of Churches. From the beginning, the vision has been for an entirely new process that would bring together, for the first time ever in the U.S., evangelicals, Roman Catholics, Orthodox, historic ethnic and Mainline Protestant Christians. The proposed method of decision-making is consensus, which means that it would be entirely impossible for CCT to be "latitudinarian in doctrine," "soft on the sexual revolution," or biased toward a "heavily regulated economy." CCT's proposed theological basis is solidly orthodox confessing "the Lord Jesus Christ as God and Saviour according to the Scripture … for the glory of the one God the Father, Son and Holy Spirit."
The CCT process itself has recognized that although a wide range of evangelicals had been invited to all meetings, the evangelical participants in the first two meetings needed significant expansion. The Steering Committee (chaired by John Busby, the national commander of the Salvation Army) has initiated a process to expand greatly the evangelical participants, and a much expanded, widely representative group of heads of evangelical denominations and other evangelical organizations plan to attend the next meeting to be held at Fuller Theological Seminary in January.
Nothing in the CCT is finalized. Everything will be up for full discussion and consensus decision at the January meeting.
As the statement from Chicago said, "We have only just begun to explore how to walk together. The questions for conversation, the ways to talk together and the paths to take all remain to be fleshed out by those whom, we trust, will join us on this difficult and essential journey of faith and obedience." We want the widest possible participation of all Christians in the U.S.A.
Sincerely,
Bishop Tod Brown
Roman Catholic Church
Bishop George McKinney
Pentecostal Charismatic Churches of NA
Commissioner John Busby
The Salvation Army
Rev. Judy Mills Reimer
Church of the Brethren
Rev. Dr. Wesley Granberg-Michaelson
Reformed Church in America
Rev. Ronald J. Sider
Evangelicals for Social Action
Father Leonid Kishkovsky
Orthodox Church in America
Bishop McKinley Young
African Methodist Episcopal Church
Related Elsewhere
Also appearing on our site today:
The Not-So-New Ecumenism | A recent initiative is structured to exclude evangelicals in the mainline.
Whither Christian Unity? | The WCC and WEA represent very different paths. One of them has real promise.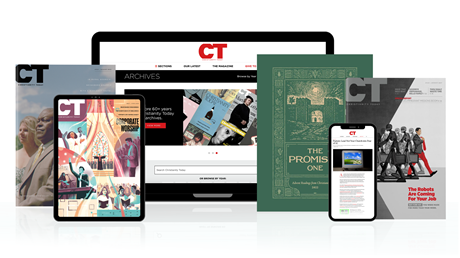 Subscribe to Christianity Today and get access to this article plus 65+ years of archives.
Home delivery of CT magazine
Complete access to articles on ChristianityToday.com
Over 120 years of magazine archives plus full access to all of CT's online archives
Subscribe Now
'CCT's Proposed Theological Basis Is Solidly Orthodox'
'CCT's Proposed Theological Basis Is Solidly Orthodox'