Have they checked the church lost and found? Always lots of Bibles there.
"Borders on alert after theft of rare Bible" says a headline in the Chicago Tribune. Why would Borders have a rare Bible? Doesn't it only sell mass-market books and CDs? Turns out the story is actually about Hungary. A copy of the 1590 Vizsoly Bible, the first full Hungarian translation, was stolen from a Protestant church. Only 20 of them exist in the world, and one sold last November for about $100,000. Is there a rash of rare Bible thefts? This is the second such story Weblog has seen in a week. A 1478 Koberg Bible, estimated to be worth about $1.1 million, was stolen from a town council safe in Scotland. Apparently someone took it at least eight years ago, but its disappearance is only now public.
Bibles may be safe at Borders, but over at the Virgin megastore, it's a different story. Chicago Sun-Times religion writer Cathleen Falsani noted that the local emporium has lots of spirituality titles:
Six copies of

Awakening the Buddha Heart

… three copies of

The Celtic Tree Oracles

… dozens of books about Buddhism—including something called

The Buddhist Bible

… at least a dozen books by the Dalai Lama alone. … Six copies of

How to Use the I Ching.

Four copies of Oprah guru Gary Zukav's

Soul Stories.

Two copies each of

The Illustrated Rumi

and

Instant Zen. The Celtic Book of Living and Dying, The Egyptian Book of the Dead, The Tibetan Book of the Dead

and

Essential Sufism.

One copy of the Muslim holy book, the Quran … and a whole other section altogether on the occult.
But no Bible. Nothing, in fact, on Christianity. "I guarantee you that if all the Christian churches in the United States started reading the Dalai Lama, he would disappear from the spirituality shelves," Boston University theologian Tom Beaudoin tells Falsani. Still, he sees Virgin's selection as a barometer of youth culture, and suggests that Christianity isn't on the shelves because Christians haven't let on how hip their religion truly is. "Christian churches need to pay a great deal of attention to what motivates young people to interest in these sort of books," says the author of Virtual Faith: The Irreverent Spiritual Quest of Generation X. "The Christian tradition itself is so much more diverse, challenging, rich and disturbing than most Christians themselves realize."
Pepper spray
The latest target of the American Family Association is Dr. Pepper. No, the good doctor hasn't started performing abortions. The soft drink company has allegedly gone flat on God. Says a letter from AFA president Don Wildmon:
Dr Pepper has designed a new patriotic can featuring the Statue of Liberty and the Pledge of Allegiance. But Dr Pepper left out the phrase "under God" from the Pledge of Allegiance. … It appears that Dr Pepper left out the phrase "Under God" because they were afraid they might offend someone who didn't believe in God. They evidently didn't care if they offend anyone who did believe in God. Nor did it bother them to alter the Pledge of Allegiance to suit their politically correct purposes.
The soft drink company has received so many complaints that the home page of its Web site responds to the allegations. The can, the company says,
was created to show support for the patriotic fervor that has been sweeping America since the tragic events of Sept. 11, 2001, and to show the world that we are a united nation of people who place a high value upon freedom. … Of the 31 words in the Pledge of Allegiance, only three were included. More than 90 percent were not included.
The AFA is also upset at recent 7Up ads that suggest a pitchman is getting naked in public.
More articles
Persecution:
Education:
Evolution:
Pop culture:
Church abuse scandals:
Related Elsewhere
See our past Weblog updates:
February 11
February 8 | 7 | 6 | 5 | 4
February 1 | January 31 | 30 | 29 | 28
January 25 | 24 | 23 | 22 | 21
January 18 | 17 | 16 | 15 | 14
January 11 | 10 | 9 | 8 | 7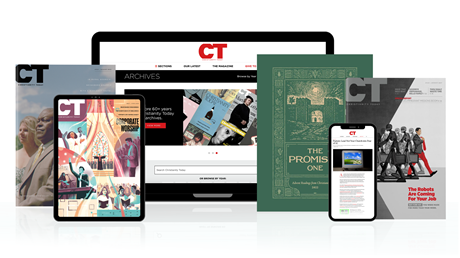 Subscribe to Christianity Today and get access to this article plus 65+ years of archives.
Home delivery of CT magazine
Complete access to articles on ChristianityToday.com
Over 120 years of magazine archives plus full access to all of CT's online archives
Subscribe Now
Hold On to Your Bible
Hold On to Your Bible