Jewish groups fight messianics in phone book
About two dozen messianic Jewish congregations around the country are listed as synagogues in phone books. That infuriates the Jewish Council for Public Affairs, reports the Jewish newspaper The Forward. "These people are becoming more brazen," says Philip Abramowitz, director of the New York Jewish Community Relations Council Taskforce on Missionaries and Cults (who, Weblog is guessing, needs an 8 ½-by-11-inch business card to include his full job title). Abramowitz says the groups are also growing: from 222 in 1996 to 350 today. One important battle is being fought in New Orleans, where BellSouth, under pressure from Jewish groups, has asked the Adat Yeshua congregation to move its listing to a different category: "Churches — Messianic Jewish." Brian Lister, Adat Yeshua's head deacon, refuses: "We are holding a Jewish Torah service. That [church] listing is inappropriate, not to mention when people look for us they look under synagogue, they don't look for us under church."
The Forward article is fair, and reporter Nacha Cattan raises an important question: if the Jewish Council for Public Affairs can push messianic congregations out of the "Synagogue" listing for not being Jewish enough, what's to stop other groups from pushing their own forms of orthodoxy? Can Orthodox Jews file protests against listing Reconstructionists and the Society for Humanistic Judaism?
Why junior-high boys don't understand the gospel
"It should be no surprise to any adult that Jesus is way too uncool to appeal to average preteenage boys," writes Joan Vennochi in a provocative Boston Globe opinion piece. "Their role models, after all, are athletes and sportscasters, actors and music video stars, and anyone who makes lots of money fast." In her weekly religious education class, Vennochi was teaching about how Jesus "was kind and patient to all who approached," when a student shot back, "What a loser." The columnist blames the culture:
A person who treats everyone politely regardless of wealth or social status, who walks away from fights, who is humble and forgiving? Someone who welcomes beggars and lepers? That person is a role model? That they find amusing. And the notion that such a person could entertain and indeed inspire others for hours is incomprehensible to these middle school boys, grounded in the values of 21st century America—not to mention the mesmerizing influence of Playstation and Nintendo.
The column raises several interesting questions, largely because Vennochi's point runs somewhat counter to the anti-feminist "war against boys" thesis put forward by Christina Hoff Sommers and others: "Under the guise of helping girls, many schools have adopted policies that penalize boys, often for simply being masculine. … Boys need help, but not the sort they've been getting. They need help catching up with girls academically, they do not need to be rescued from masculinity."
Are boys truly being demasculinized, or are they being made into violent, selfish neanderthals? Is the problem that Vennochi's church hasn't preached enough on Christ's teachings of peace and love, or that it has overemphasized these points—losing Christ's message of repentance and judgment in the process and making him a wimpy caricature? Discuss.
U.S. reconsiders hostage situtations
"After a protracted debate that pitted the State Department against the Pentagon, the Bush administration has adopted a new policy that requires the federal government to review every kidnapping of an American overseas for possible action," reports The New York Times. But don't read the Times piece at the Times site—read it over at the Wichita Eagle site. That paper seems to have an earlier version, which focuses largely on kidnapped missionaries Martin and Gracia Burnham. (The Burnhams don't even get a mention in the online Times piece.) Martin's parents, Paul and Oreta Burnham, are hailing the change "because it might get the U.S. government involved sooner in future hostage situations involving Americans." "I don't think they (the government) became that involved with Martin and Gracia's case right away," Oreta says. "I think this approach will be encouraging to other families." The biggest policy change is that the government has dropped a longstanding blanket prohibition of private companies paying ransom.
In other Burnham-related news, The Philippine Inquirer reports that the Abu Sayyaf, under increasing pressure from U.S. and Philippine military forces, is moving toward surrender. "They're very tired in the mountains," Basilan Gov. Wahab Akbar says. "They have nothing to eat and they're getting sick. In fact, Abu Sabaya's testicles are swelling and he is unable to walk far." Don't get your hopes up. We've heard much of this before, as Col. Alexander Aleo notes: "I am not optimistic with this surrender issue, it is seldom realized, they have sent several feelers in the past when there was extreme military pressure. It's just a tactical ploy."
Also, the newly appointed American ambassador to the Philippines says, "My concern for the Burnhams is of absolute priority." He starts his job in Manila this week. Another person making the Burnhams a priority is Seif al-Islam, the son of Libyan leader Moamer Kadhafi. He's offering to help free the Burnhams. A few months ago, he worked to free the Shelter Now workers in Afghanistan.
Related Elsewhere
See our past Weblog updates:
February 15 | 14 | 13 | 12 | 11
February 8 | 7 | 6 | 5 | 4
February 1 | January 31 | 30 | 29 | 28
January 25 | 24 | 23 | 22 | 21
January 18 | 17 | 16 | 15 | 14
January 11 | 10 | 9 | 8 | 7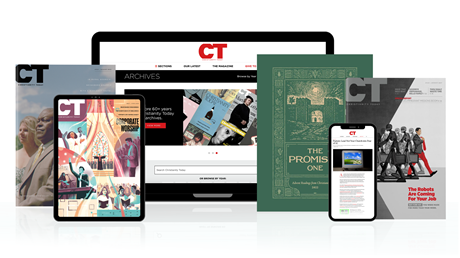 Subscribe to Christianity Today and get access to this article plus 65+ years of archives.
Home delivery of CT magazine
Complete access to articles on ChristianityToday.com
Over 120 years of magazine archives plus full access to all of CT's online archives
Subscribe Now
Dial M For Messianic Jews
Dial M For Messianic Jews