Alabama Chief Justice Moore may be chief justice no more
"Homosexual conduct is, and has been, considered abhorrent, immoral, detestable, a crime against nature, and a violation of the laws of nature and of nature's God upon which this Nation and our laws are predicated. Such conduct … is destructive to a basic building block of society—the family. … It is an inherent evil against which children must be protected." A Don Wildmon fundraising letter? Nope. An Alabama Supreme Court decision written by Chief Justice Roy Moore, who became famous several years ago for his defiant display of the Ten Commandments.
Moore issued a concurring opinion in a case awarding custody of three children to their father over their lesbian mother. And now that case—or more specifically, Moore's decision—is becoming a national issue. The Christian Coalition (yes, it's still around) is praising Moore's act, saying he protected marriage and strengthened traditional families. Gay rights organizations are calling him unfit to sit on the bench. "Chief Justice Moore has decreed that his personal religious beliefs will now be the law of the land in Alabama," the head of the National Gay and Lesbian Task Force tells The New York Times. "This violates the constitutional mandate of separation of church and state, and it renders him unfit to serve as a judge." The Times reports that State Rep. Alvin will "ask the Alabama Judicial Inquiry Commission to examine Chief Justice Moore's opinion to see whether he should be removed."
Even if he's not removed, editorializes The Montgomery Advertiser, he may have shot himself in the foot: "Ironically, Moore may well have provided an avenue for the federal courts to overturn any presumptions against homosexual parents in custody cases in Alabama while he goes on to claim he is actually defending them."
The Birmingham News reports that the Lambda Legal Defense and Education Fund also filed a complaint with the commission. In an editorial Wednesday, The Birmingham News opined, "If it's Moore's personal belief that homosexuals are unfit parents, so be it. He's entitled to that belief. But as the Supreme Court's chief justice, he should stick to the pertinent laws to reach a decision." Elsewhere, the editor and publisher of The Montgomery Independent attacks Moore: "The hatred that has spewed out of the mouths of public officials in Alabama this past week condemning gays and lesbians would make a visitor here think homosexuals are some well-armed foreign enemy attacking our border."
The lion shall lie down with the … close enough
Since Weblog's other weblog, Zooblog, is on hiatus, this item will have to be posted here. The Independent reports that Kenyans believe they're seeing the fulfillment of biblical prophecy as a lioness has adopted a second baby oryx (a kind of antelope). Behavioral scientists, meanwhile, think the lioness just has a psychological disorder. The first oryx was killed by another lion after the lioness defended it for two weeks. The second oryx (which apparently didn't bond as well with the lioness) was rescued by rangers. The lioness may be looking for a third.
More articles
(Note: For the most part, Weblog keeps the headlines given by the news sources. So if you're upset by the The Deseret News calling Mormonism a church or an Australian newspaper using anatomical terms, complain to them, not Weblog )
Bush tells China to respect religious freedom:
Hostages:
Politics:
Church and state:
Crime:
Church life:
Christianity and other religions:
Franklin Graham makes AIDS a priority:
Sex & marriage:
Pop culture:
National Religious Broadcasters:
Other stories of interest:
Related Elsewhere
See our past Weblog updates:
February 21 | 20 | 19 | 18
February 15 | 14 | 13 | 12 | 11
February 8 | 7 | 6 | 5 | 4
February 1 | January 31 | 30 | 29 | 28
January 25 | 24 | 23 | 22 | 21
January 18 | 17 | 16 | 15 | 14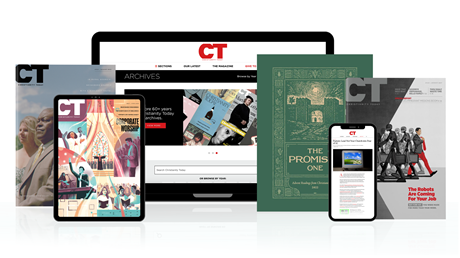 Annual & Monthly subscriptions available.
Print & Digital Issues of CT magazine
Complete access to every article on ChristianityToday.com
Unlimited access to 65+ years of CT's online archives
Member-only special issues
Subscribe
In Alabama Supreme Court Decision, Chief Justice Roy Moore Rants Against Homosexuality
In Alabama Supreme Court Decision, Chief Justice ...