Just hours after Chinese President Jiang Zemin told George Bush that the People's Republic of China has always had freedom of worship, 70 Chinese police stormed a Christian service Thursday, arrested 47 elderly Christians for "illegally gathering," and confiscated their Bibles.
The detainees were released one or two days later but their house church (which doubled as a nursing home) was closed and slapped with a $6,000 fine. Those arrested say they were accused of being Falun Gong members and not given water or bathroom access during their detention. Other prominent Christians spent Bush's visit under 24-hour surveillance.
With the emergence this month of secret Chinese papers that document extensive religious persecution and a growing number of Christian arrests, human rights groups pressed Bush to use last week's 30-hour diplomatic visit to encourage religious freedom in China.
Before arriving for his talks with Jiang, Bush said he hoped that "as a president of a great nation, Jiang would understand the important role of religion in an individual's life.''
On Thursday, Jiang told Bush that he has no religious faith. "Yet this does not prevent me from having an interest in religion," he said. "I've read the Bible, I've also read the Qur'an, as well as the Scriptures of Buddhism. I often have meetings with the religious leaders in this country and exchange views."
Jiang's comments were made at a mutual press conference [transcript | audio | video] where he and Bush discussed the progress of their talks. Reporters twice asked Jiang about China's policy on religious freedom and the imprisonment of over 50 Catholic bishops and priests. Jiang did not answer the questions but belatedly returned to the subject near the end of the press conference.
"Whatever religion people believe in, they have to abide by the law," Jiang said. "Some of the law breakers have been detained because of their violation of law, not because of their religious belief. Although I'm the president of this country, I have no right interfering in the judicial affairs, because of judicial independence."
Bush was reportedly surprised by Jiang's comments on religion. The Toronto Star reported that he "seemed to enjoy reporters' efforts to pin Jiang down, [and later] registered his disbelief by pressing his lips together and gazing away from his host."
During Thursday's private talks with Jiang, Bush reportedly encouraged the president to stop the arrests of religious adherents, lift worship restrictions, and initiate talks with the Vatican and the Dalai Lama.
On Friday morning, Bush took the message public. His address at Beijing's Tsinghua University was broadcast live across the country. Centering on American values of liberty and family, Bush sought to give Chinese citizens a "clear picture" of the United States. The speech included repeated discussion of religious freedom—and Bush's own testimony.
"Ninety-five percent of Americans say they believe in God, and I'm one of them," Bush said. "When I met President Jiang Zemin in Shanghai a few months ago, I had the honor of sharing with him how faith changed my life and how faith contributes to the life of my country. Faith points to a moral law beyond man's law, and calls us to duties higher than material gain."
Bush urged China to view freedom of religion as something to welcome and not to fear.
"Regardless of where or how these believers worship, they are no threat to public order; in fact, they make good citizens," Bush told the crowd at Tsinghua University and television viewers. ''My prayer is that all persecution will end, so that all in China are free to gather and worship as they wish."
Chinese reaction to Bush's speech varied. The Washington Post reported that while the speech resonated with some Chinese in attendance, others didn't feel there was a problem to address.
"I really supported his religious views," an attendee of the speech told the paper. "I am a Christian myself. But, you know, a lot of people go to church here with no interference from the government. The government doesn't oppose religions, but it doesn't encourage them either."
Others in attendance felt Bush's religious content was preachy and pandering. One graduate student told The Washington Post that "he just kept talking and talking about freedom. We get it. Does he think we're stupid?"
Chinese citizens who did not see the speech live on television or in person may not hear Bush's religious message at all. The Los Angeles Times reports that Bush's references to religion were immediately censored out of print transcripts of the live broadcast.
"Before the U.S. leader had even boarded Air Force One, China's state-controlled media put out their version of the morning address," the paper reported Saturday. "Almost half the speech—large chunks extolling American liberty and urging China to relax its political and religious restrictions—was simply hacked out in the transcript released by the official New China News Agency."
The U.S. Commission on International Religious Freedom issued a press release Monday commending Bush on his up-front approach. Although disturbed that the speech text was censored, the commission was encouraged that the speech was carried live to the Chinese people.
"President Bush told the Chinese people the truth," said Felice Gaer of the Commission's executive committee. "The Chinese people need to know that America's interest in religious freedom and other human rights is part of who we are as a people."
Todd Hertz is Assistant Online Editor for Christianity Today.
Related Elsewhere
Christianity Today's exclusive March cover package examines the secret documentation of China's religious persecution:
'New' China: Same Old Tricks | Top communists, despite their denials, endorse arrest and torture of Chinese Christians by the thousands.
The Unlikely Activist | How a bitter athiest helped besieged Christians—and became a believer.
What China's Secret Documents Reveal | The New York archive of religious persecution in China contains numerous government documents that show how the government controls religion.
China Persecution Dossier: Zhang Wu-Ji | Tortured to the point of death.
China Persecution Dossier: Shi Yun-Chao | Beaten for Hosting Bible Studies.
China Persecution Dossier: Gu Xiangmei | Surviving on "tiger's diarrhea."
Related coverage of Bush's visit to China includes:
Jiang hails Bush visit — AFP (Feb.23, 2002)
Bush touts U.S. Values to Chinese — The Washington Post (Feb. 22, 2002)
Bush urges China on religious freedom — Associated Press (Feb. 22, 2002)
Bush preaches democracy to China — BBC (Feb.22, 2002)
Bush urges freedom of worship in China — The New York Times (Feb. 22, 2002)
Bush urges Jiang to respect religion — Associated Press (Feb.22, 2002)
Jiang: China has freedom of religion — Associated Press (Feb.22, 2002)
Condoleezza Rice says China needs to release detained clergy — AFP (Feb.22, 2002)
Supporters of detainees appeal to Bush — Associated Press (Feb.22, 2002)
Little progress in talks with Jiang — The Boston Globe (Feb.22, 2002)
The State Department's 2001 International Religious Freedom Report on China said the "government seeks to restrict religious practice to government-sanctioned organizations and registered places of worship and to control the growth and scope of the activity of religious groups."
See Christianity Today'sBearing the Cross article on the persecution of Christians in China.
Article continues below
Previous Christianity Today stories about persecution in China include:
Gong's 'Accusers' Claim Torture Induced False Confessions | Letters from imprisoned Christian women in China describe assaults with electric clubs. (Feb. 1, 2002)
Church Leader Gets Reprieve | China's case against Gong Shengliang now on hold. (Jan. 24, 2002)
Chinese House Church Leader Granted Time to Appeal Death Sentence | Sentence likely to be commuted to imprisonment, but church remains in danger. (Jan. 8, 2002)
Free China's Church | The Communist country may ease some religious restrictions, but they still want an apolitical church. (January 3, 2002)
House Churches May Be 'Harmful to Society' | But China's unofficial congregations resist "evil cult" label. (Jan. 25, 2001)
Communists May Recognize Independent Christians | Communist leaders in China are preparing to give formal recognition to unregistered religious groups, but house-church leaders are wary. (November 19, 2001)
Changes in China's Religious Policy Imminent? | Several respected house-church leaders consulted about official registration. (November 16, 2001)
China's Religious Freedom Crackdown Extends to Foreigners | It is against the law for visitors to teach the Bible in China's house churches. (Nov. 13, 2000)
China's Smack Down | 53 Christian professors, students, and church-planters detained. (Sept. 11, 2000)
House Approves Divisive U.S.-China Trade Pact | But will permanent normal trade relations status help human rights? (May 25, 2000)
China Should Improve on Religion to Gain Permanent Trade Status, Commission Says | Religious liberty in Sudan and Russia also criticized. (May 8, 2000)
A Tale of China's Two Churches | Eyewitness reports of repression and revival. (July 13, 1998)
For more articles on religion in China, see Yahoo full coverageand Christianity Today'sWorld Report.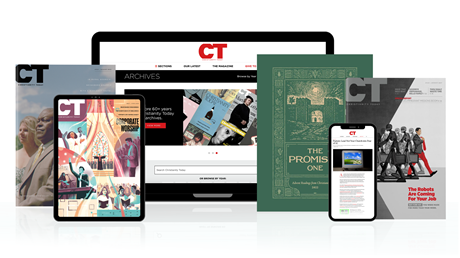 Subscribe to Christianity Today and get access to this article plus 65+ years of archives.
Home delivery of CT magazine
Complete access to articles on ChristianityToday.com
Over 120 years of magazine archives plus full access to all of CT's online archives
Subscribe Now
Bush: 'I'm One of Them'
Bush: 'I'm One of Them'