As expected, Bush backs Senate bill
In the Oval Office yesterday, President Bush heralded "a great accomplishment, which is an agreement to move a faith-based initiative out of the United States Senate" (text | audio | video). Allowing folks who don't itemize deductions on their tax returns to deduct for charitable giving is apparently huge. Bush is acting like a guy who didn't get the burger he ordered at BurgerMeister, but is afraid to complain lest they spit in his next one. The Washington Post details other items in the Senate bill:
The Senate proposal would also let IRA holders make charitable contributions from their accounts, enhance deductions for donations of food and books, raise caps on corporate charitable contributions and introduce individual development accounts, which are savings accounts for low-income families providing incentives for home buying, education or starting a business. The compromise also contains provisions to outlaw discrimination against groups that have religious names or display religious icons, but these are far narrower than House provisions that would have allowed religion to be blended with charity more openly.
But just because the President is supporting the bill, don't expect other Republicans who supported the House version to roll over. Sen. Rick Santorum (R-Pa.) is now busy trying to avoid a squabble, says the Post:
Santorum, a conservative, called on House Republicans to put off discussion of the controversial "charitable choice" proposals until Congress renews the 1996 welfare reform law in a few months. A House leadership aide said Santorum's suggestion was "an option," but Rep. J. C. Watts (R-Okla.), the sponsor of the House measure, said the Senate compromise will require "a little more faith" to pass both chambers.
(The New York Times says Watts isn't offering much opposition: "In a statement released by his office, Mr. Watts said that he remained committed to charitable choice but that he had the 'utmost confidence that once the Senate finally passes a bill we can work out our differences and put the armies of compassion in the field.'")
The Associated Press says, "the compromise is likely to anger people on both sides of this issue," but the news service quotes only one opponent: Rep. Bobby Scott (D-Va.). He worries that the bill doesn't include sections obligating religious groups to adhere to local anti-discrimination laws. "Anything that passes anywhere close [to the House bill] will give the administration moral authority to go ahead and start discriminating." Someone should pull Rep. Scott aside and inform him that the proposed bill has already dropped all charitable choice provisions. Adding a line mandating this for religious groups that don't even receive government funds would be a constitutional disaster.
The Salvation Army, which got caught up in the House bill controversy last year, is supporting the Senate bill, but only as a preliminary measure. "It's going to stimulate charitable giving in the country," Maj. George Hood tells The Washington Times. "It's a wonderful first step." He says he's still concerned about local antidiscrimination laws, and Congress must do more to allow religious organizations to maintain their religious identity.
The New York Times quotes a surprising group of critics: philanthropy groups. They're not upset about the Senate bill (in fact, they like it) but they say charities won't see much benefit from it. They'll be too busy nursing their wounds from the repeal of the estate tax. "When you look back over the last year, this modest benefit doesn't help much," Gary D. Bass, executive director of OMB Watch, tells the Times. "The scope and dimension of the estate tax is beyond comparison with the new proposal."
Lieberman and Santorum may introduce their bill, called the Charity Aid, Recovery and Empowerment Act, as early as today.
World pulls out the big guns against the TNIV
Weblog was surprised last week when World magazine only devoted a few words to the introduction of the TNIV. After all, this was the magazine that raised such a ruckus over the Inclusive Language New International Version five years ago. It turns out the magazine was just taking its time to load for bear. Both publisher Joel Belz and editor Marvin Olasky devote their columns to the new translation this week. "Those of us at World find it hard to comprehend how the publishers of the TNIV would—for the second time in five years—play so fast and so loose with the trust it took a whole generation to build," writes Belz. Olasky is even more pointed: "It may be time to add IBS [the International Bible Society] and Zondervan to a long list of illustrious names: universities like Harvard, Yale, and Princeton, and hospitals with 'Presbyterian' and 'Baptist' in their titles, that lost their theological saltiness over the years. So many groups once stood for biblical truth and no longer do so."
This week also saw a column Weblog has been expecting since the announcement of the TNIV: the liberal response. "I'd argue that the IBS isn't going far enough," Desiree Cooper writes in the Detroit Free Press. "Even as they are changing 'brothers' to 'brothers and sisters,' one thing will remain the same: God will still be a 'He.'"
More articles
Freeing the Burnhams:
Religious freedom:
Persecution:
Church and State:
Politics:
Life ethics:
Theology:
Missions and ministry:
Church life:
Pop culture:
Religion and computers:
Sexual ethics:
Catholicism:
Church of England:
Other stories of interest:
Related Elsewhere
See our past Weblog updates:
February 7 | 6 | 5 | 4
February 1 | January 31 | 30 | 29 | 28
January 25 | 24 | 23 | 22 | 21
January 18 | 17 | 16 | 15 | 14
January 11 | 10 | 9 | 8 | 7
January 4 | 3 | 2 | December 31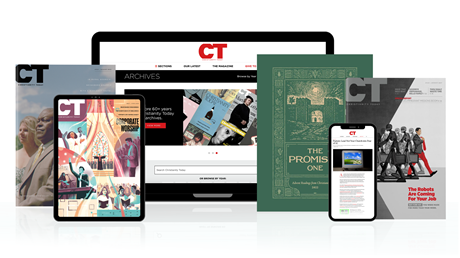 Subscribe to Christianity Today and get access to this article plus 65+ years of archives.
Home delivery of CT magazine
Complete access to articles on ChristianityToday.com
Over 120 years of magazine archives plus full access to all of CT's online archives
Subscribe Now
Bush Backs Senate Faith-Based Initiative Bill
Bush Backs Senate Faith-Based Initiative Bill