And "Simon Says" is a totalitarian training exercise!
Opponents of Bill Simon, California's Republican gubernatorial candidate, are going to great lengths to paint him as some kind of religious extremist. On Sunday, two Bay-area papers had news articles suggesting he's some kind of theocrat. The San Francisco Chronicle assigned two reporters to cover Simon's appearance on the Trinity Broadcasting Network's Behind the Scenes show. "Simon made no controversial statements on the TBN broadcast," the Chronicle reported, but the news is that he appeared "on a controversial religious cable network that has featured flamboyant faith healers and showy ministers who promise to raise loved ones from the dead."
The candidate refused to play the game. "Simon, who is a vice chairman of PAX-TV … said that he doesn't support all the teachings on the Trinity Broadcast Network or the controversial programming, or wasn't even aware of them," the Chronicle reported. But the paper keeps pushing. The article's subheads say it all: "TAPES OF SHOW SURFACE" (gotta love the word surface, as if internationally broadcast shows are kept secret), "'LUNATIC FRINGE,'" "STATE VOTERS MORE SECULAR," and "NETWORK'S WEALTH AND REACH."
"The question is not his religious beliefs; the question is the company he keeps," said Hoover Institution research fellow Bill Whalen. (Funny thing about Whalen: He's the dominant voice in the story, yet the fact that he was a media consultant for Richard J. Riordan, whom Simon beat in the Republican primary election, is never mentioned. He's just quoted as an independent scholar.)
The question apparently isn't just the company he keeps, but also the company of the company that his company keeps. The San Jose Mercury News reports, "In the late 1980s, the Republican candidate helped found Good Counsel, which runs five homes for unwed mothers in New York state." Sounds good so far, doesn't it? Keep reading:
But Good Counsel's executive director—whom Simon has known for about 20 years—is an outspoken abortion opponent who has long supported activists known to have violated some of the laws Simon pledges to uphold. The group's director is married to a central figure in the anti-abortion movement who has said that killing abortion doctors might be justified. And he hired a man with a long arrest record for blockading clinics who is now charged with killing an abortion doctor in a sniper attack.
Well, that practically makes Simon a murderer, then, doesn't it? Simon again said he never heard about Good Counsel's "connections to anti-abortion extremists and does not condone using confrontational tactics to protest abortion," nor did he ever hear of James Kopp, who worked for four months as Good Counsel's handyman before allegedly killing abortionist Barnett Slepian.
One last comment—though these charges against Simon are absolute poppycock, Simon's responses do leave a few questions. A PAX-TV vice chairman and former Christian television host never heard about wacky things over at TBN? A gubernatorial candidate in a race where abortion has been a major issue never heard about Kopp, who is on the FBI's 10 Most Wanted list?
Let Christian musicians sing, then let them go home
"You don't just walk up to a complete stranger and ask 'What's the biggest sin you've committed in your life?' or say 'I just found out I have cancer' or 'My son died last week,'" says Chris Rice. Actually, a lot of people do if the stranger is, like Rice, a Christian musician. The Dallas Morning News has an excellent article on how many fans want the musicians to be their pastor, therapist, boyfriend, husband, and God.
"If Jesus is savior of the world and healer of the heart, then why would anyone want to stop at a table and get someone's autograph?" says Christian speaker and head of sixsteps records Louie Giglio. "Whether the concert's Steven Curtis Chapman or Dave Matthews or whoever, for me I'm going to walk out [of] the lobby and say: 'Hey, that was great, but I'm going home now. I'm going home with God. I can't trump that.'"
More articles
Music:
Life ethics:
Billy Graham in Cincinnati:
Church life:
Catholicism and Pope John Paul II:
Related Elsewhere:
See our past Weblog updates: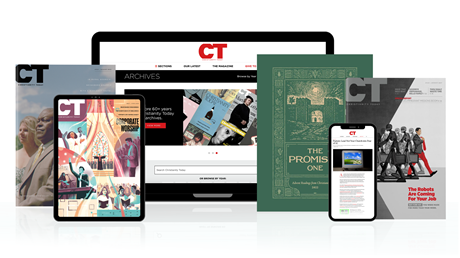 Subscribe to Christianity Today and get access to this article plus 65+ years of archives.
Home delivery of CT magazine
Complete access to articles on ChristianityToday.com
Over 120 years of magazine archives plus full access to all of CT's online archives
Subscribe Now
Smearing Simon
Smearing Simon