Anglican diocese in Canada may bless gay unions
Anglicans in Vancouver and surrounding areas will vote tomorrow and Saturday on whether to allow priests to bless homosexual unions. Similar efforts passed in 1988 and 2001, but Diocese of New Westminster Bishop Michael Ingham withheld consent. If delegates to the diocesan synod pass the measure this time, however, Ingham says he'll approve it. New Westminster would then become the first Anglican diocese to officially bless homosexual relationships. The diocese is already in spin mode, emphasizing the difference between blessing and marriage ceremonies, but conservatives in the diocese—especially Asians—say they'll probably split if the measure is approved.
More articles on homosexuality:
Divorce may have been motive for monastery shooter
Lloyd Robert Jeffress, the 71-year-old man who shot four monks then killed himself at a Missouri abbey Monday, was probably upset about a 43-year-old divorce, authorities said yesterday. "We don't know if we'll ever be able to say this is the motive, but it sure could be," Missouri Highway Patrol Sgt. Sheldon Lyon told reporters. "It seems to be a pretty plausible reason why he did this. It's not 100 percent; there's no note or anything. … This is the only area in his life where he was very mad, at the church and his ex-wife." The couple married in 1954 and divorced in 1959. The church granted annulment in 1979. That's an awful long time to carry a grudge.
Sheriff's department dispatcher Selene Frampton told the Associated Press that the monks faced their fate peacefully. "That was the strange thing about this whole thing," she said. "Everyone we talked to was really calm. They were obviously upset, but they weren't as distraught as you would expect."
Mafia boss John Gotti will get Catholic burial, but not Mass
New York dioceses have denied the Mass of Christian Burial to mafia leaders before. "The current practice today would be to deny public burials when there are very high-profile cases and certainly, within the last decade, John Gotti would be conspicuous," Notre Dame theology professor Lawrence Cunningham tells The New York Times. "But I think it's very much on an ad hoc basis."Actually, the diocese of Brooklyn says it's denying the public funeral more to keep away gawkers and reporters than out of consideration for the crime boss's sinful reputation. "The condition of his soul is something only God knows," said diocese spokesman Frank DeRosa. "We leave it in his hands." A funeral Mass may happen later.
More articles on crime:
Frontline revisits the Church of the Nativity standoff
ER is in reruns, and nobody really wants to watch ice hockey in mid-June, so let Weblog recommend Frontline's "The Siege of Bethelehem," airing on PBS tonight. Weblog hasn't seen the program yet, but it looks promising. "With unprecedented inside access to key figures involved in the standoff, Frontline reveals the secret negotiations, strategies, gambits, and maneuvers employed throughout the ordeal, as the combatants sought to maintain the delicate balance between diplomatic persuasion and military might," says a press release. The Boston Globe likes it, saying the program "provides a narrow look at one incident in a broader war."
More articles
Church and state:
Pop culture:
Related Elsewhere
See our past Weblog updates:
June 12 | 11 | 10
June 7 | 6 | 5 | 4 | 3
May 31 | 30 | 29 | 28
May 24 | 23 | 22 | 21 | 20
May 17 | 16 | 15 | 14 | 13
May 9 | 8 | 7 | 6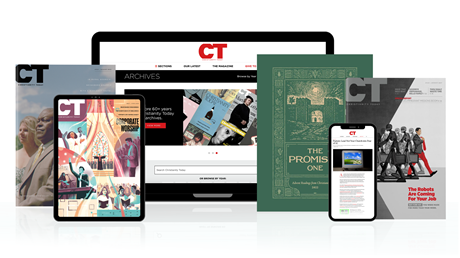 Subscribe to Christianity Today and get access to this article plus 65+ years of archives.
Home delivery of CT magazine
Complete access to articles on ChristianityToday.com
Over 120 years of magazine archives plus full access to all of CT's online archives
Subscribe Now
Canadian Anglicans Vote on Blessing Gay Unions
Canadian Anglicans Vote on Blessing Gay Unions