Martin Burnham honored, buried
Thousands attended Friday's memorial service for slain missionary Martin Burnham. There are media accounts from The Orlando Sentinel, The Wichita Eagle, Associated Press, Reuters, and AFP (Wichita television station KSN has some video from the service). Eagle columnist Roy Wenzl offers a minute-by-minute description of what happened:
At 9:55 a.m., inside the church, Paul Burnham rolled his daughter-in-law into the church service in her wheelchair, and 2,600 people stood up. There was not a cough; there was barely a noise at all. There was only a feeling of awe. Gracia Burnham looked radiant. … She said nothing during the service. She didn't have to, because the look in her eyes told all who saw her that she intended to live, to go on, to embrace life where and when she found it, which was now, in this place, with her children, with us.
Gracia, recovering from a bullet wound in her leg and emotional trauma, spoke briefly to the press after the service, sharing one story from their captivity. The couple's captors allowed them to listen to a shortwave radio one night, and as they were trying to find Voice of America they came across a Christian station, probably based in Alaska. The station was praying for people in troubled places, then said, "If you could hear Jesus speaking to God about you, you would not be afraid, even if you were surrounded by 1,000 of your enemies." They were tremendously encouraged by the broadcast, she said.
"It's tempting to call their story a tragedy and to label the Burnhams 'victims.' But that doesn't sound right," the Eagleeditorialized Sunday. "In a remarkable way, the Burnhams triumphed over their cynical captors and the cruel details of their captivity. They did it with faith. And love. And old-fashioned character. … Bad things often happen to good people. But we do have the freedom to choose how we respond to what life deals us."
Meanwhile, New Tribes Mission and the Philippine government are debating over continuing missions work in the Philippines. Martin Burnham's death, NTM spokesman David Mough told Philippine broadcast network ABS-CBN, "did not discourage other missionaries." (As The Orlando Sentinel notes in a separate story, missionaries are well aware of the dangers.) On the contrary, says Mough, "More people have expressed [their intention] to come to the field."
That worries the government. "The people are infuriated by the Abu Sayyaf," Acting Press Secretary Silvestre Afable Jr. told the broadcaster. "It wouldn't be good to have any religious activities in the area for the meantime until the situation simmers down and the people calm down."
More details are being confirmed about Operation Daybreak, though there's little that wasn't reported in the Christianity Todayarticle posted Friday. The Scout Rangers believed the hostages were with the guerrilla group, but opened fire before sighting them. They didn't spot the Burnhams until 15 minutes into the battle—by which time Martin was already dead and the firefight was half over. Martin Burnham appeared to have been shot in his back, and 1st Lt. Oliver Almonares, who ordered the attack, says Yap may have been hacked or stabbed to death by the terrorists.
Conservative Christians, Muslims unite against U.N. plans
The Washington Post reports in a front-page story today that conservative Christian groups have "set aside their doctrinal differences, cemented ties with the Vatican, and cultivated fresh links with a powerful bloc of more than 50 moderate and hard-line Islamic governments, including Sudan, Libya, Iraq, and Iran." The reason? "To halt the expansion of sexual and political protections and rights for gays, women, and children." Well, that's the Post's language for it, anyway. The main battle has been abortion.
"We look at them as allies, not necessarily as friends," the Catholic Family and Human Rights Institute's Austin Ruse tells the paper. "We have realized that without countries like Sudan, abortion would have been recognized as a universal human right in a U.N. document."
The alliance has also allowed the Bush administration to show Islamic governments that they share many values with the U.S. despite the war on terrorism, the paper says.
More articles
Crime:
Sexuality & marriage:
Pop culture:
Politics & law:
More articles of interest:
Related Elsewhere
See our past Weblog updates:
June 14 | 13 | 12 | 11 | 10
June 7 | 6 | 5 | 4 | 3
May 31 | 30 | 29 | 28
May 24 | 23 | 22 | 21 | 20
May 17 | 16 | 15 | 14 | 13
May 9 | 8 | 7 | 6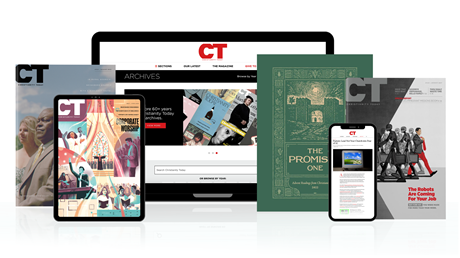 Subscribe to Christianity Today and get access to this article plus 65+ years of archives.
Home delivery of CT magazine
Complete access to articles on ChristianityToday.com
Over 120 years of magazine archives plus full access to all of CT's online archives
Subscribe Now
Inside Martin Burnham's Funeral
Inside Martin Burnham's Funeral