Supreme Court rules that Stratton, Ohio, violated free speech
In an 8-1 decision yesterday, the Supreme Court again ruled in favor of the Jehovah's Witnesses. A law in Stratton, Ohio, ordering all door-to-door canvassers to first get permission from the mayor's office is unconstitutional, the court said (PDF | HTML).
"It is offensive—not only to the values protected by the First Amendment, but to the very notion of a free society—that in the context of everyday public discourse a citizen must first inform the government of her desire to speak to her neighbors and then obtain a permit to do so," Justice John Paul Stevens wrote for the majority. Distributing religious materials, the court reiterated from previous rulings, "occupies the same high estate under the First Amendment as do worship in the churches and preaching from the pulpits." Still, the court concentrated on free speech, not religious freedom—all canvassing, not just religious canvassing, is okay.
The lone dissenter was chief justice William H. Rehnquist, who argued that the decision "renders local governments largely impotent to address the very real safety threat that canvassers pose." He especially noted a double murder in Hanover, New Hampshire, where two Dartmouth College professors were killed by teenagers pretending to conduct an environmental survey for school. "The Constitution does not require that Stratton first endure its own crime wave before it takes measures to prevent crime," Rehnquist wrote. "In light of today's decision depriving Stratton residents of the degree of accountability and safety that the permit requirement provides, more and more residents may decide to place these signs in their yards and cut off door-to-door communication altogether."
In a concurring opinion, Justice Stephen G. Breyer dismissed Rehnquist's concerns. "For one thing, there is no indication that the legislative body that passed the ordinance considered this justification," he wrote. "Stratton did not rely on the rationale. … If the village of Stratton thought preventing burglaries and violent crimes was an important justification for this ordinance, it would have said so."
"The next time some Jehovah's Witnesses interrupt your dinner, you might consider thanking them," USA Today says in one of the only editorials Weblog has seen on the decision. "In gritty dedication to their religious principles, this out-of-the-mainstream denomination of scarcely 1 million members has probably done more than any other institution to secure freedom of speech for individual Americans." The paper called Stratton's rule "outrageous," noting that although "religious canvassers, whatever their faith, make a lot of people uncomfortable … folks can easily turn them away."
Jehovah's Witnesses and Latter-day Saints are celebrating the decision. In an amicus curiae brief, the Mormon church had noted in the last decade "a drastic surge in the number and severity of anti-solicitation laws that are being applied to religious proselytizing."
In Christianity Today's back yard of Wheaton, Witness Frederick Wilcox says he's grateful for the court's decision. "We're not selling anything," he tells the Chicago Tribune.
Still, Strattonites say the Supreme Court decision doesn't make a lot of difference. "If we see outsiders in town, we'll call [the mayor] up and let him know," Christy Weaver tells the Associated Press. "That's the way things are done around here."
Fellow resident Judy Lucas adds, "Everybody has the right to practice their own religion, but I don't think Jehovah's Witnesses have the right to push it on you from your own doorstep." Actually, Ms. Lucas, unless you've put your name on a "do not call" list, they do have the right. That's the point.
More articles
Related Elsewhere
See our past Weblog updates:
June 17
June 14 | 13 | 12 | 11 | 10
June 7 | 6 | 5 | 4 | 3
May 31 | 30 | 29 | 28
May 24 | 23 | 22 | 21 | 20
May 17 | 16 | 15 | 14 | 13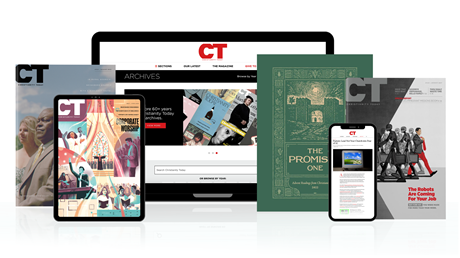 Subscribe to Christianity Today and get access to this article plus 65+ years of archives.
Home delivery of CT magazine
Complete access to articles on ChristianityToday.com
Over 120 years of magazine archives plus full access to all of CT's online archives
Subscribe Now
"Weblog: Door-to-Door Missionaries Don't Need Permission, Says Supreme Court"
"Weblog: Door-to-Door Missionaries Don't Need ...