Ediborah Yap, who was held hostage with Martin and Gracia Burnham, has become an afterthought since dying on June 7. Most news accounts have focused on the Burnhams' plight and only briefly mention "Yap, a Filipino nurse." But Yap, a hostage of Abu Sayyaf for over a year, was as much a heroic figure as the Burnhams.
Rebels took Yap captive from the Torres Memorial Hospital compound on Basilan Island on June 2, 2001, to treat their wounded. "She was taken hostage when she was doing her duty as a nurse, and even in captivity she was doing her duty," said Philippine President Gloria Macapagal-Arroyo. According to some reports, Yap had the opportunity to escape at one point, but she chose to stay and care for the Burnhams.
That decision proved fatal. Yap, 48, died from three gunshots during a rescue attempt on June 7. "Ediborah died in the line of duty," Macapagal-Arroyo said.
A Navy patrol craft brought her body to Lamitan, a religiously mixed village on Basilan Island, about 550 miles south of Manila. Hundreds of residents were at the airport when her body arrived on June 9, and both Christians and Muslims attended her funeral Mass. Macapagal-Arroyo said the government plans to name a hospital in Yap's honor.
Yap was a mother of four children, ages 23, 20, 18, and 7. While in captivity, she sent them letters through secret couriers. "My heart really aches whenever I remember you," she wrote in November. "I'll never stop loving you till my last breath." In other letters, she reminded her daughter to plan for college and asked for chocolates for the Burnhams.
Gracia Burnham met briefly with Yap's children before she returned to Kansas. "If you have the courage of your mother," she told them, "you will all be a success."
LaTonya Taylor is editorial resident for Christianity Today.
Related Elsewhere
Also appearing on our site today:
Filipino Churches Lent 'Constant Prayer' to the Hostage Crisis | Christians in the Philippines are saddened by the deaths of Burnham and Yap but are now more active in evangelizing to Muslims.
Other news articles include:
4 US soldiers carry nurse Yap's coffin to her grave in Lamitan—Associated Press (June 14, 2002)
Philippines mourns hostage 'heroine'—BBC (June 14, 2002)
2 killed in Philippines mourned—San Diego Union-Tribune (June 12, 2002)
Extensive articles and coverage on the Burnhams are available at Yahoo's full coverage, The Philippine Inquirer, The Daily Tribune, ABS-CBN, The Wichita Eagle and The Orlando Sentinel.
Article continues below
New Tribes Mission has maintained a special Burnham report on its website with frequent updates on the situation and a chronology of their captivity.
Previous Christianity Today articles on the captivity of the Burnhams includes:
Martin Burnham: Willing to Go | Family and friends remember the talented pilot, mechanic, and missionary to missionaries. (June 17, 2002)
Two Hostages Die In Attempted Missionary Rescue In Mindanao | Wounded survivor Gracia Burnham returns to Kansas after 376 days in jungle captivity. (June 14, 2002)
Hostage Homecoming | "This must be one of the happiest moments of my whole life," says widowed missionary Gracia Burnham. (June 11, 2002)
'God Was Good to Us Every Single Day of Our Captivity' | Gracia Burnham speaks after being reunited with her family in Kansas. (June 10, 2002)
Martin Burnham Went Out Serving With Gladness | Families, church eager for reunion with Gracia today. (June 10, 2002)
Free the Burnhams | A year after the missionaries' abduction, it's time to bring them home. (May 24, 2002)
Families of Hostage Couple Wait | Men's prayer group for Burnhams perseveres six days a week. (Feb. 26, 2002)
Agency Disputes Rumors about Burnhams | All indications say the hostages are still being held captive in the jungles of Basilan Island. (Feb. 26, 2002)
Missionary Couple Remains in Limbo | The apparently poor condition of the Burnhams has given the case a new urgency. (Jan. 17, 2002)
Kidnapped Missionaries Reported Safe | But danger increasing for Burnhams—and for workers around the world. (June 26, 2001)
New Tribes Missionaries Kidnapped | Muslim rebels in Philippines threaten to kill Martin and Gracia Burnham and 18 others if military intervenes. (May 29, 2001)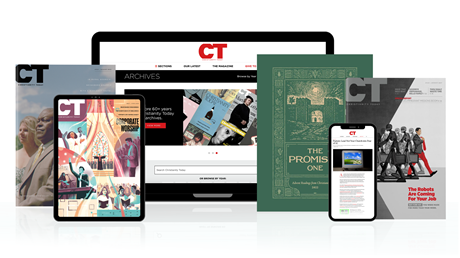 Annual & Monthly subscriptions available.
Print & Digital Issues of CT magazine
Complete access to every article on ChristianityToday.com
Unlimited access to 65+ years of CT's online archives
Member-only special issues
Subscribe
Ediborah Yap: The Almost-Forgotten Hero
Ediborah Yap: The Almost-Forgotten Hero