Doug Burnham, brother of slain missionary Martin Burnham, served with New Tribes Mission in the Philippines from 1988 to 1998. He now lives with his family in Rose Hill, Kansas.
Could you tell me a little bit about Martin and his faith journey?
I don't remember exactly when it was he was saved. I remember he was baptized the first year we were in the Philippines, which was in 1970, so sometime before that is when he accepted Christ as his savior.
He loved outdoors. We had pellet guns and we'd go out. We didn't ever catch much, but we'd go shoot at stuff. Loved to hike. Loved to go through the woods. Explore. He loved a lot of different things. He excelled a lot in whatever he did. He liked to read, too. Even though he wasn't real good academically, he read a lot.
I do remember when he was in sixth grade, which would have been about 12, that was our first year in the Philippines as a family, and on our first ride in the plane, he said, "I'm going to be a missionary pilot when I grow up." From that point on, anything having to do with airplanes he loved. But I think at that point, it was more the thrill of flying than that he saw this as a ministry. He just immediately had a love for flying.
At that stage, did you know a lot of other missionary pilots?
Well, New Tribes had its own missionary pilots. The Wycliffe Bible Translators flight base was not real far away from the New Tribes flight base. Pilots were our lifeline. It was either go in and out by air or else it was hike in and out. That was the only way. There wasn't a road going in there.
What was the college he went to?
When he first came [back to the U.S.] after high school he went for a year at New Tribes Bible Institute in Jackson, Michigan. And he knew he wanted to be a missionary pilot, so it moved him in the right direction. He then moved back to Wichita, and an uncle helped him get enrolled at the Boeing Tech school to get his A&P mechanics license for planes. So he did that, and he was able to get in to the Cessna air company and work there. Through that, they had a flight program, a flying club where he got flight instruction there and started taking flying lessons.
From '77 to '80 he was in the U.S. while the rest of us were in the Philippines. When I came back in 1980, I'd seen a lot of change in him maturity-wise. He'd gotten involved in the Rose Hill Bible Church, and spent a lot of time with the youth there. It seemed to be having a good influence on him.
At that point some friends had taken him up to Calvary Bible College, and they were looking to start an aviation program. So he was kind of excited about that, and thought maybe this would be the way to go, to finish up his Bible training and to get a degree in missionary aviation. He had written me about his visit there, and it sounded like a good college to go, so we kind of made plans for the two of us to go off to Calvary that fall. Then he decided he would sell the vehicle he was making payments on. He felt he couldn't go off to college yet until he got that sold. So he waited and I went to Calvary.
He joined me the next semester: the Spring of '81. By that time he was pretty well finished up with his flight instructor rating. So in that first semester he went to school at Calvary and he was part-time faculty right off the bat because they needed flight instructors and he was teaching guys to fly, which helped put him through school.
You met Gracia before Martin did, correct?
Yeah. Gracia was in her senior year when I started [at Calvary] in the fall of '80. Everyone knew Gracia at Calvary. She was a very fun-loving, very outgoing gal. She was known for having a good walk with the Lord. I think in her graduating class she received the Christian ministry award. She was generally the life of the party there.
She's a very social person. She loved to entertain, she loved to be with people. I can see her wanting to get together with the family of Debra Yapp. I'm sure that [because of that] friendship, that bond that they had with her, Gracia wanted to reach out to that family. She wanted to be able to tell them something about their mother and she wanted to be able to give them something they could hang onto [and] just express her love for them.
Did Martin have a reputation in college?
Not really. He had some friends. A lot of his friends were those who were in the aviation part. They looked up to him. We all got involved in the missionary prayer fellowship at college right off the bat. His second year, he served as one of the officers; it was a student-led program. He got really excited about missions a lot more there, and was really trying to encourage other people to look at the missions field too. Gracia graduated in '81. She was asked by the dean's staff to stay and be a secretary for the dean's staff, which she did.
So both of them had gone as students and ended up employed by the college as well?
Yes. When she was the secretary to the dean, Martin was a resident assistant in one of the dorms, and so he had a lot of contact with the dean's staff. And I don't know if that's how they actually got to spending some time together, but it was that second year after she had graduated, probably Martin's second semester actually, then, that they started actually spending some time together. And that's where the friendship started there. And right after Martin graduated in '83, they got married.
When they went to the Philippines in 1986, they re-started New Tribe's flight program in Mindanao that was previously shut down due to a lack of pilots. Are Martin and Gracia the types of people who liked building things up like that?
They were really good at getting things started. There had been a lot of interpersonal problems in the mission. And people were not really wanting to use the flight program. But Martin and Gracia worked hard to restore a lot of the confidence in the flight program to where people were wanting to use it. And they really appreciated having Martin and Gracia there. Any program they went [into], they were able to make it go when other guys weren't. They went beyond just flying the plane in order to make people appreciate the ministry that they were doing.
And Martin said, "I'll even pay for people's flight hours if I have to so we can make this available to the people that need it." Within the last few years they were on the field, they moved back to the flight center. But by that time Martin was the senior pilot. His responsibility was not only to fly but to oversee all the other pilots: more administrative work, which he was willing to do, but his love was to be in the pilot seat.
Are there any particular stories of Martin and Gracia's missionary life that captured the kinds of missionaries they were in the Philippines?
Gracia was known for sending special extras on the plane. One couple was telling me that, I think it was Thanksgiving Day, she cooked a whole Thanksgiving dinner, and brought [it] in to this older couple, just to do something special for them. That's the kind of things they would do. They would think, what could we do to encourage these people? And they would reach out.
They were missionaries to missionaries in many ways. Not that they didn't have a ministry to Filipino people, but their main ministry was focused towards the missionaries themselves, supporting them, keeping them encouraged and supplied. They didn't get a lot of praise sometimes from churches, even the U.S. I don't know if they found it difficult for them raising support, but I know a lot of our support missionaries do have that trouble. Some churches don't want to support you if you're not doing church planting and you're not doing evangelism, if you're not directly involved in the communicating the Gospel. But they are just behind the scenes in their ministry, and they just did it well
Did they carry on their ministry once they were hostages?
[Gracia] said all the guys that were with [Martin] had a chance at one time or another to hear the gospel. She didn't say whether any responded to the gospel but she said, they definitely heard Martin. He didn't push it. He was more of a quiet type. You knew his faith was genuine but he wasn't the type of guy that just intermingled with every conversation. But you saw the genuineness of his life. He just would question them and challenge some of their own beliefs. And then just share his own faith in God.
From what I'm reading, the Abu Sayyaf had a chance to see the gospel in the Burhams lives as well.
That's right. They served them, anything they could do for them. When they would get a package of food sent into them, they would share what food they could and didn't eat it all themselves. There was word that their satellite phone went down and the solar panel wasn't charging the battery [so] Martin worked on it and fixed it. Of course, Gracia said that he was required to carry some of their supplies and never once complained. She said he fell a lot of times, the trail was slippery but he never complained once. He never complained once about having to carry it.
Can you tell me kind of what was happening here in the United States from the anniversary of their captivity up until the rescue attempt? Was that a particularly busy time for the family working for the release?
No, not necessarily. Mom and Dad were involved in a lot of that. I didn't really get involved in it that much. But I think they were thinking about, "Do we need to backtrack and re-check some of the avenues we've tried in the past?" They were in regular contact with the FBI, the State Department and they were talking with them saying, "What's being done?," and "Are you guys doing everything?"
It seemed like there was a lot of not everyone [being] on the same page as far as working together to get Martin and Gracia released. Everyone had ideas but they weren't pooling them together, they weren't working together, they weren't talking together. After one year, there was a little bit of frustration. Dad made the comment, "They've been down there how long and the Philippine military has been there for a year, and they still don't know where they're at?"
But there was a lot of talk of back-door deals going on. And so maybe in the back of our minds there was kind of an anticipation that maybe someone would swing a deal and they would be released. Of course, from the very beginning we were hoping for release, But after the one year of it dragging on and on, we thought maybe these guys will get tired of dragging Martin and Gracia through the jungle and they just want to give them up because they're tired of the baggage they are, or else someone's going to come up with a deal that's going to let them get out of this gracefully.
What kind of lessons has your family learned in all the work it had to do with the government and various politicians throughout this year?
Well, we are really grateful to have the congressmen and senators that we have in this area, both Congressman Tiahrt and [Sen.] Sam Brownback are professing Christians and they recognized that there was a need for prayer and seeking God's will. In fact, they both prayed, [and] would pray regularly with Mom and Dad when they would call. They didn't just talk about it. It just seemed like the Lord had put them in key positions in Congress. They had good contacts. They were just a big help.
I think since September 11, the U.S. has learned a lot about how dealing with hostage situations and terrorism and stuff that they've had to rethink a lot of things. And some of those things, we saw really before September 11 happened and [Mom and Dad] tried to point some of those things out through their visits there and just the lack of coordination between different departments of the government. That was some of the frustration we felt.
What do you hope that the evangelical world learns from the experience of Martin and Gracia?
I just really hope that it will be a wake-up call for the evangelical world, especially in America. We've gotten too comfortable with where the church is at. It doesn't need to be a few individuals like Martin and Gracia who are willing to put their faith on the line even to the point of death. I think each one of us should be sold out to walking with the Lord and serving him in whatever place we're at, even if we're not on an island in the Philippines. There's a hurting world out there around us and we're just taking it easy. We're not really putting 100% into our faith. I'm just as guilty as everyone else.
Article continues below
Related Elsewhere
Extensive articles and coverage on the Burnhams are available at Yahoo's full coverage, The Philippine Inquirer, The Daily Tribune, ABS-CBN, The Wichita Eagle and The Orlando Sentinel.
New Tribes Mission maintained a special Burnham report on its website with frequent updates on the situation and a chronology of their captivity.
Previous Christianity Today articles on the captivity of the Burnhams includes:
Ediborah Yap: The Almost-Forgotten Hero | The Filipino nurse could have escaped from Abu Sayyaf but stayed to care for the Burhams. (June 18, 2002)
Filipino Churches Lent 'Constant Prayer' to the Hostage Crisis | Christians in the Philippines are saddened by the deaths of Burnham and Yap but are now more active in evangelizing to Muslims. (June 18, 2002)
Martin Burnham: Willing to Go | Family and friends remember the talented pilot, mechanic, and missionary to missionaries. (June 17, 2002)
Two Hostages Die In Attempted Missionary Rescue In Mindanao | Wounded survivor Gracia Burnham returns to Kansas after 376 days in jungle captivity. (June 14, 2002)
Hostage Homecoming | "This must be one of the happiest moments of my whole life," says widowed missionary Gracia Burnham. (June 11, 2002)
'God Was Good to Us Every Single Day of Our Captivity' | Gracia Burnham speaks after being reunited with her family in Kansas. (June 10, 2002)
Martin Burnham Went Out Serving With Gladness | Families, church eager for reunion with Gracia today. (June 10, 2002)
Free the Burnhams | A year after the missionaries' abduction, it's time to bring them home. (May 24, 2002)
Families of Hostage Couple Wait | Men's prayer group for Burnhams perseveres six days a week. (Feb. 26, 2002)
Agency Disputes Rumors about Burnhams | All indications say the hostages are still being held captive in the jungles of Basilan Island. (Feb. 26, 2002)
Missionary Couple Remains in Limbo | The apparently poor condition of the Burnhams has given the case a new urgency. (Jan. 17, 2002)
Kidnapped Missionaries Reported Safe | But danger increasing for Burnhams—and for workers around the world. (June 26, 2001)
New Tribes Missionaries Kidnapped | Muslim rebels in Philippines threaten to kill Martin and Gracia Burnham and 18 others if military intervenes. (May 29, 2001)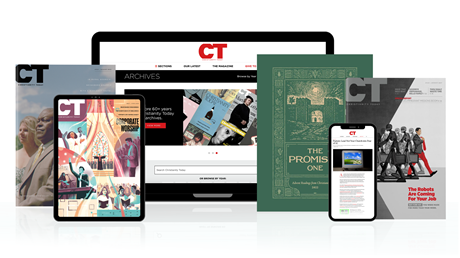 Annual & Monthly subscriptions available.
Print & Digital Issues of CT magazine
Complete access to every article on ChristianityToday.com
Unlimited access to 65+ years of CT's online archives
Member-only special issues
Subscribe
'They Were Missionaries to Missionaries'
'They Were Missionaries to Missionaries'