PBS special on faith and 9/11 airs tonight
Weblog hasn't seen a preview copy of "Faith and Doubt at Ground Zero," the two-hour documentary airing on PBS's Frontline tonight. Reviews around the country, however, say it's very good. "This is no feel-good exercise; it moves you to tears," says the Houston Chronicle. "The spiritual backlash from 9/11 is intensely personal and frequently painful." Newsday makes a similar judgment: "Forget those technical bells and whistles. This is interactive TV, at its most elementally intimate."
The program is divided into four parts: Sept. 11 (an immediate reaction to the terror attacks), The Face of God, The Face of Evil, and The Face of Religion. It interviews clergy who've lost their faith, grieving families who've been strengthened in it, and even touches on the David Benke controversy.
It's clear from the reviews that the documentary is predictably big on questions and avoids answers, but it still sounds like a show worth watching. And for those of you with teens in the house, don't worry: in most places, Frontline airs after the finale of American Idol.
By tonight, the program's website will have its usual cornucopia of extended interviews, transcripts, video excerpts, and other resources.
On a related note, New York Times columnist Peter Steinfels also examines "Where was God on Sept. 11?" this week. "It is an inevitable, a necessary and a valuable question. It is also an odd one. Where was God, after all, on Sept. 10" when countless others died around the world?
One of Steinfels's points also suggests that Frontline may have spent too much time interviewing atheists—who apparently get much more time in tonight's program than they warrant demographically. "Truly convinced nonbelievers can ignore the question," he says. "It doesn't concern them. At some level—unless they want to make it the punch line in an argument—it doesn't even make sense in their terms."
Steinfels concludes by noting that the farewell phone messages of those who perished in the terrorist attacks didn't ask where God was. "Men and women facing anguishing deaths used these instants to reassure and to console those they loved, to anticipate grief and to try to ease it … Having other things to do, they may have offered one hint of an answer."
Men's ministry leader Ed Cole dies at 79
Ed Cole, founder of the Christian Men's Network, died Tuesday of bone marrow cancer just days short of his 80th birthday. The author of Maximized Manhood and 13 other books, Cole was seen as "the father of the men's movement" and was a mentor to Promise Keepers founder Bill McCartney. But when he launched his organization in 1979, few ministries were targeting men. "When I came along, I came with a revelation—and that revelation was to command men to repent of sex sins," he is quoted as saying in his Christian Men's Network obituary. "When I went to hold my first men's meeting up in Oregon. … I gave [that message to repent of sex sins]. That night out of 500 men there, 360 responded to that command, and they all fell on their faces before God in repentance. It took off from there." New Man magazine has an interview with Cole, conducted just a few weeks before his death.
Here comes the Faith-Based Initiative—again
"With President Bush's 'faith-based' legislation facing an uncertain fate, the White House is planning an aggressive effort to implement parts of the program this fall even if Congress does not approve," The Washington Post reported on its front page Saturday.
"We really want the legislation badly," James Toweym director of the White House Office of Faith-Based and Community Initiatives, told the paper. "But this office isn't just about federal legislation. This office is going to move forward with the president's initiative."
The administration plans to teach more than 5,000 religious groups at seminars around the country about how to apply for federal grants. Among the suggestions: form organizations with neutral names. "[When] you run into an official who's an armchair First Amendment person," Towey said yesterday, "if you're 'John's Shelter,' you can go after the money but if you're 'St. John's Shelter,' you can't."
More articles:
Lights! Camera! Apocalypse! | Washed-up Hollywood stars battle the antichrist and his smooth-talking liberal minions in the wacky parallel universe of "end-times" Christian movies (John Gorenfeld, Salon.com)


Pastor criticized for teachings | Carlton Pearson, a high-profile pastor and Grammy-nominated singer, has paid dearly for straying from the orthodox evangelical theology he was raised to believe (Associated Press)


Earlier: Heresy Charge Torpedoes Pastor's Political Debut | Tulsa Christian leaders reject Pearson's 'gospel of inclusion' as universalism (

Christianity Today

, June 12, 2002)
Related Elsewhere
See our past Weblog updates:
August 30 | 29 | 28 | 27 | 26
August 23 | 22 | 21 | 20 | 19
August 16 | 15 | 14 | 13 | 12
August 9 | 8 | 7 | 6 | 5
August 2 | 1 | July 31 | 30 | 29
July 26 | 25 | 24 | 23 | 22
July 19 | 18 | 17 | 16 | 15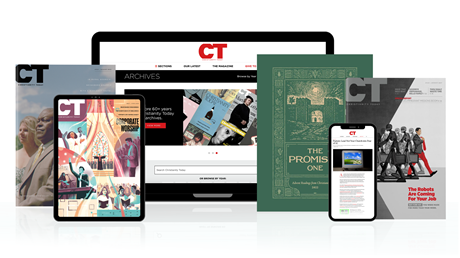 Annual & Monthly subscriptions available.
Print & Digital Issues of CT magazine
Complete access to every article on ChristianityToday.com
Unlimited access to 65+ years of CT's online archives
Member-only special issues
Subscribe
PBS Examines 'Faith and Doubt at Ground Zero'
PBS Examines 'Faith and Doubt at Ground Zero'