The Israeli Parliament, the Knesset, recently passed a law that has outraged civil rights groups around the world. And it should be equally troubling to Christians.
Modern Israel has about 6.5 million Jewish citizens and about 1 million Arab citizens. And up till now, they have been free to marry anyone they wish. If an Israeli Jew marries a Hungarian or a German, the new spouse can move to Israel. If an Israeli Arab marries a Turk or an Egyptian, their new spouse can also move to Israel. This is common practice in countries around the world. But many Israelis are troubled by the marriage of Israeli Arabs to West Bank and Gaza Arabs. Since 1993, about 100,000 Palestinians have become Israeli citizens through such marriages. Last Thursday, with a vote of 53 to 25, the Israeli Parliament has put a stop to it.
If an Israeli man who happens to be Arab falls in love with a Palestinian woman from Bethlehem, he will be expelled from the country or forced to live separate from his wife. Even their children will be affected. They will be denied the benefits of citizenship. No such ethnic marriage laws apply to Jewish choices in marriage partners.
Amnesty International drafted an appeal to the Knesset urging them to reject the bill because it bars the reunification of families and is "profoundly discriminatory." An Israeli human rights group called B'Tselem was equally critical: "This is a racist law that decides who can live here according to racist criteria." Hanny Megally of Human Rights Watch told the British newspaper The Independent, "This bill blatantly discriminates against Israelis of Palestinian origin and their Palestinian spouses. It's scandalous that the government has presented this bill and its shocking that the Knesset is rushing it through."
Israeli cabinet ministers defended the decision, saying that it addressed a security issue, keeping potential terrorists out of the country. But since 1993, only 20 of the 100,000 Arab spouses who entered Israel have been involved in terrorism. The real reason is likely demographic: The Arab population within Israel's borders is growing faster than the Jewish population. And this is one more effort to stem the tide.
Christians should care about these matters because we are told again and again that Israel can make a legitimate biblical claim for nationhood. But if Israel does make such a claim, it also must live by biblical standards of nation building. In those standards, discrimination against the "widow, the orphan and the alien/sojourner" are the prophets' measure of righteousness in the land.
Laws such as this place in question Israel's claim to be a democracy. Imagine if the U.S. Congress passed a law stating that any citizen can marry anyone they wish without penalty—except Hispanic citizens. If they marry someone Hispanic who lives outside the country, they will be deported. Just imagine. In such a case, I hope that the church would speak up as loudly in Washington as it should speak up in Jerusalem today.
Gary M. Burge, Ph.D., is professor of New Testament at Wheaton College (Ill.) and author of the recently published Whose Land? Whose Promise? What Christians are Not Being Told About Israel and the Palestinians (Pilgrim Press, 2003).
Opinions expressed in Speaking Out do not necessarily reflect the views of Christianity Today.
Related Elsewhere
See more Christianity Today articles on the Israeli-Palestinian conflict here.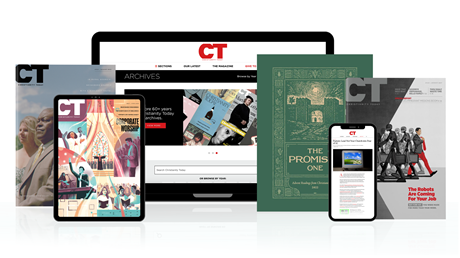 Subscribe to Christianity Today and get access to this article plus 65+ years of archives.
Home delivery of CT magazine
Complete access to articles on ChristianityToday.com
Over 120 years of magazine archives plus full access to all of CT's online archives
Subscribe Now
Israel's Anti-Family Values
Israel's Anti-Family Values