On Sunday afternoon in Minneapolis, after celebrating Holy Communion only a few hours earlier, the Episcopal Church's House of Deputies observed the Lord's Day by debating whether to confirm an openly homosexual man as a bishop. Then the deputies gave him the equivalent of a landslide victory.
Several primates from the Southern Hemisphere had announced the week before the Episcopal Church's General Convention that if this gathering approved Gene Robinson as the next Bishop of New Hampshire, it would place itself outside the fellowship of most the world's 72 million Anglicans. "You'll get over it," responded about 60 percent of these 800-plus deputies, representing roughly 2.3 million Episcopalians. (For comparison's sake, consider that Nigeria's Anglican leaders, many of whom must contend with hostile Muslim neighbors, count 17 million people in their care.)
Conservative deputies fought heroically, blending appeals to Scripture, tradition, reason, Anglican polity, and some personal experiences to plead that their fellow deputies not dismiss fellow Anglicans so glibly.
Lonell Wright, an African American deputy from New Orleans, responded to the oft-repeated liberal argument that Scripture condones slavery, and thus can be disregarded in anything squirm-inducing that it says about sex outside of marriage. "Anybody who tells me that Scripture condones slavery," he said, "does not get it."
George Marshall of Schenectady, New York, appealed to giving his family a church to believe in. "My children and my children's children don't go to church anymore. They lost faith—not in God, but in an institution that doesn't know what it believes or why," he said. "For the sake of my children, please don't do this thing."
The Rev. Donald Curran of Ocala, Florida, observed that his fellow conservatives were making mostly left-brain arguments. "It's all true, but not very sexy." Meanwhile, he said, advocates of confirming Robinson made right-brain, storytelling arguments that "pull at your heartstrings, and it's very persuasive." Curran said that confirming Robinson was like the Episcopal Church leaving the large ship of global Anglicanism, loading itself onto a small lifeboat, and cutting loose.
Even fellow priests of the Episcopal Church, much less global Anglicanism, have stopped considering each other fellow Christians because of this divisive election, said the Rev. Ephraim Radner of Pueblo, Colo. "This ought to be a sign to use that the Body of Christ has not reached consensus. … Or do we think that the Episcopal Church is called to be the Jeroboam or Jehu of Anglicanism? If so, I suggest that we consider their ends."
The Rev. Sharon Lewis of Osprey, Florida, said she awoke at 4:30 a.m. Sunday, weeping as she thought of the young people in her parish who have sought counseling and deliverance regarding various sexual addictions and pathologies. "See their faces with me as I have to explain that it's okay for a bishop to violate Scripture, tradition, and vows, but not for you."
But liberal deputies would have none of it, and their arguments persuaded the vast middle as well.
Bonnie Anderson of Bingham Farms, Michigan, responded to concerns about global schism and the financial effects of departing individuals or congregations: "My grandmother always told me that fear is the absence of faith."
The Rev. Sherman Hesselgrave of Portland, Oregon, referred to the documentary film Trembling Before G-d (about a young gay Orthodox Jew) to back his belief that "God changes God's mind and the Spirit is leading the church" into new understanding.
The Rev. Altagracia Perez of Inglewood, California, said that she often votes to approve bishops about whom she knows nothing, and that her diocese usually waits a month to make sure no scandalous news emerges about a bishop-elect. This time, she said, she could vote with a clear conscience to approve Robinson, because she has worked with him and found him trustworthy.
The Ven. Mark Hollingsworth of Boston cited Barbara Harris, the sharp-tongued first woman bishop in the Anglican Communion. "The issue was not gender, but power," when Massachusetts elected Harris as its suffragan (assistant) bishop, he said. "The issue today is not human sexuality, but power."
Liberals in the House of Deputies had the power on the first Sunday in August, 2003, and they exercised it with little apparent concern for the consequences.
Douglas LeBlanc is an Associate Editor of Christianity Today.
Related Elsewhere
Other LeBlanc dispatches appearing on our site today include:
Gene Robinson Takes Questions in a Church called Gethsemane | Speaks on reparative therapy, potential schism, and whether he really "/left" his wife for his male lover.
What in the World Is God Doing? | For Episcopalians, the night may be darkest before the dawn.
Deputies Slice into the Gordian Knot | The Episcopal Church's House of Deputies approve Gene Robinson as New Hampshire Bishop. The House of Bishops will vote today.
Article continues below
See LeBlanc's earlier dispatches from the General Convention:
Gene and Me | My history with the openly gay man elected bishop of Rochester
Integrity Doles Out God's Not-So Inclusive Love | The Integrity Eucharist has become a triennial sort of mass pity party.
Gay Rites Would Not Bless Ecumenism | Could also impair Anglican work overseas.
More coverage of the General Convention is available from the ECUSA website, which has streaming video. Conservative and orthodox perspectives are available from Classical Anglican Net News, the American Anglican Council's A Place to Stand, and David Virtue's Virtuosity.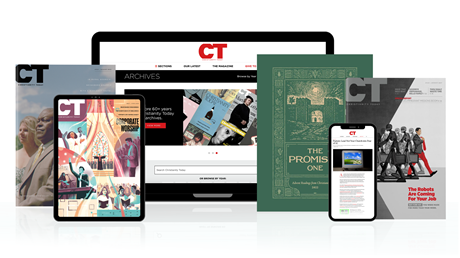 Annual & Monthly subscriptions available.
Print & Digital Issues of CT magazine
Complete access to every article on ChristianityToday.com
Unlimited access to 65+ years of CT's online archives
Member-only special issues
Subscribe
Dispatch: Praise the Lord and Pass the Condoms
Dispatch: Praise the Lord and Pass the Condoms