Newspapers aren't sure what the Episcopalians did yesterday
Journalists must have been confused during yesterday's Episcopalian House of Bishops vote on same-sex union liturgies yesterday in Minneapolis. A sample of the newspaper headlines this morning:
Episcopal vote allows blessings of gay unions—

The Washington Post
Episcopal leaders reject proposal for same-sex union liturgy—

The New York Times
Episcopalians consider same-sex unions—Associated Press
Bishops open door to blessing gay unions—

Chicago Tribune
Bishops reject same-sex liturgy—

The Boston Globe
Episcopal same-sex unions left up to local churches—

The Los Angeles Times
Confused? Hopefully, Douglas LeBlanc's dispatch from the convention today can explain what really happened.
Christian station turns to 1960's rock and roll
Old Bob Larson must be turning over in his grave (not that he's dead). Springfield, Ohio, Christian radio station WULM, run by Urban Light Ministries is going "less talk, more rock." More specifically, it's dropping its news, sports, and weather format in favor of "the sounds of Motown and the Rock of the '60s." This probably makes it the only Christian radio station in the country to make the Rolling Stones and the Beatles the cornerstone of its broadcasting.
However, reports The Springfield News-Sun, the station will bar suggestive material. Among the 43 of the 1,100 songs banned in the WULM library: "Let's Spend the Night Together" and "The Ballad of John and Yoko."
"In keeping with providing family-safe programs and in working toward presenting a positive viewpoint toward Christianity, we felt like it was for the good that certain songs were not played," station general manager Robert Pitsch told the paper.
The station will also air "short Christian vignettes … to inspire thoughts of hope, faith, and concern for character," the paper says.
Integrity Music slumps
While WULM's format change may set some Nashville commentators talking about what makes something "Christian," Christian music company Integrity Media took a major hit this week on the stock market after reporting a second-quarter loss of $696,000, or 12 cents a share. Monday, the stock price dropped 18 percent, to a a two-year low of $4.30.
"The company blamed the weak economy, a flood of product returns and a lack of new releases for its poor showing," notes SmartMoney.com. But president and CEO Michael Coleman also " blamed his company's flagging sales on the illegal downloading of music from the Internet (though he didn't quantify the impact to the top line)," writes SmartMoney.com's Lawrence Carrel.
Daniel Smith, an analyst at Austin-based hedge fund Teton Capital, agrees. "I think the main thing is the piracy," he said.
Really? Weblog earlier reported that the Gospel Music Association has blamed piracy, at least in part, for its 10 percent drop in sales, but the examples given by the GMA suggested that pirates were more prone to stealing crossover acts like Evanescence and Stacie Oricco than core Christian acts—especially praise tunes. Are pirates really hitting KaZaA for the latest Darlene Zschech recording of "Shout to the Lord"?
Given Weblog's online setup—and the fact that Weblog isn't too keen on potentially making Christianity Today International party to the Recording Industry Association of America's anti-piracy Inquisition—Weblog has no idea how many Integrity titles are available on file-sharing networks like KaZaA. Does anyone else know? How popular are praise tunes?
More articles:
Gay marriage:
The Catholic Church and Canada's gay marriage laws:
Sexual ethics:
Faith in politics:
Disbelieving pastor reinstated:
Cross on state property:
Church and state:
Missions and ministry:
Black church pays white worshippers:
Mel Gibson's The Passion:
Judicial appointment battles:
Related Elsewhere
Suggest links and stories by sending e-mail to weblog@christianitytoday.com
Check out Books & Culture's weblog, Content & Context.
See our past Weblog updates:
August 6 | 5 | 4
July 30 | 29 | 28
July 25 | 24 | 23 | 22 | 21
July 18 | 17 | 16 | 15 | 14
July 11 | 10 | 9 | 8 | 7
July 3 | 2 | 1 | June 30
June 27 | 26 | 25 | 24 | 23
and more, back to November 1999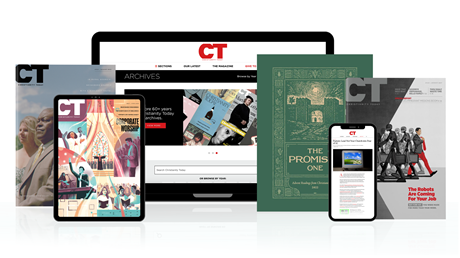 Subscribe to Christianity Today and get access to this article plus 65+ years of archives.
Home delivery of CT magazine
Complete access to articles on ChristianityToday.com
Over 120 years of magazine archives plus full access to all of CT's online archives
Subscribe Now
"Weblog: Newspapers Report that Episcopalians, um, Did Something on Gay Marriage"
"Weblog: Newspapers Report that Episcopalians, um, ...