Focus on the Family pulls back
James Dobson's Focus on the Family has announced that it is eliminating 100 positions from its staff of 1,300 (that's about 8 percent). Of those positions, however, 66 are unfilled, so the ministry is only laying off 34 employees. They are the first layoffs in the organization's 26-year history.
The Colorado Springs Gazette reports that the layoffs were "low to midlevel positions across the ministry." Some employees have already left the ministry after being informed of the layoffs this week. Focus spokesman Paul Hetrick says that some of the laid off employees will be considered for open positions the ministry didn't cut.
Focus on the Family is also cutting $5 million from its $130 million budget this year. "Some programs will be eliminated or drastically reduced in scope," Dobson said in a January 30 memo to his staff, but he didn't say which ones.
The organization will also cut merit pay increases and travel, drop the frequency of Focus on the Family magazine to eight issues a year (it's now at 10), and eliminate an office cafeteria and annual employee picnic.
"What we are thankful for at Focus on the Family is so far, we have not had to undergo or take drastic measures," Hetrick told the Gazette. "This has impacted us, and I don't mean to make light of it. But it has impacted us in a lighter way than it has other nonprofit organizations."
That's true to a large extent. The Luis Palau Evangelistic Association also recently announced layoffs, for example. But the Gazette's religion reporter, Eric Gorski, notes that two other major ministries based in Colorado Springs—Compassion International and the Navigators—are seeing growth.
Focus has been hurting over the last several years. Donations have dropped 3 percent since 1999, and in December 2000 the ministry was $2.5 million in the hole (its budget was then $135 million) before year-end checks and responses to Dobson's pleas for cash brought it back into the black.
In today's Focus on the Family broadcast (RealAudio), the ministry rules out one way of making up the difference—asking for donations from lottery winners like Andrew J. Whittaker Jr., who promised to tithe his $314.9 million Powerball lottery winnings.
"I turned to [my wife] Shirley when I heard that and I said, 'What would we do if that man chose Focus on the Family?'" Dobson said. "And we had to agree that no matter how much it was we wouldn't take it. We'd turn it down, because it's based on the exploitation of the poor."
"That's important for our listeners to hear, because as we've said recently a few times, it's been tight financially around here, and I'm sure that there are ministries that would be tempted to take that money and put it to seemingly good use," said cohost John Fuller.
Dobson agreed: "And many ministries are struggling. Ours is one of them, but some even more than we are."
Bush: "This is a nation of prayer"
As Weblog is about to be posted for the day, the White House has just posted President Bush's address at the National Prayer Breakfast, along with audio.
"It is fitting that we have a National Prayer Breakfast. It is the right thing to do, because this is a nation of prayer," Bush said. "I hear all kinds of things on the ropelines, but … the comment I hear the most from our fellow citizens, regardless of their political party or philosophy, is, 'Mr. President, I pray for you and your family, and so does my family.' That's what I hear. I turn to them without hesitation and say, 'It is the greatest gift you can give anybody, is to pray on their behalf.'
"I especially feel that because I believe in prayer. I pray. I pray for strength, I pray for guidance, I pray for forgiveness. And I pray to offer my thanks for a kind and generous Almighty God."
It's unclear whether other addresses from the National Prayer Breakfast, including the main speech by National Security Adviser Condoleezza Rice, will appear online. If they're posted, we'll link to them here later.
More articles
Politics and law:
First Amendment  and religious discrimination:
War with Iraq:
Africa:
Faith-based initiative:
Interfaith relations and other religions:
Archaeology:
Prayer and spirituality:
Catholicism:
Related Elsewhere
Suggest links and stories by sending e-mail to weblog@christianitytoday.com
See our past Weblog updates:
February 5 | 4 | 3
January 31 | 30 | 29 | 28 | 27
January 24 | 23 | 22 | 21 | 20
January 17 | 16 | 15 | 14 | 13
January 10 | 9 | 8 | 7 | 6
January 3 | 2 | December 31 | 30
December 27 | 26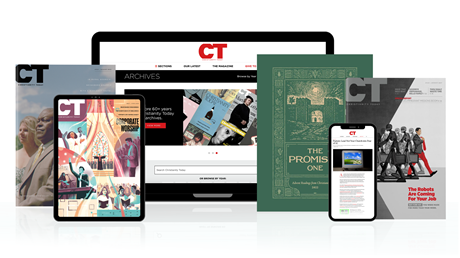 Annual & Monthly subscriptions available.
Print & Digital Issues of CT magazine
Complete access to every article on ChristianityToday.com
Unlimited access to 65+ years of CT's online archives
Member-only special issues
Subscribe
Focus on the Family Lays Off 34, Cuts $5 Million
Focus on the Family Lays Off 34, Cuts $5 Million