As battered pastor leaves India, Hindus prepare to force out other missionaries
Joseph Cooper, who was beaten and stabbed by a Hindu mob near Thiruvanthapuram, India, has returned to the United States. But Hindu activists are still pursuing a criminal case against him for violating the terms of his tourist visa by preaching at a Protestant church meeting. A lower court has adjourned the case until tomorrow.
Cooper's situation is bad news for other foreign pastors and missionaries in India. The militant Hindu group Vishwa Hindu Parishad (VHP) says it has a list of about 50 other foreign missionaries who are "'similarly' engaged in forced religious conversions or are attending religious functions in 'blatant violation' of their visa provisions," according to India's PTI news service. (One wonders how Cooper's preaching to a room entirely consisting of Christians is an example of forced religious conversions, but then again, the radical Hindus regularly make up claims of "forced" conversions.) The list will be submitted to authorities in the southern state of Kerala. "If the government fails to act, then it will have to face 'direct action' in the form of agitations," VHP state head Kummanam Rajasekharan said. By agitations he apparently means the kind of action that sent Cooper to the hospital.
The Bharatiya Janata Party (BJP) is India's ruling political party, and supports the VHP and other militant Hindu groups (including the Rashtiriya Swayamsevak Sangh, members of which have been arrested for the attack on Cooper). It also says it will act against foreign Christians. "If the state Government is unable to prevent the forced religious conversions, BJP will mobilize people against such moves," state party chief C. K. Padmanabhan told a press conference.
Cooper's case may affect Indian Christians as well. "If the policy is that religious preaching is illegal, then Indians should not go out and preach their religions," said K.C. John, head of the Indian Pentecostal Church in Kerala. "If we can go out and preach, then those who come to our country should have similar rights."
The U.S. government apparently agrees. "While we uphold the right of all countries to enforce their visa regulations, we note that the freedom of speech and of religion are two fundamental principles of both the Indian and American democracies," said U.S. consulate spokeswoman Helen LaFave.
Indians are standing against Cooper's detractors as well. Cooper's deportation order "may be an appropriate action by the civil authorities in Kerala on the grounds that he should not have spoken at a religious meeting after coming into the country on a tourist visa," says an editorial in The Hindu, a national newspaper. "But then, the issues involved in this case are certainly not those that could conveniently be reduced to a matter of immigration rules. The violence let loose against Mr. Cooper and his associates near Thiruvananthapuram was clearly a fallout of the majoritarian political agenda at work, and hence warranted an approach that had to be distinctly different from dealing with ordinary instances of breach of law and order."
The newspaper is especially grieved that
the political establishment … had refrained from speaking out against the violent attack and identifying the political forces behind the heinous crime. … The people involved were not demonstrating in protest against his violation of the visa rules; they indulged in an unpardonable and grievous assault. Their intention was to drive a sense of fear into the Dalits and the tribals the missionary had visited and "prevail" upon them against converting to Christianity. In this sense, the incident on Friday was one that infringed on the right of the people to choose their religion.
Efforts to "crack down" on other Christians violating their visa terms similarly damage India's democracy, the paper said. "While the need to put the activities of the missionaries and their source of funds through the scanner and the enforcement of immigration rules is justified in the abstract, the fact is that such a focus in the immediate aftermath of the attack … will not only be abused by sections within the bureaucracy, but will also lend a sense of legitimacy to the violent ways of the storm troopers of the various [militant Hindu] outfits."
Religious discrimination in the workplace complaints rising quickly
"Worker complaints of religious discrimination made to the Equal Employment Opportunity Commission jumped more than 20 percent last year, driven primarily by claims of retaliation against Muslims," the Associated Press reports. "But in a much more gradual trend, complaints … involving a broad range of religions have slowly mounted—up 85 percent over the past decade. Such cases make up a very small percentage of overall workplace discrimination complaints, but they are rising at a much faster rate."
Likewise, the AP reports, 20 percent of personnel executives say their companies had seen worker requests for religious accommodations increase in the past five years.
More articles on religious discrimination:
Judge Roy Moore says  9/11 caused by nation's turn from God
"How many of you remember Americans running to get gas masks because (of) some bearded man in Afghanistan?" Alabama Chief Justice Roy Moore asked yesterday as he accepted an honorary doctorate in divinity from the National Clergy Council and Methodist Episcopal Church U.S.A. "Fear struck this country. … You see, there are consequences when we turn away from our source of our strength."
Moore complained that the last 40 years of legal theory have led the country to believe that rights are granted by the government, not God. "The role of government is not to give us rights," he said. "The role of government is not to deny the God that does. The role of government is to secure the rights God gave you."
More articles
War:
Iraq:
Persecution and religious freedom:
U.S. politics:
Foreign politics:
Court cases and legislation:
Prayer in Maryland Senate:
Abortion:
Other life ethics issues:
Crime:
Vandalism:
Archeology:
InterVarsity:
National Baptist convention:
Martin Luther King Jr. and race relations:
Related Elsewhere
Suggest links and stories by sending e-mail to weblog@christianitytoday.com
See our past Weblog updates:
January 22 | 21 | 20
January 17 | 16 | 15 | 14 | 13
January 10 | 9 | 8 | 7 | 6
January 3 | 2 | December 31 | 30
December 27 | 26
December 19 | 18 | 17 | 16
December 13 | 12 | 11 | 10 | 9
December 6 | 5 | 4 | 3 | 2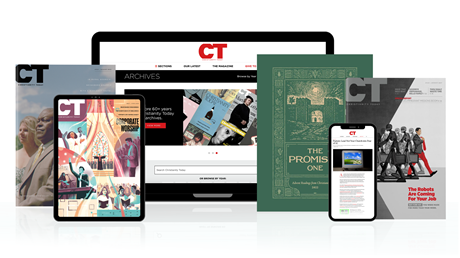 Annual & Monthly subscriptions available.
Print & Digital Issues of CT magazine
Complete access to every article on ChristianityToday.com
Unlimited access to 65+ years of CT's online archives
Member-only special issues
Subscribe
Hindu Militants Prepare to Attack Other Foreign Christians
Hindu Militants Prepare to Attack Other Foreign Christians