Comprehensive ban on human cloning one of first bills introduced in 108th Congress
U.S. Rep. Dave Weldon (R-Fla.), a prolife physician, has reintroduced a bill that would ban all human cloning, imprisoning and fining violators up to $1 million.
"Human cloning hasn't cured any diseases, it will commercialize women's eggs and wombs, it poses serious risks to the cloned child-to-be and violates human dignity," he said.
Weldon sponsored a similar bill last year, which passed in the House but stalled in the Senate, where opponents wanted a ban on reproductive human cloning but allowances for cloning for research and medical purposes. Though Republicans now control the Senate, the bill is expected to have similar trouble this year. Research into so-called "therapeutic cloning" says a spokesman for Sen. Dianne Feinstein (D-Calif.), "offers hope to millions of people with incurable diseases. It would be unconscionable to stop that research and dash the hopes of those people."
Weldon dismisses such ideas. "I read the medical literature and there does not exist even an animal model for therapeutic cloning," he says. The chance of passing his bill, he told The Orlando Sentinel, "is yet to be determined, but I'm optimistic that we'll be able to do it."
Backers of the comprehensive ban say the threat of human cloning has been made apparent by the Raëlian UFO cult, which recently claimed they had created a human clone.
"In some sense, our friends in the Raëlian movement have helped us … to focus the attention of the American people on the perils that await us," Mike Pence (R-Ind.) told Reuters.
One item missing from Weldon's earlier bill is a ban on importing medical treatments that use human cloning techniques. The new bill still bans the importing of cloned human embryos. The treatment import ban was opposed by Sen. Bill Frist (R-Tenn.), who is now Senate Majority Leader.
In related news, the European Commission has called for a global ban on reproductive human cloning. "Reproductive cloning must be condemned not only for obvious ethical reasons and common values, but also because it is about an utterly irresponsible practice from the scientific point of view," Research Commissioner Philippe Busquin said. "Experiments with animals show there is a huge amount of uncertainty and risk associated with cloning."
Manhattan senator: Ban priests from praying
While the U.S. Congress discusses a ban on human cloning, one of the issues facing the New York Senate is a proposed ban on Catholic priests. Tom Duane (D-Manhattan), the Senate's only openly gay member and a reported Roman Catholic, was furious that that Albany Bishop Howard Hubbard gave the invocation in the opening session yesterday. According to the New York Post, Duane "fired off an angry letter to Senate Majority Leader Joseph Bruno, asking that priests not be allowed to pray in the Senate in light of the ongoing Catholic Church sex scandal."
Have the Anabaptists won?
Has the pacifist wing of the Reformation finally won out—after nearly 500 years of dissent over the issue of justifiable war, asks UPI religion editor Uwe Siemon-Netto. It sure seems that way. Catholics, Eastern Orthodox, Lutherans, Anglicans, and Calvinists are all using such pacifistic language over the looming war in Iraq that they sound more like Quakers, Mennonites, and Amish than they have in their historical affirmations of just-war theory.
Siemon-Netto, meanwhile, aligns himself with Lutheran theologian William Lazareth, who "makes the clear distinction between 'just war' coram Deo (before God), which is a theological impossibility … and 'justifiable war' coram hominibus (before men), a theory to which Christians and Jews have been historically committed."
The distinction, he says, comes from a doctrine "of God's twofold reign in this world … [which] distinguishes between the spiritual realm of grace, peace and forgiveness, which clearly is not one of war. This is the realm of the God who has revealed himself in Christ—the Church. On the other hand, though, God is also in charge of the temporal realm where he acts in a hidden way and where reason is the determining principle. And reason may well dictate the use of force to restrain the bad guys."
For a similar, but more entertaining take on the subject, check out Joseph Bottum's "AWOL Christian Soldiers?" from the Oct. 1, 2001, issue of The Weekly Standard. Of course, back then the issue was Afghanistan, not Iraq.
Islamic alliance blames Christians for Pakistan church attack
Muttahida Majlis-e-Amal, a six-party alliance of Muslim political groups that saw great gains in Pakistan's October elections, has a creative—and insidious—theory about who was behind the deadly Christmas attack of a Protestant church service in Daska. The MMA says the raid, which left three girls dead, was a ploy by Christians to get U.S. immigration visas. The Muslims claim that they, not the Christians, are the ones being persecuted.
More articles
Church and state:
Politics and law:
Life ethics:
Education:
Persecution and violence:
Crime:
Church life:
Prayer and spirituality:
Related Elsewhere
Suggest links and stories by sending e-mail to weblog@christianitytoday.com
See our past Weblog updates:
January 8 | 7 | 6
January 3 | 2 | December 31 | 30
December 27 | 26
December 19 | 18 | 17 | 16
December 13 | 12 | 11 | 10 | 9
December 6 | 5 | 4 | 3 | 2
November 27 | 26 | 25
November 22 | 21 | 20 | 19 | 18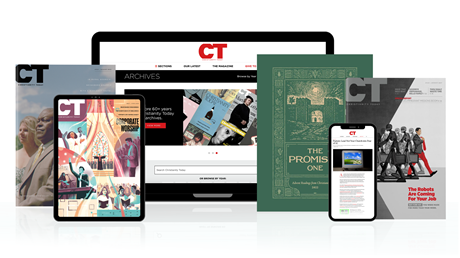 Annual & Monthly subscriptions available.
Print & Digital Issues of CT magazine
Complete access to every article on ChristianityToday.com
Unlimited access to 65+ years of CT's online archives
Member-only special issues
Subscribe
Cloning Ban Bill Reintroduced in House
Cloning Ban Bill Reintroduced in House