Christian networks battle over Dish Network
Three major Christian television networks are battling each other in a satellite broadcasting fight that has gone largely unreported.
In April, Dominion Video Satellite, which owns the Sky Angel satellite service, sued Echostar, the parent company of Dish Network, saying it violated a 1996 contract. Sky Angel, the company said, had exclusive rights to air Christian content on the Dish Network. So what were the Daystar Television Network and FamilyNet TV doing on new Dish channels?
Simple, said Echostar. FamilyNet TV is owned by the Southern Baptist Convention, but it isn't exclusively "Christian programming." As for the more religious Daystar, the satellite company said, federal law requiring satellite providers to grant at least 4 percent of their channels to "noncommercial programming of an educational or informational nature" takes precedence over the exclusive deal.
Last week, U.S. District Judge John L. Kane called Echostar's arguments "disingenuous," and issued a temporary injunction removing Daystar and FamilyNet from the Dish Network while the Sky Angel suit was worked out in arbitration.
"Based on my review of the relevant regulatory provisions that [Digital Broadcast Satellite services] have discretion to choose between qualified applicants, I find EchoStar was in no way 'required' to choose the Christian-themed programmers it did. Moreover, I find that FCC regulations do not preempt the exclusivity provisions of the agreement," Kane wrote.
Kane ridiculed claims that FamilyNet isn't religious programming, and suggested that both the Southern Baptist network and Echostar were dishonest. "To describe FamilyNet as anything other than Christian-religious programming is absurd," he said. "By analogy, one would have to say that Leonardo da Vinci's 'The Last Supper' is not a religious painting because it merely portrays thirteen men having dinner."
He also cited a 1998 contract between SkyAngel and FamilyNet in which the Baptist network "certified that its programming was predominantly Christian-religious, that it was aware of the EchoStar-Dominion exclusivity provisions and that its programming fell within the definition of Christian programming under that Agreement. There was no evidence adduced at the hearing even suggesting that FamilyNet has endured a programmatic epiphany. The only inference is that in presenting itself to EchoStar, FamilyNet engaged in some monumental fibbing."
In a Baptist Press article, North American Mission Board executive vice president Randy Singer counters that because FamilyNet's programming is evangelistic, it's not "religious" as defined by the Dish Network contract with Sky Angel, which uses the phrase "solely marketed to the Christian theme and content."
"Although a majority of FamilyNet's programming is Christian, it is not marketed solely to a Christian audience," Singer said. "The primary purpose of FamilyNet is to reach a non-Christian audience with the gospel. And, the most frustrating aspect of this whole thing was that the court never heard that argument, because neither FamilyNet nor Daystar was called to testify during the three-day hearing."
Singer also says that removing FamilyNet from the Dish Network would violate the First Amendment. "Dish could be ordered to remove our network solely because we're Christian," he said. " I pray that doesn't happen."
Constitutional concerns had been raised at trial, but Kane said they were "exceedingly fanciful and do not merit further comment."
Two days after Kane's granting of the injunction, however, the 10th U.S. Circuit Court of Appeals stayed the ruling. FamilyNet and Daystar can stay on the Dish Network. For now. Sky Angel has until Friday to file a response.
Meanwhile, reports the Ft. Worth Star-Telegram, "tensions have escalated between Daystar and Sky Angel. On a Tuesday broadcast, [Daystar founder Marcus] Lamb tore up a letter sent to him by Sky Angel's attorney asking him to stop discussing certain aspects of the case. [Sky Angel CEO Robert] Johnson said Thursday that Lamb has twisted facts and referred to the suit as the devil's work while showing Johnson's name and Sky Angel's telephone number."
On the Daystar website, however, Lamb writes, "Jesus is coming soon and we need to be fighting the Devil, not one another. Sky Angel and the Johnsons are not Daystar's enemy; the Devil is."
Still, Lamb writes, Sky Angel is being unbiblical, as it "goes against the Great Commission" and uses the courts rather than biblical arbitration. "Sky Angel may have a contract with EchoStar to keep other Christian Networks off of the Dish Network," Lamb writes. "But that doesn't make it right. God's law is higher than man's law."
More articles
Church and state:
Politics and law:
Australia's Uniting Church to decide on gay clergy:
Other religions and interfaith relations:
Church life:
SUV backers respond to Jesus campaign:
Crime:
Related Elsewhere
Suggest links and stories by sending e-mail to weblog@christianitytoday.com
Check out Books & Culture's weblog, Content & Context.
See our past Weblog updates:
July 14
July 11 | 10 | 9 | 8 | 7
July 3 | 2 | 1 | June 30
June 27 | 26 | 25 | 24 | 23
June 20 | 19 | 18 | 17 | 16
June 13 | 12 | 11 | 9
June 6 | 5 | 4 | 3 | 2
and more, back to November 1999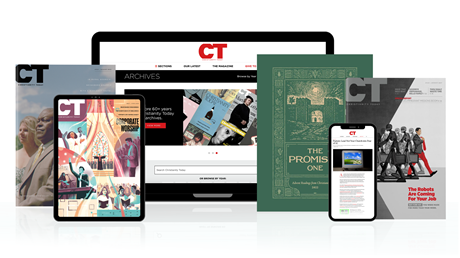 Annual & Monthly subscriptions available.
Print & Digital Issues of CT magazine
Complete access to every article on ChristianityToday.com
Unlimited access to 65+ years of CT's online archives
Member-only special issues
Subscribe
Christian TV Networks Battle for the Heavens
Christian TV Networks Battle for the Heavens