Big Idea Productions says it's looking for a buyer
Earlier this month, federal judge Barbara M.G. Lynn of Texas upheld the decision of a jury that Big Idea Productions, creators of the VeggieTales, owed a former distributor more than $11 million for breach of an unsigned contract. Christian Retailing reported last week that the amount owed Lyrick Productions "would cripple Big Idea without outside financial partners or an outright sale."
Big Idea founder and CEO Phil Vischer told Christian Retailing that he is now in talks with investors and could announce a move as early as this week. In the last year, Big Idea has had to downsize its staff considerably. Vischer told Christian Retailing that the company is now down to 45 employees. (Before the release of its first full-length feature film, Jonah: A VeggieTales Movie, Big Idea employed more than 200 people, both part time and full time.)
The decision to sell Big Idea comes as a surprise given Vischer's longtime commitment to creative control. Last year, then-COO Terry Botwick told CT, "In order to uphold the integrity of our vision and maintain creative control on Jonah, we made a corporate decision to not accept outside funding."
However, Vischer told Christian Retailing that the new business plan was necessary not only because they lost the suit, but also because they attempted to expand the company too quickly. "We got ourselves upside down financially when everything was working wonderfully," Vischer told Christian Retailing. "When things were doing so well, I thought that was God wanting us to expand, so we grew like crazy. Now I think it was more me having all these great ideas in my head and being so excited that I wanted to do them all at once."
A CT source said last year that Big Idea was financially strong on direct-to-video sales before making Jonah. A week before the movie opened, Big Idea laid off more than 30 employees. Vischer said the move was made necessary because of the studio's production schedule as well as a weakened retail environment.
At this month's Cornerstone Festival, Squint Entertainment founder Steve Taylor said in a Phantom Tollbooth press conference that Big Idea lost money in a 2001 attempt to join him in buying the label from parent company Word Records as it was being sold to Gaylord Entertainment. But the signing was postponed. (Gaylord has since sold Word Records, along with the Squint label, to Warner Bros.)
"At first, it was looking like Word was dragging their feet, and then, it became more and more apparent that Big Idea was actually in financial difficulty as well," Taylor said. "As successful as they've been, and as great a work as they have done, they'd actually gotten to where they were over their head financially and hired too many people, and they were just having trouble keeping their cash flow going."
Big Idea and Taylor then agreed to fund Squint themselves while they raised the funds to purchase it. "Big Idea was assuring me that they would be able to come up with the money, it was just a matter of a few months…but they actually were in such a financial hole, they were never able to get out of it," Taylor said. "During these six months, I'm paying money out of my rapidly depleting bank account…and Big Idea was probably matching every dollar I put in 2 to 1. The more they got in, the more I was sure they would actually close because they wouldn't want to lose all that money. I was wrong on that and they had to pull out right at the last minute."
Christian music labels blame Internet piracy for sales slump
Sales of Christian music are down 10 percent in the first half of 2003, says Nielsen SoundScan, which tracks such numbers.
"We are not surprised at the slowdown because gospel music sales are being affected by the same issues as the rest of the music industry—an uncertain economy and music piracy," Gospel Music Association president John W. Styll responded in a press release.
In fact, the Christian music industry seems to be very worried about piracy issues.
"There is no doubt that our music is being pirated at the same levels as every other type of music," Styll earlier told the Nashville Business Journal. "We do, however, face a unique paradox. On the one hand, we have the moral argument that stealing music is wrong. On the other, some naively have argued that downloading and sharing gospel music is a type of ministry, perhaps unaware that it is copyright infringement. While we work with organizations like the Recording Industry Association of America, we will also have to address our unique situation as we explore ways to move our consumers away from illegal downloading."
So far, that doesn't include taking KaZaA's Christian music fans to court, but it has included an instant messaging offensive, Christian music companies joining together to find ways to sell tunes online, and, the Nashville City Paper reports, a new campaign targeting church youth groups. (Newsweek had a similar report a few weeks ago.)
"We are planning to create programs and educational materials for churches to share with their congregations, starting with the youth departments, because that's where the majority of the downloading takes place," Styll told the paper. In fact, says youth ministries organization Interlinc, 60 percent of youth workers say a majority of their students are stealing music.
But are they stealing Christian music? Maybe. BigChampagne.com, which tries to be the Billboard magazine for file-swappers, says more than 1.5 percent of the 21 million people sharing music files have MP3s by Michael W. Smith, Third Day, and MercyMe. But crossover acts Stacie Oricco and Evanescence are much more common (5.7 percent and 12.4 percent, respectively).
Is it fair to say that Evanescence's popularity online is indicative of Christians stealing music? Maybe so, and that's why this story is so tricky. After all, the Christian Music Trade Association has been criticized for inflating its sales numbers by counting the sales of any CD sold in Christian stores—whether it's sold in a Christian store or not. (Think of it as a reverse-crossover effect. Your neighbor's copy of Mannheim Steamroller's Christmas Extraordinaire was counted as a Christian album, as was your uncle's O Brother Where Art Thou soundtrack and the kid down the street's P.O.D. purchase, though they probably didn't know it.)
Maybe that 10 percent drop in Christian music sales, then, has less to do with Christian music being pirated than by this year's lack of a major crossover album.
Or maybe not. Compared to what sells in the stores, BigChampagne.com CEO Eric Garland told the Nashville City Paper, Christian music—like other small genres—seems to be very popular on the file-swapping networks. "These are artists very heavily swapped online because they are [a] word-of mouth phenomenon where people are really interested in hearing everything that this artist does and learning from other fans of the artist," he said.
More articles
Missions and ministries:
Minnesota pastor's Laos imprisonment:
Persecution:
Life ethics:
History:
Film:
Prayer and spirituality:
Books:
Related Elsewhere
Suggest links and stories by sending e-mail to weblog@christianitytoday.com
Check out Books & Culture's weblog, Content & Context.
See our past Weblog updates:
July 15 | 14
July 11 | 10 | 9 | 8 | 7
July 3 | 2 | 1 | June 30
June 27 | 26 | 25 | 24 | 23
June 20 | 19 | 18 | 17 | 16
June 13 | 12 | 11 | 9
June 6 | 5 | 4 | 3 | 2
and more, back to November 1999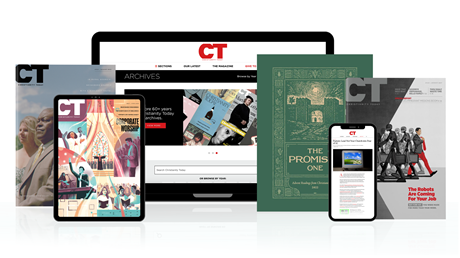 Annual & Monthly subscriptions available.
Print & Digital Issues of CT magazine
Complete access to every article on ChristianityToday.com
Unlimited access to 65+ years of CT's online archives
Member-only special issues
Subscribe
Veggies for Sale
Veggies for Sale