Last September, warfare in the Democratic Republic of the Congo erupted in a massacre at Nyankunde, a small town 25 miles southwest of Bunia. Witnesses said 7,000 militiamen from the Ngiti tribe attacked the Evangelical Medical Center, killing more than 1,000 people. Christian Congolese and missionary staff led about 900 patients on a one-week, 100-mile trek to safety.
An estimated 3.5 million people have died in the civil war that began five years ago. It is a fight between various ethnic and outside groups for control of the country's rich natural resources. In June the United Nations agreed to send a 1,400-member peacekeeping force to help quell a string of recent massacres near Bunia.
Africa Inland Mission (AIM), an evangelical agency based in Pearl River, New York, has appointed nurse Chris Hamilton to coordinate relief efforts in northeast Congo. Based in Tanzania, Hamilton and her husband, a pilot, travel there twice monthly. Ken Walker interviewed her.
What happened to the hospital and refugees?
Nobody can go back to Nyankunde. There are land mines laid around the mission and hospital perimeter. Looters are going back to take off the roofing materials. We set up a camp for refuges at Oicha mission (about 100 miles away) with the help of Samaritan's Purse. Many are workers from the center at Nyankunde. Some have joined the staff at the Oicha hospital; others are working in a nearby town.
However, in mid-May, the (Ngiti and Hemas) went at it again in Bunia. At least 200,000 people fled and are looking for refuge. As of June 1, we were active with 15 internally-displaced people's camps. We are also supporting the national church's effort to meet needs.
How has this situation affected Christians?
Persecution builds the church but it's not pleasant. But when I go about the camps, Christians tell me, "God is enough. He knows what He's doing." The church has risen to the occasion and is providing room for people to sleep in their schools and churches, and support so people can find other refugee sites.
It is also responding through development and crisis committees that find land, register refugees, distribute emergency supplies, help set up camps and watch out for people's general welfare. Medical people teach health care, collect water, and distribute supplies. The church has also set up evangelistic teams. The most overwhelming thing for me is to watch Christians in impoverished states continue to share everything they have with those who have lost everything.
Are missionaries there in danger?
Most have left. Those who remain are not in grave danger, although nothing is totally secure and isolated incidents continue to occur. In late May we did an amazing, six-day evacuation of 1,448 people—a joint effort of AIM Air and the Missionary Aviation Fellowship. They were in some danger. However, we operated with as much security as possible and God blessed those efforts.
News reports cite widespread looting, brutality and anarchy, with more than three million deaths since 1998. Why are things in this condition?
Those reports are accurate. There several reasons. One is that Africa is viewed as a dark hole. It has taken a lot to raise the international community's awareness, which has been one of our goals. A major problem is that there are a lot of personal interests behind this war. Northeast Congo is very wealthy. It has gold, coltan (a valuable ore used in cell phones), mahogany, and oil. Major corporations and neighboring countries are interested in these resources.
There is so poverty and conflict in Africa, it's difficult to decide where to place relief efforts first. At the same time, when we're talking about over three million people massacred in a major genocide, I think it's a real catastrophe that we can't get more involvement from the outside. International pressure could bring an end to a lot of what's going on there.
One report said a vast majority of Congolese became Christians during the 20th century. How this could happen with so many Christians there?
A lot of us ask that. I've been told by people there the problems began in the church, and by other people that they didn't begin in the church but they spread to the church. We need to remember the heart of man is deceitful above all things and desperately wicked. Once there was a foothold by the devil, things spread. Historically, the previous government under (Joseph) Mobutu was said to have been sold out to the devil. If that's true, then I think to some degree they are reaping what had been sown.
Accounts of the fighting make it seem as if tribal warfare is to blame for war.
To grasp a picture of the situation, one needs to understand that's only a small part of what's happening. Ethnic groups are being stirred up, armed, and provoked by outside groups who have personal interests in the nation's mineral wealth. The end result is rival militias vying for power, and suffering and death as villagers and their homes are plundered. The only way for this to end is for a stable government to be brought in, a Congolese government, and for other countries that have personal interests to be forced to leave.
How can people pray for the situation?
Ask God to bring an end to human rights abuses. As long as abuses are going on, it's difficult for anything to change. Pray there will be a swift and permanent end to this war. And, that there would be adequate resources to meet people's basic needs—food, shelter and water. Another would be that the gift of God's grace would be evident to all who come into contact with believers.
Related Elsewhere
The official website for the Africa Inland Mission includes information on its mission, history, work areas, and opportunities.
Previous Christianity Today stories on Congo's civil war include:
Roadblocks to Mercy | Congolese Christians won't allow a civil war to curtail outreach, church-planting. (Jan.8, 2001)
Missionaries in Congo Flee | Missionaries leave for the third time this decade in the wake of war and civil strife. (Feb. 8, 1999)
Congo Church Watchful Amid Chaotic Leadership Transition | Western missionaries who did not pull out ahead of the revolution scaled back and evacuated as rebels began to score victories. (July 14, 1997)
For more news articles see Christianity Today's World Report or AllAfrica.com.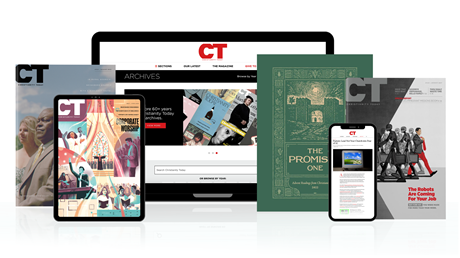 Annual & Monthly subscriptions available.
Print & Digital Issues of CT magazine
Complete access to every article on ChristianityToday.com
Unlimited access to 65+ years of CT's online archives
Member-only special issues
Subscribe
Uncivil War
Uncivil War