Fifty years from now, the summer of 2003 may be known as the time when Americans rediscovered Africa. HIV/AIDS in Botswana, bloody internal warfare in Liberia, and yellowcake uranium from Niger have all appeared on television newscasts and the front pages of newspapers. The overall impression of many Americans is that Africa is a continent of coups and contagion. But in the midst of such tragedy (by no means new to that continent) stands hope—in the form of Christian medical missions.
The modern-day marriage of health-care and Christian evangelism has a relatively unknown history of success. It has saved the lives of individuals, families, and villages, and introduced traditional societies to the transforming power of the gospel and Christian community. It is one reason why an estimated 380 million Christians dwell in Africa's 56 nations.
A historical—and living—example of this marriage is Harold Paul Adolph, a retired missionary surgeon and the son of a missionary surgeon. During his career, Adolph performed 25,000 operations, mostly overseas, beginning after he completed his m.d. in 1958 at the University of Pennsylvania. Adolph practiced in Ethiopia, Niger, and Panama's Canal Zone, as well as suburban Chicago. In 1997, the Christian Medical and Dental Society named Adolph as its Missionary of the Year.
But Adolph and his wife Bonnie Jo have not been content to spend their retirement years resting on their laurels at their home in Wisconsin. This year, they have been traveling the United States, raising $1 million to build a new 200-bed missionary hospital in rural south central Ethiopia, a remote region subject to drought, famine, and disease. Although the Adolphs don't have all the funding in place (they're about $300,000 short), they will be heading back to Ethiopia in a few weeks to help oversee the initial stages of construction.
Adolph's passion is not just for the missionary hospital. He's also committed to recruiting a new corps of missionary doctors from the ranks of students at American medical schools. In 1997, Adolph wrote an arresting first-person narrative, "Surgery on the Edge of the Desert" for the Bulletin of the American College of Surgeons. The article described in graphic detail 24 hours in the life of a missionary surgeon in Galni, Niger. After publication, dozens of medical schools invited Adolph to speak with students about overseas medical missions. "We see the sad disappearance of the career medical missionary," Adolph said recently to journalist James Adair. Adolph works closely with Project MedSend, a Christian agency that helps new doctors in debt get into the mission field.
A proud history
In all of the discussion about Africa's problems, missions-based health care stands out as one of the evangelical movement's best examples of holistic ministry. The history of the medical missionary is rich, varied, and touches on all major branches of Christianity. It encompasses such legendary figures as David Livingstone, known more for his famous explorations of South Africa and discovery of Victoria Falls than his bedside manner, and Albert Schweitzer, the son of a Lutheran pastor, author of Quest for the Historical Jesus, founder of a missions hospital in Gabon, and winner of the Nobel Peace Prize in 1952.
There are many more contemporary heroes—to mention just two, Helen Roseveare and Paul Brand, who died on July 8 following several weeks in a coma after a fall.
Roseveare, born in the U.K., was profiled in the 1994 book Ambassadors for Christ. She arrived in the Congo in 1953 with Worldwide Evangelistic Crusade and spent much of her working life caring for the sick, administering a hospital, and training Africans to be doctors and health care personnel.
Roseveare shared a commitment common among missionary doctors that the cause of the gospel is paramount. She said, according to writer Lin Johnson, "I want people to be passionately in love with Jesus, so that nothing else counts."
"I'm a fanatic, if you like, but only because I believe so strongly that nothing counts except knowing your sins have been forgiven by the blood of Jesus.
"We've only got this short life to get others to know the same truth."
Although Paul Brand's clinical work was mostly in India, his impact reaches into Africa and around the world because of his important research on leprosy, which remains a serious health problem in many parts of Africa.
One of Brand's most powerful contributions to the Christian community arose from his theological reflections on human experience. As a Christian physician, he discovered that the "most problematic aspect of creation [is] the existence of pain." He was later to write: "God designed the human body so that it is able to survive because of pain."
The origins of Christian medical missions
The Bible and early church history link the spread of the gospel to care for the sick and healing. The miraculous healings of lepers, the blind, and the lame in gospel accounts and Peter's healings in Acts are intimately connected to God's work of salvation through Jesus Christ.
During a fourth century famine in Turkey, Basil the Great of Cappadocia built a complex of buildings, including a church, a hospice for travelers, and a hospital for the sick. The hospital at Cappadocia is one of the earliest examples in Christian History of a church community dedicating itself to the urgent physical needs as well as the spiritual needs of people.
Sixteen centuries later, this model of ministry still works. "A doctor's vocation is his medicine, but his real calling is still to win people for Christ," Harold Adolph said in a 1981 interview for the Billy Graham Center missionary archive.
"When the love of Christ can be demonstrated by fulfillment of a tangible need, you get farther. They're coming to us with their recognized need; we're taking care of that and pointing out other needs."
Timothy C. Morgan is deputy managing editor for Christianity Today. More Christian History, including a list of events that occurred this week in the church's past, is available at ChristianHistory.net. Subscriptions to the quarterly print magazine are also available.
Related Elsewhere
Christian History Corner appears every Friday at on Christianity Today's website. Previous editions include:
European Christianity's 'Failure to Thrive' | Why Christendom, born with an imperial bang, is now fading away in an irrelevant whimper. (July 18, 2003)
Where Have All the Classics Gone? | These days it's a triumph when a movie is simply inoffensive. But we can do better than that (July 11, 2003)
From Beer to Bibles to VBS | How America got its favorite summer tradition. (July 3, 2003)
The African Lion Roars in the Western Church | Anglican liberals are fretting, conservatives rejoicing, and all are scrambling to their history books: whence this new evangelical force on the world scene? (June 27, 2003)
How John Wesley Changed America | His 300th birthday should be a red-letter day on this side of the ocean. After all, we're all Wesleyans now. (June 20, 2003)
Did Eric Rudolph Act in a "Tradition of Christian Terror"? | A historian considers the evidence of the Crusades and the Inquisition (June 13, 2003)
The Ancient Rise and Recent Fall of Tithing | Is yet another time-honored Christian practice fading from view? (June 6, 2003)
When World Leaders Pray, Part II | Tony Blair's spin-doctors worried when he recently "outed" himself as a Christian. But what impact has Christianity really had on our leaders? (May 29, 2003)
The Day the Ransoming Began | A gripping new book details the first American missionary hostage crisis, over 100 years ago. (May 23, 2003)
When World Leaders Pray | Some observers are upset with Tony Blair's recent public avowal of faith. But what impact has Christianity really had on our leaders? (May 16, 2003)
Got Your 'Spiritual Director' Yet? | The roots of a resurgent practice, plus 14 books for further study. (May 2, 2003)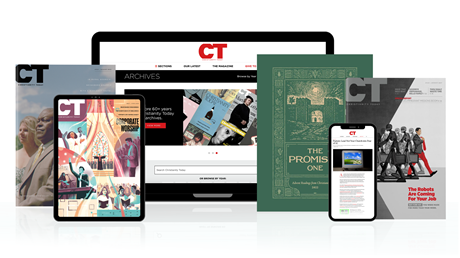 Annual & Monthly subscriptions available.
Print & Digital Issues of CT magazine
Complete access to every article on ChristianityToday.com
Unlimited access to 65+ years of CT's online archives
Member-only special issues
Subscribe
Medical Missions' African Legacy
Medical Missions' African Legacy