Before the Headlines:
Robinson (left) and
LeBlanc in 1999.
Photo by
David Willis/
Diocese of Rochester.
Like many other journalists covering General Convention this week and next, I am here mostly because Episcopalians in New Hampshire have chosen Gene Robinson, an openly gay man, to be their ninth bishop. But unlike most other journalists here, I was writing about Gene before writing about Gene was cool.
In the summer of 1998, as John Shelby Spong prepared to retire as Bishop of Newark, Gene was one of six candidates vying to succeed him (he finished a respectable third). I traveled to Newark for a weekend marathon in which clergy and laity would meet the candidates—what most of us Episcopalians call a walkabout or a dog-and-pony show.
Several hundred people had gathered at a suburban hotel on a Saturday, and the format was simple: we broke into smaller groups of about 30, and each candidate came in to deliver a brief speech and take questions.
I happened to sit in a corner near Gene's partner, Mark Andrew. Gene had mentioned Mark and looked in his direction. During a break, a friendly woman approached me and asked, "How are you handling all this?"
I am not accustomed to such spontaneous pastoral concern for my interior life, so I responded warily: I'm fine. Why do you ask?"
"You're Gene's partner, aren't you?" she said.
I feared that telling this dear soul my true identity—an activist reporter from the theological Right—might give her a heart attack. Instead, I smiled and pointed her toward Mark Andrew. When I saw a chance to talk with Gene, I decided to narrow the emotional distance that sometimes exists between reporter and subject and tell him the story. We both chuckled, Mark added a playful "He's taken," and I believe we're still on friendlier terms than we would have been otherwise.
I wrote about Gene again a year later when he ran to become bishop in the Diocese of Rochester. We posed for a picture there because we discovered another reason to share laughter. The diocese had provided rudimentary media IDs that spelled P-R-E-S-S in the rainbow colors often associated with gay liberation. It seemed that each time I would fly in to report on Gene in an episcopal election, I would somehow be splashed with pink.
I missed the honors at Gene's election this year, mostly because I didn't think I could persuade my editors at Christianity Today to let me travel to New Hampshire just to report on one bishop's election. My editors show an admirable restraint about harping too often on news of the Episcopal Church, because they remember that Episcopalians are but a fraction of our readers.
But I'm here now, feeling the gravity of the moment more strongly because of my brief and friendly brushes with Gene. I consider those encounters gifts from God, for they allowed Gene and me to relate in roles other than reporter and prey or controversial nominee and activist opponent.
I like Gene—I love him, really, for his willingness to endure the bright lights of church scrutiny and unequivocal opposition. Still, I agree with those Episcopalians who oppose Gene's confirmation as a bishop. I'm here to work with them because of our shared love of Anglicanism.
Make of this what you will. Call it fundamentalism with a smiley face, or cognitive dissonance, or even one conservative's hypocrisy. I prefer to revel in this paradox. During General Convention of 2003, and after it, I intend to nourish this paradox with goodwill, honest writing, and—God willing—still more serendipitous humor.
Douglas LeBlanc is Associate Editor of Christianity Today.
Related Elsewhere
In 2001, LeBlanc reflected on his friendship with another openly homosexual leader in the Episcopal Church, Louie Crew.
More coverage of the General Convention is available from the ECUSA website, which has streaming video. Conservative and orthodox perspectives are available from Classical Anglican Net News, the American Anglican Council's A Place to Stand, and David Virtue's Virtuosity.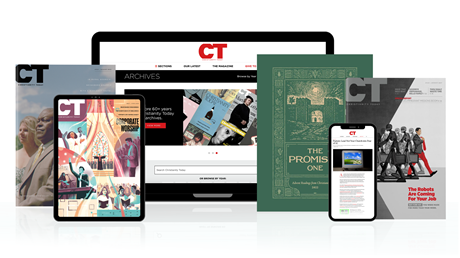 Annual & Monthly subscriptions available.
Print & Digital Issues of CT magazine
Complete access to every article on ChristianityToday.com
Unlimited access to 65+ years of CT's online archives
Member-only special issues
Subscribe
Dispatch: Gene and Me
Dispatch: Gene and Me