Court: Police officers can't refuse a job because of their religious beliefs
Ben Endres, a lay leader at Community Baptist Church in South Bend, Indiana, believes gambling is sinful. But in March 2000, after about nine years as a police officer, his superiors assigned him to work full-time guarding a local casino.
"Ninety-nine percent of the time, a Christian does whatever his employer says," Endres said earlier. "But it's my conviction to not be involved in any form of gambling."
When he refused to work at the casino, he was fired. So he sued.
Yesterday, the 7th U.S. Circuit Court of Appeals agreed with lower court rulings in rejecting Endes's discrimination claims.
"Many officers have religious scruples about particular activities," Judge Frank H. Easterbrook wrote in the court's ruling. "Does [the law] require the state police to assign Unitarians to guard the abortion clinic, Catholics to prevent thefts from liquor stores and Baptists to investigate claims that supermarkets mis-weigh bacon and shellfish? Must prostitutes be left exposed to slavery or murder at the hands of pimps because protecting them from crime would encourage them to ply their trade and thus offend almost every religious faith?"
The court ruled that the law does not require such accommodation, which would put an unreasonable burden on the police department. "Law-enforcement agencies need the cooperation of all members," the court said. "Beyond all of this is the need to hold police officers to their promise to enforce the law without favoritism. … Firefighters must extinguish all fires, even those in places of worship that the firefighter regards as heretical. Just so with police."
Endres is now a patrolman with the St. Joseph County Police Department, reports the South Bend Tribune.
Bush administration hopes to tap power of youth groups
Are church youth groups doing enough to stop drug abuse? The White House apparently believes they can do more, and, as part of President Bush's faith-based initiative, is launching a program (or perhaps just a pamphlet) to get the groups more involved.
"What we're recognizing is that religion is an institution that plays an important role in this effort," drug czar John P. Walters told the Los Angeles Times. "Faith communities are uniquely situated" to help at-risk youth, he said.
So far, the White House Office of National Drug Control has printed about 75,000 "Pathways to Prevention" booklets for the youth groups to use. The usual group of secularists are upset, blah blah blah.
One-point-twenty-one gigawatts!
Be careful what you pray for. About ten minutes into the sermon of a guest evangelist, at First Baptist Church in Forest, Ohio, thunder started to roll outside. The preacher, Ronette Cheney told CNN,
said thunder is like God's voice, so we were kind of like, oh, all right, and we were sitting in the church trying to concentrate. He was talking about repentance, and as the thunder got louder, he said OK, speak to me, God, speak to me, tell me what you want me to say. And boom, lightning struck the church and everything lit up. … The lightning strike was so strong — the lightning [lit] up his cordless microphone, and it was kind of like a blue aura around him. Also the speakers had static come right out of them.
The lightning caused $20,000 in damage to the church.
More articles
Same-sex marriage:
Church divisions over homosexuality:
Sexual ethics:
Life ethics:
Bioethics:
Religious freedom and discrimination:
Persecution:
Church and state:
Politics and law:
Church life:
Missions and ministries:
Books:
TV:
Film:
Mel Gibson's Passion:
Bonhoeffer: The movie
History and artifacts:
Media:
Education:
Bible:
Crime:
Clergy sex scandals:
Personalities:
Retreats and travel destinations:
Money and business:
Science and health:
Catholicism:
Interfaith relations and other religions:
Other stories of interest:
Related Elsewhere
Suggest links and stories by sending e-mail to weblog@christianitytoday.com
Check out Books & Culture's weblog, Content & Context.
See our past Weblog updates:
July 10 | 9 | 8 | 7
July 3 | 2 | 1 | June 30
June 27 | 26 | 25 | 24 | 23
June 20 | 19 | 18 | 17 | 16
June 13 | 12 | 11 | 9
June 6 | 5 | 4 | 3 | 2
May 29 | 28 | 27
and more, back to November 1999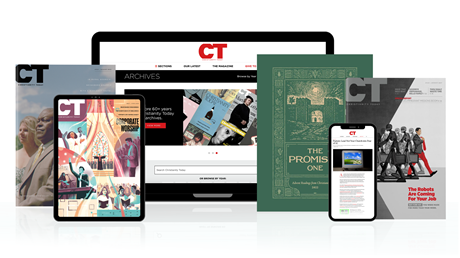 Annual & Monthly subscriptions available.
Print & Digital Issues of CT magazine
Complete access to every article on ChristianityToday.com
Unlimited access to 65+ years of CT's online archives
Member-only special issues
Subscribe
Federal Appeals Court Says Police Can't Decline Assignments for Religion
Federal Appeals Court Says Police Can't Decline ...