We still like Harry Potter—and we're getting tired of being asked why we hate it
Yesterday, Weblog got a call from MSNBC's Buchanan and Press show. They were putting together a segment on Christians' response to the Harry Potter books since the fifth book in the series is being released Saturday. The booking producer had heard that Christianity Today had published some articles about the books. Would we be interested in talking about them?
Certainly, Weblog said, and directed the producer to this page, which has all of our Harry Potter coverage (as well as articles from our sister publications) neatly arranged in chronological order. I summarized our point of view: we like the Potter series because …
Sorry, she interrupted. We're looking for someone who opposes the books. That's not you, huh?
No. That's not us. It's not much of anyone—as we've repeatedly explained, criticism of Harry Potter is coming (indeed, has always come) from individual parents. There's no organizational opposition to Potter—even from groups that comment on just about every issue under the sun.
Too bad television news rarely cares about what's really going on in the world. If the producer had done a simple Google search, she would have found a great article from Reuters.
"The evil Lord Voldemort may still have it in for the boy wizard, but the lawyers, preachers and family groups seem ready to give it a rest," writes Broward Liston, who usually reports on space matters. In fact, he notes, "many conservative Christians have come to embrace the books, in part drawn by a portrayal of evil that has grown increasingly sophisticated, almost Biblical, with each book."
Even former critics of the book are silent this time around. "I've moved on. I have other things to do," says Richard Abanes, author of Harry Potter and the Bible. "Within the Christian media and the Christian community, there is much less vocal response to this new book. I don't particularly think we're going to see any more huge book burnings and demonstrations and lawsuits and things like this. I think everybody already knows where they stand on Harry Potter."
That's not to say that there aren't evangelicals who aren't concerned about whether the Potter books will encourage kids to try witchcraft—especially with articles like this claiming that the books are, at least in part, responsible for a surge in paganism in the U.K. But if shows like Buchanan and Press send camera crews to show book burnings Saturday night, they'll be very lonely.
Nightline examines preaching evangelical teens
Okay, having let off some steam about television news, it's time for Weblog to calm down and praise ABC's Nightline, which daily demonstrates that serious reporting can be done for television. In a two-night Nightline series called "The Messengers," the network returns to a subject it hasn't done much with since it laid off religion reporter Peggy Wehmeyer two years ago
The program, which begins tonight, follows the American Association of Christian Schools preaching competition at Bob Jones University, and by all accounts it's very good.
"What makes this story such an inspired choice for Nightline is the window it gives into what is not just a belief system for tens of millions of Americans, but a way of life," says the Kansas City Star's Aaron Barnhart. "These young men embody a dilemma faced by evangelicals. They want to follow a godly path in a society that has a very different idea of success."
That was the whole point, says executive producer Leroy Sievers. "Our goal with this series is not only to tell a great story but to begin to pay more attention to a large community in this country that often goes uncovered," the Rocky Mountain News quotes him saying.
They succeed in that goal, says the Chicago Tribune's Steve Johnson. "Religion in general and evangelical Christianity in particular are rarely covered in mass media, unless somebody has been caught in an act of blatant hypocrisy," he writes. "Nightline's achievement here is to take us into this world when it is behaving in a fashion closer to the norm. … Nightline's hard-bitten Washington insiders paint their portrait of these teens and their backgrounds with compassion, with an honest search for understanding and, yes, with grace."
Perhaps Nightline's smartest decision was to avoid narration, says Elizabeth Jensen of the Los Angeles Times. "It's a world some viewers are sure to find intriguing and others will find controversial—some of the subjects in the report say so themselves—but what we don't hear is any kind of judgment, outside commentary or even basic journalistic 'here's what critics think' questioning about the boys and their calling."
Some articles make it clear that television is hurting from the lack of religion reporters like Wehmeyer, whose job it would be to find compelling stories like this. The idea for this series didn't come from anyone at ABC News, but from commercial producer Matthew Kaufman, who attended the preaching competition in 2001.
"It's high time we started doing more" reports on the evangelical community, Sievers told the Los Angeles Times. Maybe this will be the start of it, says The Baltimore Sun, noting that observers think religion coverage is improving in public broadcasting and the print media. "There have been great strides in the complexity and diversity of the kinds of coverage," Religion Newswriters Association Executive Director Debra L. Mason tells the paper.
A few other papers cover the competitors profiled in the Nightline broadcast, but Weblog won't spoil the ending.
More articles
Ugandan rebels ordered to kill Catholics:
Persecution in China:
Gay marriage in Canada:
Anglican splits over gay bishops:
Another Anglican battle—this time, in Australia
Church abuse scandal:
Life ethics:
Restoring churches:
Church land disputes:
Politics:
Church & State:
Church life:
Southern Baptist meeting ends:
Roman Catholicism:
Related Elsewhere
Suggest links and stories by sending e-mail to weblog@christianitytoday.com
Check out Books & Culture's weblog, Content & Context.
See our past Weblog updates:
June 18 | 17 | 16
June 13 | 12 | 11 | 9
June 6 | 5 | 4 | 3 | 2
May  29 | 28 | 27
May 23 | 22 | 21 | 20 | 19
May 15 | 14 | 13 | 12
May 9 | 8 | 7 | 6 | 5
and more, back to November 1999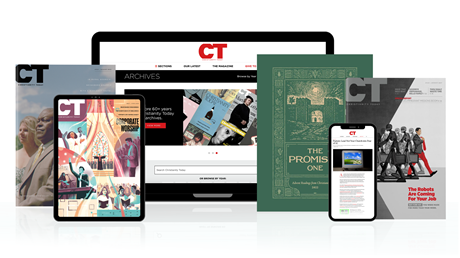 Subscribe to Christianity Today and get access to this article plus 65+ years of archives.
Home delivery of CT magazine
Complete access to articles on ChristianityToday.com
Over 120 years of magazine archives plus full access to all of CT's online archives
Subscribe Now
Most Evangelicals Like Harry Potter. Really.
Most Evangelicals Like Harry Potter. Really.