Was alleged Olympics bomber motivated by religion?
Is Eric Rudolph a Christian terrorist? The Washington Post asks the question in yesterday's edition. "The question is not just whether Rudolph is a terrorist, or whether he considers himself a Christian," writes Alan Cooperman. "It is whether he planted bombs at the 1996 Olympic Games in Atlanta, two abortion clinics, and a gay nightclub to advance a religious ideology—and how numerous, organized and violent others who share that ideology may be."
Syracuse University political science professor Michael Barkun, who has consulted the FBI on "Christian extremist groups," is willing to use the phrase. "Based on what we know of Rudolph so far, and admittedly it's fragmentary, there seems to be a fairly high likelihood that he can legitimately be called a Christian terrorist," he said.
But Idaho State University sociologist James A. Aho disagrees. "I would prefer to say that Rudolph is a religiously inspired terrorist, because most mainstream Christians consider Christian Identity to be a heresy," he said. The phrase "Christian terrorist," Aho says, is "sort of an oxymoron." But maybe now that the phrase is being used, says Aho, Christians will be more hesitant to use the phrase "Islamic terrorism."
Similarly, The New York Times called Rudolph a "Christian ideologue" (at least reporter Jeffrey Gettleman did initially—the phrase seems to have been dropped from the online version).
But there is compelling evidence that Rudolph actually wasn't motivated by religion—perverse, heretical, or otherwise.
Charles Stone, a retired Georgia Bureau of Investigation agent who supervised the bombing task force, says that Rudolph was really upset that the Food and Drug Administration didn't approve a drug he thought would help his father's cancer.
"The anti-abortion, anti-gay thing was a smokescreen," Stone told the Associated Press.
While Christian groups say that the "evil and wicked religion" that Rudolph was associated with—the Church of Israel—isn't one of ours, the Church of Israel says Rudolph isn't one of their own, either.
"We very clearly and emphatically teach that all Christians have a duty and an obligation to respect all law enforcement authorities. If Eric Rudolph had listened to his lessons here, he would have learned that acts of violence were absolutely and completely out of order and something this church would never have condoned," Dan Gayman said.
Syracuse's Barkun seems to give some credence to this, noting that the issues of abortion and homosexuality "are a rather subordinate theme" in Christian Identity—and that "anti-Olympic sentiment is not a motif in Christian Identity, and it still strikes me as an odd target."
In other words, even if Christian Identity was a kind of Christian version of Wahabbism (which it isn't), Rudolph wouldn't even have acted consistently with it.
"Assuming Eric Rudolph committed these crimes, he cannot find one word in the teachings of Christ to justify them," Gary Bauer wrote in response to the Post article. "Nor will he find any theological leader of any branch of Christianity willing to defend his criminal conduct. No Christian neighborhoods burst into celebration at the news of the bombings.  Nor are Christian children being taught that if Rudolph had died in his attacks he would be a 'martyr' welcomed into heaven. The contrast with radical Islamic teachings couldn't be more stark."
But wait, says The New York Times—Rudolph does have supporters, especially in rural North Carolina.
"Rudolph's a Christian and I'm a Christian and he dedicated his life to fighting abortion," 25-year-old Crystal Davis of Murphy told The New York Times. "Those are our values. These are our woods. I don't see what he did as a terrorist act."
That is a truly despicable comment. However, some other evidence that such feelings are widespread deserve to be treated with skepticism. When the Peach Tree Restaurant in Peachtree, N.C., changed its marquee to read "Pray for Eric Rudolph," it may have very well been out of support for the terrorist. Or it may have simply been a truly Christian sentiment to "pray for your enemies."
The New York Times says the community is "fiercely loyal" to Rudolph, and that such support "might complicate the case. … There may be no shortage of suspects" who helped him.
The Associated Press says otherwise. "Folks around here resent the notion that there was an army of sympathizers in these mountains, ready and willing to sustain a notorious killer," writes Allen G. Breed. "It is a deeply religious area where anti-abortion sentiment runs deep. But [residents say] there's a big difference between opposing abortion and killing someone over it."
In any case, there may be a tighter connection to the murders than abortion or religion. Deborah Rudolph, Eric's sister-in-law, says he's a drug addict. According to the AP, she told the Southern Poverty Law Center's Intelligence Report that in the early 1990s, he would "sleep all day, then stay up all night and eat pizza and smoke pot and watch movies by Cheech and Chong." He reportedly made as much as $60,000 selling hydroponic marijuana. That much pot is enough to make anyone paranoid.
More articles
PCUSA General Assembly:
Newsweek's cover package on life ethics:
Ten Commandments okayed in Georgia:
Film and TV:
Clergy sex abuse:
Related Elsewhere
Suggest links and stories by sending e-mail to weblog@christianitytoday.com
Check out Books & Culture's weblog, Content & Context.
See our past Weblog updates:
June 2
May  29 | 28 | 27
May 23 | 22 | 21 | 20 | 19
May 15 | 14 | 13 | 12
May 9 | 8 | 7 | 6 | 5
May 2 | 1 | April 30 | 29 | 28
April 25 | 24 | 23 | 22 | 21
and more, back to November 1999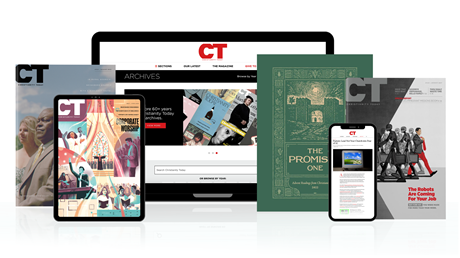 Subscribe to Christianity Today and get access to this article plus 65+ years of archives.
Home delivery of CT magazine
Complete access to articles on ChristianityToday.com
Over 120 years of magazine archives plus full access to all of CT's online archives
Subscribe Now
Is Eric Rudolph a Christian Terrorist?
Is Eric Rudolph a Christian Terrorist?