Most of us have a rather vague concept of heaven. It is necessarily so. We can understand new things only in terms of something we already know.
Thus, for instance, we have difficulty telling someone what an exotic tropical fruit tastes like. How can we describe it? It does not taste like an apple, a pear, a tomato, or anything else. To know how it tastes, one must taste it.
Imagine trying to describe a sunset to someone born blind. He has never seen a glow, a light, or a fire, and does not know red from black or green. Our terms are but empty words to him. Thus heaven is indescribable. It is not like anything we have already known or experienced. It is a new realm beyond our comprehension.
To some, "heaven" means nothing more than streets of gold. Some whose loved ones have gone on ahead think of heaven primarily as a grand reunion. Others think of it as the final great escape, with no more sorrow and sickness (a desirable state, to be sure, but a wholly negative concept). There are also those who feel the proper expectation is that of being with Jesus.
Much of the biblical description that we apply to heaven, however, does not refer explicitly to heaven at all! No death, no sorrow, no pain; walls of jasper, streets of gold, gates of pearl, foundations of precious stones; lighted by the glory of God, and free from all defilement—all this is spoken of the "holy Jerusalem, descending out of heaven from God" (Rev. 21). The description is not of heaven but of the capital city of the new earth. "And the nations of them which are saved shall walk in the light of it: and the kings of the earth do bring their glory and honor into it" (v. 24).
Yet we are told that "they which are written in the Lamb's book of life" will enter into it (v. 27). Shall we conclude, then, with the Jehovah's Witnesses that e are not going to heaven but to a new, redeemed earth? By no means!
True, we shall have access to the city; but we are nowhere limited to it. The description in verse 25, "the gates of it shall not be shut at all," suggests exit as well as entrance.
Who knows what starry vistas will be ours? It is not likely that man, already reaching into space, will in his perfect state be bound to this earth. We shall be like Christ, and he ascended bodily into heaven before the very eyes of the disciples. And what will heaven be like? Who knows? But surely it will exceed in glory the new Jerusalem, and that is saying a great deal!
While heaven will be glorious for circumstance, however, the greater glory will consist in our transformation. Things, after all, have never brought happiness. If "a man's life consisteth not in the abundance of the things which he possesseth" here, how can abundance of things there make a heavenly life? Some here have everything and are miserable, while others are quite content with meager fare.
Glory all around us will never make a heaven unless there is glory within us, too. After all, we shall still have to live with ourselves, and that can be pretty miserable. We should therefore be more interested in becoming wonderful people than in going to a wonderful place. And a study of the Scriptures reveals that it is exactly at this point that God puts his emphasis.
Now, so far as the body is concerned, the transformation will occur at the return of our Lord. Although in one sense our salvation was complete when Jesus Christ cried out upon the Cross, "It is finished," in another sense our salvation is still not complete. We are yet "waiting for the adoption, to wit, the redemption of our body" (Rom. 8:23). Our bodies are still under the curse of sin.
Thus Paul could say, in Romans 13:11, "now is our salvation nearer than when we believed." What? Did not our salvation come when we believed? In a very real sense it did. Our souls were saved from sin's penalty, eternal death. But our bodies are still subject to the penalty of death. Yet we shall be saved even with respect to our bodies. "For our conversation is in heaven; from whence also we look for the Savior, the Lord Jesus Christ: who shall change our vile body, that it may be fashioned like unto his glorious body" (Phil. 3:20, 21).
While that bodily transformation is, then, to be accomplished at His coming, the changing of our vile character to be like his glorious character ought to be taking place now. Indeed, this is God's whole purpose in the disciplines of everyday life.
We love to quote Romans 8:28: "All things work together for good to them that love God." But in what sense is the verse true? All things do not always work together for our financial good; many godly people never have much more than bare essentials. All things do not work together for our physical well-being, our social prominence, or our vocational success. Many who do not love God have a greater share of all these things than those who do.
Change through circumstance
But in a deeper sense all things do indeed work together for good to them that love God, "to them who are the called according to his purpose … [which is] to be conformed to the image of his Son" (Rom. 8:28, 29). Everything God permits to enter the life of the believer he intends to contribute to this greatest good: to make us Christlike. Our financial reverses, our bodily infirmities, our personal and interpersonal problems, our trials, our blessings—all can help make us like him. As by faith we dedicate ourselves to him in all the circumstances of our lives, we are transformed here and now.
This is where God places his great emphasis. How often we miss it! How often we hear Christians claiming (no, mis-claiming) Ephesians 3:20: "Now unto him that is able to do exceeding abundantly above all that we ask or think." Almost always, those who quote the verse have in mind that God should do some great thing for them—bring about a wonderful solution to their problems, or pour out unimaginable blessing on their efforts. But the verse offers something much better. "Now unto him that is able to do exceeding abundantly above all that we ask or think, according to the power that worketh in us." We want the power to work for us; God wants it to work in us.
The context bears out this glorious fact. God can do so much more in us than we realize! He can make us so much better persons than we are or can even hope to be. Even dwarfed, twisted personalities can actually be "filled with all the fullness of God" (v. 19), and unbelievably changed. This is many times better and more glorious than merely having God do something for us.
The glories of heaven, what will they be? "I reckon that the sufferings of this present time are not worthy to be compared with the glory which shall be revealed in us" (Rom. 8:18). The man who uttered those words knew great suffering. He had been stoned, beaten, ship wrecked, maligned, and imprisoned, and had suffered hunger and cold. Yet these sufferings were not merely small compared to the glory awaiting him—they were also so small as to be unworthy even to be compared with that glory. But again, it is not so much a glory that shall be revealed to us as a glory that shall be revealed in us.
The Christian and death
Sometimes we are subjected to a charge of inconsistency in this matter. "You Christians say that heaven is so much more wonderful than this life. You say you know you are saved and bound for heaven. Yet you do not want to die. If heaven is so great and you have no doubt of your destiny, why do you not want to go there?"
Let us admit, first of all, that most Christians do not relish the thought of dying. Death is an enemy; the Bible plainly says so (1 Cor. 15:26). It is an unnatural phenomenon, whatever funeral orators may say to the contrary; for God created man, not to die, but to live on and on. Death has thrust itself upon us through sin. We do not like it; we are not supposed to like it.
Secondly, let us also admit that heaven remains primarily an unknown quantity to us. If we really knew what heaven was like, we should be eager to go there. Yet death itself would still be an undesirable enemy.
Only one man in the Bible, apart from our Lord Jesus Christ, really knew what heaven was like; and he did want to go there. He knew the glories of heaven firsthand, for he had been there and returned. That man, the Apostle Paul, tells us about it in 2 Corinthians 12:2-4: "I knew a man in Christ above fourteen years ago (whether in the body, I cannot tell; or whether out of the body, I cannot tell: God knoweth), such an one caught up to the third heaven. And I knew such a man (whether in the body, or out of the body, I cannot tell: God knoweth), how that he was caught up into paradise, and heard unspeakable words, which it is not lawful for a man to utter."
Paul speaks in the third person as if he were describing the experience of someone else, but there is no doubt that he really refers to himself. Very likely this was his experience when he was stoned at Lystra on his first missionary .journey (Acts 14:19). Paul tells the Corinthians that this paradise experience happened "above fourteen years ago." The date of this letter was about 60 A.D. The episode at Lystra occurred in 46 A.D., fourteen years earlier. Some believe Paul was killed at that time, that he could not possibly have survived such a stoning as the Jews practiced as a means of execution. They believe Paul was actually raised from the dead. Paul himself makes it doubly plain that he does not know whether he was in the body or out of it.
In any case, he was caught up to the "third heaven." If the first heaven is our atmosphere, the "heaven" where the birds and airplanes fly; and the second heaven is the starry heaven of outer space; then the third heaven is the abode of God himself. Paul calls it paradise. There he heard "unspeakable words which it is not lawful for a man to utter." They were "unspeakable," that is, they could not be humanly expressed. Paul could not have described heaven had he wanted to, nor would it have been "lawful" to do so.
We might ask, Why? Why will God not allow us to hear all about heaven's glories? In the first place, we are to walk by faith, not by sight. We are to trust him that heaven is all glorious, without knowing what it really is like. Besides, if we knew how glorious heaven is, we probably should be more taken up with it than with him. We are to serve him because we love him, not for the glory of our heavenly reward. Moreover, we might be rendered unfit by a vision of that glory to serve here in this vile world in the spirit of humility and cheerfulness so essential to the servant of the Lord. Had it not been for Paul's humiliating thorn in the flesh, even a man as spiritual as he would have been so unavoidably puffed up by such a revelation as to be rendered useless (2 Cor. 12:7). This in itself reveals something of heaven's glory, a glory so great that it would exalt a man above all measure.
Paul would have liked to go to heaven after this experience; yet he was left upon earth to continue a needed ministry. When in a Roman jail he contemplated the possibility of execution, he hardly knew what to choose: "For I am in a strait betwixt two, having a desire to depart, and to be with Christ; which is far better: nevertheless to abide in the flesh is more needful for you" (Phil. 1:23-24).
Heaven will indeed be glorious—glorious for circumstance, but more glorious for the transformation in us. It will be glory unspeakable.
The article first appeared in the May 22, 1964, issue of Christianity Today. At the time, Stanley C. Baldwin was a full-time evangelist. Before this, he founded Calvary Community Church of Albany, Oregon, and served for seven years as its pastor. He is now the director of International Christian Writers.
Related Elsewhere
Other stories appearing on our site today include:
Harleys in Heaven | What Christians have thought of the afterlife and what difference it makes now.
The Believer's Final Bliss | The regeneration of man requires that old things must pass away and all things become new. By John Murray (July 7, 1958)
The Hope of Heaven | Have Christians forfeited their rightful anticipation of eternity? By L. Nelson Bell (May 24, 1968)
Illusion or Reality? | Heaven is a place. There is a city we are going to see and walk in. By Edith Schaeffer (Mar. 12, 1976)
Heaven Can't Wait | I have seen the electrifying results of what can happen when the reality comes alive. By Philip Yancey (Sept. 7, 1984)
Heaven: Not Just an Eternal Day Off | As if anticipating the question, "Will life on the new earth be boring?" the Bible points to much activity there. By Anthony Hoekema (Sept. 20, 1985)
Article continues below
What Will Heaven Be Like? | Thirty-five frequently asked questions about eternity. By Peter Kreeft (from Tough Questions Christians Ask, 1989)
The Eternal Weight of Glory | If only we could have the positives of earthly life without the negatives. By Harry Blamires (May 27, 1991)
Afraid of Heaven | We do not yearn to be near God because we do not find sin utterly repugnant or goodness rapturously attractive. By Kenneth Kantzer (May 27, 1991)
Other related articles include:
Hell's Final Enigma | Won't heaven's joy be spoiled by our awareness of unsaved loved ones in hell? (April 24, 2004)
Christian History Corner: How the Early Church Saw Heaven | The first Christians had very specific ideas about who they would meet in the afterlife. (August 9, 2002)
What's a Heaven For? | C.S. Lewis saw belief in heaven not as wishful thinking, but as thoughtful wishing. (Oct. 26, 1998)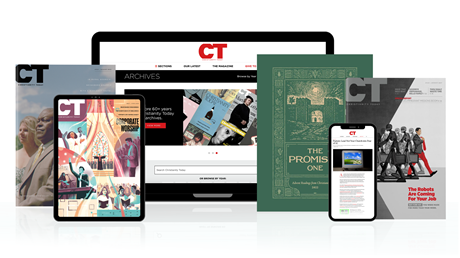 Annual & Monthly subscriptions available.
Print & Digital Issues of CT magazine
Complete access to every article on ChristianityToday.com
Unlimited access to 65+ years of CT's online archives
Member-only special issues
Subscribe
The Glories of Heaven
The Glories of Heaven