Jews and Catholics warn Gibson about his film
Yesterday's Weblog included a warning about judging people by their fruits while they're still seedlings. Those who feared Time's cover story on evangelism in Islamic countries found those fears very misplaced. Meanwhile, a similar but more public pre-emptive campaign is being waged against Mel Gibson's epic The Passion.
Usually it's conservative Christians who make headlines by attacking films they haven't seen, but the shoe is on the other foot this time. The main critic of Gibson's film seems to be the Anti-Defamation League.
"Based on initial media reports, we have serious concerns about the film you are currently making about the last hours of the life of Jesus, The Passion, and would like to be assured that it will not give rise to the old canard of charging Jews with deicide and to anti-Semitism," ADL National Director Abraham H. Foxman said in an open letter to Gibson in response to a bootlegged early copy of the script.
Five advisory-board members of the U.S Conference of Catholic Bishops joined with the ADL in criticizing the film. "A film based on the present version of the script of The Passion would promote anti-Semitic sentiments," the "Ad Hoc Scholars Group" said in an 18-page report, according to The Jewish Week.
We know that their dramatic presentation of Jews as 'Christ killers' triggered pogroms against Jews over the centuries and contributed to the environment that made the Shoah [Holocaust] possible. Given this history and the power of film to shape minds and hearts, both Catholics and Jews in the ad hoc group are gravely concerned about the potential dangers of presenting a passion play in movie theatres. … We realize that such significant alterations will be expensive and time-consuming, but without such revisions the film will inflict serious damage and in all likelihood be repudiated by most Christian and Jewish institutions.
An unnamed "leading Catholic theologian" called the script "one of the more anti-Semitic documents most of us have seen in a long time." (It had to be one of the following Catholics, all members of an advisory committee to the Bishops Conference on Catholic-Jewish affairs: Mary Boys of the Union Theological Seminary; Philip Cunningham, executive director of the Center for Christian-Jewish Learning at Boston College; Lawrence Frizzell, director of the Institute of Judeo-Christian Studies at Seton Hall University; John Pawlikowski, director of Catholic Jewish studies at the Catholic Theological Union in Chicago.)
"The Anti-Defamation League and U.S. Conference of Catholic Bishops reviewed the script and we wrote a report that was sent to Mr. Gibson's company," Boys told The Herald Sun of Melbourne, Australia . But apparently Sister Mary and her colleagues lost sight of the very important distinction between a statement by the conference and the one of members of the conference. The opinion of advisory board members is even more removed.
After Gibson threatened to sue both the ADL and USCCB, the Catholic bishops actually did issue a response—saying they had no comment on the film.
"Neither the Bishop's Committee for Ecumenical and Interreligious Affairs, nor any other committee … established this group, or authorized, reviewed or approved the report written by its members," said a statement issued by general counsel Mark Chopko. "We regret that this situation has occurred and offer our apologies. … When the film is released, the [bishops' conference] will review it."
The Jewish Week called the bishops' official statement a "seeming contradiction" since , the USCCB's conference's interfaith leader, Eugene Fisher, established the scholars' group.
It's not the first time such a Jewish-Catholic scholars' group has gotten into trouble with the bishops' conference. Last year, the bishops' Committee for Ecumenical and Interreligious Affairs issued a statement saying that Jews aren't part of the "all nations" clause of the Great Commission. "This evangelizing task no longer includes the wish to absorb the Jewish faith into Christianity," said Reflections on Covenant and Mission, posted and promoted on the USCCB's website. But within days, it was pulled from the website and disavowed by the full bishops' council.
Meanwhile, the ADL and other Jewish leaders continue to fight the Gibson film. "Gibson is a great actor and director, but he has a responsibility to make a movie that does not contribute further to a legacy of pain and suffering," write the Simon Wiesenthal Center's Marvin Hier and Harold Brackman in a Los Angeles Times op-ed that spells out their qualms about the film.
Likewise, the ADL's Ken Jacobson defends his group's criticism of the film. "We have good reason to be seriously concerned about Gibson's plans to retell the Passion" he says in a letter to the New York Post, which last Thursday published a columnist's summary of the dispute. "Historically, the Passion—the story of the killing of Jesus—has resulted in the death of Jews."
Of course, the story of the killing of Jesus is told every year in thousands upon thousands of churches worldwide without any violence to Jews whatsoever, but the ADL seems more concerned about such questionable history as Oberammergau's Passion Play causing the Holocaust.
For his part, Gibson is no longer threatening to sue, and says critics should judge the film once it's actually in theaters. But will it offend Jews? "It's true that, as the Bible says, 'He came unto his own and his own received him not,'" he said. "I can't hide that." But he promises his film is "meant to inspire not offend. … My intention in bringing it to the screen is to create a lasting work of art and engender serious thought among audiences of diverse faith backgrounds. If the intense scrutiny during my 25 years in public life revealed I had ever persecuted or discriminated against anyone based on race or creed, I would be all too willing to make amends. But there is no such record."
More articles
Abortion:
Division in the Anglican Communion (news):
Division in the Anglican Communion (opinion):
Gay marriage:
Other sexual ethics issues:
Church life:
Christian music:
PBS's This Far by Faith:
History:
Clergy abuse:
Catholicism:
Pope John Paul II:
Related Elsewhere
Suggest links and stories by sending e-mail to weblog@christianitytoday.com
Check out Books & Culture's weblog, Content & Context.
See our past Weblog updates:
June 24
June 20 | 19 | 18 | 17 | 16
June 13 | 12 | 11 | 9
June 6 | 5 | 4 | 3 | 2
May 29 | 28 | 27
May 23 | 22 | 21 | 20 | 19
May 15 | 14 | 13 | 12
and more, back to November 1999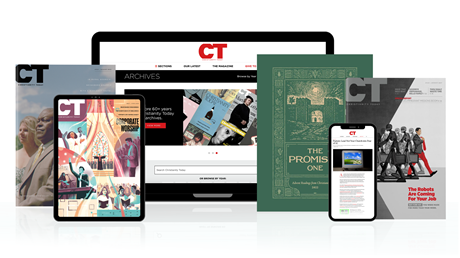 Subscribe to Christianity Today and get access to this article plus 65+ years of archives.
Home delivery of CT magazine
Complete access to articles on ChristianityToday.com
Over 120 years of magazine archives plus full access to all of CT's online archives
Subscribe Now
Is Mel Gibson Plotting the Death of Jews?
Is Mel Gibson Plotting the Death of Jews?