Foundations of mosque next to Basilica of the Annunciation razed
Bulldozers destroyed the controversial, partly built mosque in Nazareth next to the Basilica of the Annunciation in Nazareth this morning, marking a significant turn in a six-year-old battle between the city's Christians and Muslims over the structure.
The Jerusalem Post quoted Muslim leaders expecting violence during the demolition, but reports, "tempers later cooled, and about 200 Muslim worshippers gathered peacefully for midday prayers in a nearby road, which police had closed to traffic."
Still, the battle—which broke out in violent riots in 1999—may not be over. "There are 5,000 unemployed people in Nazareth—most of them are Muslims," says Salem Sharara, an official with the Islamic Movement. "Do you really think they will not go there every day to try to reclaim the mosque?" Sharara's group has promised to reclaim the mosque, the Post reports. "We understand that this is a very sensitive issue. That is why we are willing to limit the construction from five minarets and five stories to one each," the Islamic Movement said.
But so far, the Nazareth District Court and Israeli government have sided with the Christians in rejecting the mosque, which was illegally constructed. "We cannot accept an illegal structure, especially on the second holiest site of Christendom," Israel's Internal Security Minister, Tzahi Hanegbi, told the AFP news service.
Mel Gibson visits Focus on the Family, National Association of Evangelicals
Seeking positive reaction and response to his film The Passion, Mel Gibson screened the film to hundreds of pastors at Focus on the Family's Colorado Springs headquarters last Thursday.
"I'm not a preacher and I'm not a pastor," Gibson told The Colorado Springs Gazette. "But I really feel my career was leading me to make this. The Holy Ghost was working through me on this film, and I was just directing traffic. I hope the film has the power to evangelize."
That's exactly what it does, says Ted Haggard, pastor of the city's New Life Church and president of the National Association of Evangelicals. "It conveys, more accurately than any other film, who Jesus was," he said. "You can't help but be upset when you realize the gravity of what Jesus went through. … I've been pastor at New Life Church for 18 years, and I don't remember anyone displaying a fear of God on our platform the way Mel did today."
In fact, Gibson says, the film has already been evangelistic. "Everyone who worked on this movie was changed," he said. "There were agnostics and Muslims on set converting to Christianity."
Gibson says he wants to release the film, mainly shot in Aramaic, without subtitles to "transcend language barriers with visual story telling." Still, Thursday's showing had subtitles in place.
Focus on the Family President Don Hodel said he was very impressed. "It's certainly the most powerful portrayal of the Passion I've ever seen or heard about," he told the Gazette. "The movie is historically and theologically accurate." (The Gazette doesn't say whether Focus founder James Dobson attended the screening.)
Jerry Falwell gets control of JerryFalwell.com
Just three months after a Virginia judge threw out Jerry Falwell's case against an Illinois man's parody site, JerryFalwell.com, the Southern Baptist pastor gained control of the domain.
Falwell told the Lynchburg News and Advance that after the judge's dismissal, his lawyers discovered that his name had been trademarked years ago. "We had forgotten we'd done it," he said.
When Falwell told the owner of JerryFalwell.com, Gary Cohn, that he planned to refile his case in the Northern District Federal Court in Illinois, Cohn handed the site over, along with the misspelled JerryFallwell.com. Cohn still runs an anti-Falwell site at InternetParodies.org.
"The issue here was not his criticism of me, or my ministry," Falwell says in his weekly column. "The issue in this case was, rather, that this man was utilizing my own name to launch attacks on me. This was often confusing to friends of my ministries and/or people seeking information on me, or my many ministries, who unintentionally connected to this man's site."
Falwell, chancellor of Liberty University, says his next Internet battle is to gain control of LibertyUniversity.edu and LibertyUniversity.com, which are owned by American Liberty University, in Montgomery, Alabama.
More articles
Persecution:
Church and state:
Supreme Court sodomy ruling:
Cooperative Baptist Fellowship meeting:
Books:
Theology:
Related Elsewhere
Suggest links and stories by sending e-mail to weblog@christianitytoday.com
Check out Books & Culture's weblog, Content & Context.
See our past Weblog updates:
June 30
June 27 | 26 | 25 | 24 | 23
June 20 | 19 | 18 | 17 | 16
June 13 | 12 | 11 | 9
June 6 | 5 | 4 | 3 | 2
May 29 | 28 | 27
May 23 | 22 | 21 | 20 | 19
and more, back to November 1999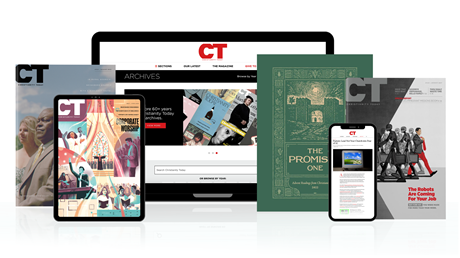 Annual & Monthly subscriptions available.
Print & Digital Issues of CT magazine
Complete access to every article on ChristianityToday.com
Unlimited access to 65+ years of CT's online archives
Member-only special issues
Subscribe
Israel Demolishes Foundation of Nazareth Mosque
Israel Demolishes Foundation of Nazareth Mosque