Pakistan seizes alleged organizer of deadly attacks against Christians
According to Pakistani officials, Abdul Jabbar planned the March 12, 2002, attack on the Protestant International Church in Islamabad, the August 5 attack on Murree Christian School, and the August 9 attack on the Christian Hospital in Taxila. Fifteen Christians were killed in the three attacks, and more than 70 were wounded.
Yesterday, intelligence officials said, the Pakistani military seized Jabbar near a bus stand during a raid on the small town of Midhranjha, near Sargodha.
Did Bush say God told him to strike Iraq?
Buried at the end of an article in the Tel Aviv daily newspaper Ha'aretz Sunday was a very, very interesting quote from Palestinian Prime Minister Mahmoud Abbas, who has been talking with President George Bush about peace in the region.
At the June 4 summit meeting in Aqaba, Jordan, between Bush, Abbas, and Israeli Prime Minister Ariel Sharon, Abbas said that Bush privately promised to pressure Sharon. Then he immediately added, "God told me to strike at al Qaeda and I struck them, and then he instructed me to strike at Saddam, which I did, and now I am determined to solve the problem in the Middle East. If you help me I will act, and if not, the elections will come and I will have to focus on them."
At a White House press conference Tuesday (video | audio), spokesman Ari Fleischer was first asked about the last part of the quote: Was Bush getting ready to focus on the elections? "I never heard the President say it," Fleisher said. "He certainly didn't say it in the trilateral meeting that I attended, and I'm not aware of any other conversation in which he said it."
"Prime Minister Abbas suggested the President said that God spoke to him about al Qaeda and spoke to him about Saddam," another reporter asked. "Is that a stretch? Is there anything to that? How would you characterize that part of the … "
"It's beyond a stretch," Fleischer interrupted. "It's an invention. It was not said."
Bush says Federal Marriage Amendment may not be necessary
Okay, so let's move on to something that we know the president did say. Yesterday, he was asked if he supported the Federal Marriage Amendment, which would define marriage as a union between a man and a woman.
"I don't know if it's necessary yet," Bush said (video | audio). "Let's let the lawyers look at the full ramifications of the recent Supreme Court hearing. What I do support is the notion that marriage is between a man and a woman."
During a news briefing a few hours later (video | audio), Fleischer reiterated the president's position. "The Supreme Court just made its ruling in the Texas case," he said. "This is a matter for lawyers to assess, and I don't know that there is any clear assessment that anybody has at this point about the legal ramifications of a just-made decision that was ruled on a basis that may or may not be analogous to a situation involving DOMA, the Defense of Marriage Act." (DOMA was passed in 1996 and signed by President Clinton, but opponents of same-sex marriage worry that it will be invalidated by the courts and are thus pushing for the constitutional amendment.)
"The president does not want to go back to the culture wars of the 1980s and early 1990s," an unnamed Republican strategist told The Washington Post. Another unnamed "longtime Bush friend" told the paper, "This is just not an issue we want to talk about. It plays to a negative stereotype of Republicans as sex-obsessed and narrow-minded."
There seems to be some difference of opinion from the Family Research Council on Bush's comments. FRC President Ken Connor told The Washington Post that Bush's comments were "prudential," but Genevieve Wood, vice president of media relations, told The Washington Times, "We'd like to see him take it up a notch. The country needs leadership on this. … We would like to see him get in front of the issue more forcefully in the future and not always just be responding to the courts — to be more proactive."
More on sexual ethics and marriage:
Happy Independence Day, Americans
Weblog, along with other new postings at the Christianity Today website, will return Monday after a long Independence Day weekend. If you're a reader from outside the United States and tomorrow isn't a holiday, then happy day to you.
More articles
Persecution:
Ten Commandments:
Life ethics:
Supreme Court's porn filter ruling:
Politics and law:
Church life:
Books:
Music:
Film:
Missions and ministries:
Interfaith relations and other religions:
Money and business:
Education:
Racist graffiti at Bethel College:
Media:
Other stories of interest:
Related Elsewhere
Suggest links and stories by sending e-mail to weblog@christianitytoday.com
Check out Books & Culture's weblog, Content & Context.
See our past Weblog updates:
July 2 | 1 | June 30
June 27 | 26 | 25 | 24 | 23
June 20 | 19 | 18 | 17 | 16
June 13 | 12 | 11 | 9
June 6 | 5 | 4 | 3 | 2
May 29 | 28 | 27
May 23 | 22 | 21 | 20 | 19
and more, back to November 1999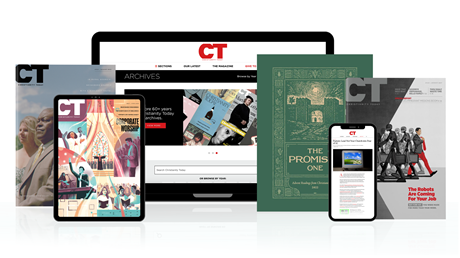 Subscribe to Christianity Today and get access to this article plus 65+ years of archives.
Home delivery of CT magazine
Complete access to articles on ChristianityToday.com
Over 120 years of magazine archives plus full access to all of CT's online archives
Subscribe Now
Alleged Mastermind Behind Attacks on Pakistani Christians Nabbed
Alleged Mastermind Behind Attacks on Pakistani Christians Nabbed