A Pilgrim's Digress: My Perilous, Fumbling Quest for the Celestial City
By John D. Spalding
Harmony Books
256 pp.; $23
Boy, when Harold Bloom called America a "religiously mad culture," he wasn't joking. Or at least that was the lesson I took away from John Spalding's new collection of essays, A Pilgrim's Digress.
Spalding, a very funny lapsed Methodist who writes for publications as various as Commonweal, Maxim, and Beliefnet.com, may have struck gold with this book. Blurbs and early reviews compare him to Hunter S. Thompson, David Sedaris, Woody Allen, and P.J. O'Rourke, winning praise from people as far apart theologically as John Shelby Spong and, well, yours truly.
My plaudits: A Pilgrim's Digress is a genuinely funny book due not to Spalding's brilliance—though he's a wickedly clever writer—but to his humility. Most of the stories consist of encounters with genuinely odd religious types. A less secure writer would struggle to find the perfect witticism or knife-twist ending to cap off his stories, but Spalding usually lets the believers have the last word.
The book is loosely structured after John Bunyan's classic work, Pilgrim's Progress, with section titles from "The Valley of Humiliation" to "The Slough of Despond." The difference, says Spalding, is that "unlike Bunyan, I've yet to find the one true path." So: "Whereas Bunyan wrote with an all-consuming fire of conviction, I write out of curiosity—the sheer delight of learning what makes other people tick."
And what wonderful internal mechanisms he finds. Spalding uncovers a cornucopia of oddball believers: Whatsyourname, a penniless itinerant preacher who looks like Warner Sallman's popular portraits of Christ and won't divulge his own handle; Pete Halvorson, a modern practitioner of the ancient art of trepanation—that is, drilling holes in one's skull; Uta Ranke-Heinemann, a hellishly demanding radical German scholar who denies pretty much every single article of the Christian faith and every miracle—except for the Resurrection. (If a man can come back from the dead, then how much of a stretch is it to say that he walked on water? Or multiplied loaves? Or was born of a virgin?)
John Wilson has written in these cyber pages that "running beneath the delectable absurdities in Spalding's accounts of a casino chaplain, the Christian Wrestling Federation, the John Wesley House and Museum of Methodism, and other such phenomena is a recognition of the restless hunger for God that animates spiritual autobiography from The Confessions to the present."
If Wilson means other people's spiritual hunger, then I agree. But while Spalding may share some of Augustine's traits—though, thank God, not his long-windedness—he shows little interest in wanting to find that "one true path." On a pilgrimage of more than 500 miles across northern Spain to the traditional final resting place of James, the brother of Jesus, he wonders why he's going through all of this and decides that the meaning of the trek is "irreducible": "If I wanted religion, I could have joined a church. If I'd been looking for exercise, I would have gone to the gym. If it was self improvement I was after, I'm sure I could have found an adult ed course."
When Jehovah's Witnesses come to his door and ask Spalding whether or nor he wants "eternal life" in heaven, he admits that he isn't so sure. On the one hand he thinks that heaven could be an extension of life on earth: "Presumably, we'll be allowed to enter the pearly gates with a remote in one hand and a bucket of wings in the other." On the other, we could be "purged of all this earthly trash," which would be just so … boring.
Jeremy Lott is a contributing editor to Books & Culture. He lives in Washington State.
Related Elsewhere
Visit Books & Culture online at BooksandCulture.com or subscribe here.
Books & Culture Corner appears Mondays at ChristianityToday.com. Earlier Books & Culture Corners and Book of the Week include:
Diagnosing "The Doctor" | A new assessment of Martyn Lloyd-Jones, preacher.
Taken Prisoner | Stories from the far-flung frontiers of the British Empire, 1600-1850, challenge our preconceptions. (Feb. 24, 2003)
Another Third Way? | The mixed record of Catholic social thought. (Feb. 17, 2003)
Divine Numbers | Can you say "Christian" and "mathematics" in the same sentence? (Feb. 10, 2003)
Getting Beyond Victimology | A provocative collection of essays for "the black silent majority." (Feb. 3, 2003)
Strange Bedfellows | Christopher Hitchens and Christopher Caldwell collaborate on a collection of political writing. Has the millennium arrived unnoticed? (Jan. 27, 2003)
Encounters of the Gods | Christianity and Native American religion in early America. (Jan. 20, 2003)
Books Present, Books Past, and Books to Come | Plus: A new format for this column. (Jan. 13, 2003)
Double Indemnity Meets Dead Souls | A conversation with novelist Richard Dooling. (Jan. 6, 2003)
Books of the Year | The top ten. (OK—make that twelve.) (Dec. 30, 2002)
Article continues below
Entertain Us | Nirvana, Pearl Jam, and the rapture of distress. (Dec. 16, 2002)
Boys Will Be Boys | A new book by a leading Christian feminist scholar inadvertently reveals the flawed assumptions underlying much talk about "flexibility" in gender roles. (Dec. 9, 2002)
Street Cred | Dave Eggers: The portrait of an artist as a … what? (Dec.2, 2002)
Epicurus'—and Darwin's—Dangerous Idea | How we became hedonists. (Nov. 18, 2002)
Weird Science? | A Darwinian debate continues. (Nov. 11, 2002)
Of Moths and Men Revisited | A Darwinian debate. (Nov. 4, 2002)
Angels in Heaven | A game that's more than a game. (Oct. 28, 2002)
Number One with a Bullet | America's foist family as a tool for evangelism. (Oct. 21, 2002)
Train Up a Child | Helping children to become intimately familiar with Scripture. (Oct. 14, 2002)
Acting Like Those 'Evangelicals' | Guilty as charged? (Sept. 30, 2002)
Ugly Evangelicals | Is this us? (Sept. 23, 2002)
Herbie Goes Bananas | The rise and fall and rise and fall and rise of the VW Beetle. (Sept. 16, 2002)
So Far, So Near | A graduate of Murree Christian School in Pakistan, the site of a deadly assault by Islamic terrorists in August, reflects on his growing-up years, on what has changed in the interim, and on the beleaguered Christian community in Pakistan (Sept. 9, 2002)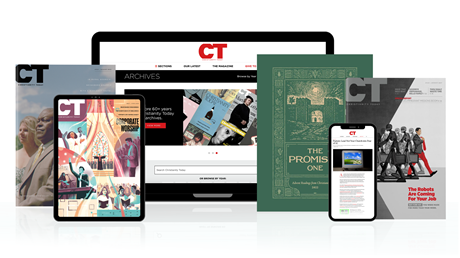 Subscribe to Christianity Today and get access to this article plus 65+ years of archives.
Home delivery of CT magazine
Complete access to articles on ChristianityToday.com
Over 120 years of magazine archives plus full access to all of CT's online archives
Subscribe Now
Books & Culture' s Book of the Week: Vanity Fair
Books & Culture' s Book of the Week: Vanity Fair