Methodist bishop promotes universalism on Larry King roundtable on Christianity and war
Bishop Melvin Talbert, ecumenical officer of the United Methodist Church, said on Larry King Live (transcript) that Muslims will be saved and should not be evangelized. "They are on their way just as certain as I'm on my way. And what we need to do is to be tolerant with each other and not assume that our way is the only way," he said last night. "That dispute belongs to God. We are here to practice what we preach. … I believe my God is large enough to be inclusive of all human beings who were created in God's image, and that includes those religions that are not Christians."
The view was strongly opposed by King's other guests, including Bob Jones, Max Lucado, and John MacArthur.
"Why did Paul say, "If any man preaches any other Christ than the true Jesus Christ, let him be accursed? Let him be anathema?" asked MacArthur. "Why does the Bible say, "Neither is their salvation in any other name than Jesus Christ?" Why does the Scripture condemn anyone who rejects Jesus Christ and the gospel of Christ? Why is the message so exclusive?"
"For me, salvation in Jesus Christ is the way, and what I try to do as a Christian is to live that example," Talbert responded. "My responsibility is not to convert all other religions, but to live the Christian faith in the face of those religions."
Talbert was supported by Michael Manning, a Roman Catholic priest who hosts the TV show The Word in the World. "Jesus rejoices when his Father is glorified," Manning said. "And when a Muslim or Jew glorifies the Father I can't imagine Jesus coming and saying, Oh, well. When are you going to look at me? The joy of Jesus is the glorification of God."
It's somewhat inevitable that a Larry King Live discussion with evangelicals will include universalism, no matter the main topic of conversation. Last night the Christian leaders were invited to discuss the war with Iraq. They refuted claims that war is being driven by religious concerns.
"This is not a Christian war," said MacArthur. "Whether George Bush sends the American troops into war has nothing to do with Christianity. It has nothing to do with the Bible. It has nothing to do with him being a Christian. … He's not saying, 'I'm praying and God's telling me to go to war.' … This is a matter of wisdom on the part of leaders."
Bob Jones agreed. "It's not a matter of Christian supporting war. The Christians support peace. And in order to have a just peace, sometimes you have to have a war."
"The only time that it seems to me that any type of international combat is justifiable from a scriptural point of view would be when innocent people need to be protected," said Max Lucado. "I would see that this is a decision that really can only be made by those in authority, and we have to trust their decision, and rely on their character, and pray earnestly for them that God would lead them in the right direction."
Talbert says it doesn't matter if the motives are religious. "I, unfortunately, I believe that the people in the Muslim world will see the—a war led by the person from America as a Christian crusade," he said.
Expect Methodist conservatives, such as those at United Methodist Action, to have some comment about Talbert's comments soon.
More articles
War with Iraq:
Church life:
Missions and ministry:
Church and state:
Life ethics:
Related Elsewhere
Suggest links and stories by sending e-mail to weblog@christianitytoday.com
See our past Weblog updates:
March 11 | 10
March 7 | 6 | 5 | 4 | 3
February 28 | 27 | 26 | 25 | 24
February 21 | 20 | 19 | 18 | 17
February 14 | 13 | 12 | 11 | 10
February 7 | 6 | 5 | 4 | 3
and more, back to November 1999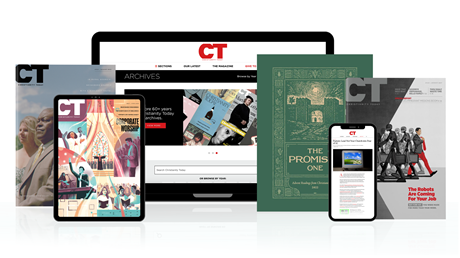 Subscribe to Christianity Today and get access to this article plus 65+ years of archives.
Home delivery of CT magazine
Complete access to articles on ChristianityToday.com
Over 120 years of magazine archives plus full access to all of CT's online archives
Subscribe Now
United Methodist Bishop Says Muslims Will Be Saved
United Methodist Bishop Says Muslims Will Be Saved