Areligious survey conducted by police among the Christian community in Gujarat is raising fears of unpleasant surprises planned for Indian Christians by Hindu fanatics in the western state.
The Gujarat government says it has been gathering statistics on Christians at the behest of federal officials. On Tuesday the State High Court ordered the survey halted. It has sent notices to federal and State government officials to explain the motive behind the survey.
"Such surveys are dangerous, and illegal, because other than the national census, held under [federal] laws, no one else has the right to ask intimate questions on faith," says John Dayal, secretary general of All India Christian Council. "These surveys are dangerous because they arm goons of the Hindu group RSS [Rashtriya Swayamsevak Sangh] and other … elements with ready-made hit lists of the nature made famous by Nazi cadres." Human rights observers say Hindu gangs used similar lists to target Muslims, their property, and businesses during a genocidal riot in Gujarat last year.
During the first week of March, copies of a handwritten questionnaire in the local Gujarati language recently were sent to missionaries across the state. The questionnaire was also sent to every police station in the state. It seeks information on Christians living in the various areas from 1998 to 2002. The document says all information will go to the state and central governments before the end of this month. It asks for names, years of birth, details of all Christian institutes, numbers of conversions, numbers of new institutes, and exact details about born and converted Christians in each village. The questionnaire also asks, "What are the reasons behind the conversion in your districts?"
State officials have attempted to downplay the significance of the information gathering. "We are collecting information for Parliament," says Amit Shah, Gujarat State home minister. "There is no separate circular or survey. We are just collecting some data."
Police say they were collecting statistics to protect minorities. Observers suspicious of right-wing Hindu efforts to curtail religious conversions, however, suspect that leaders in the rightist Bharatiya Janata Party (BJP) in Gujarat are laying the groundwork for a controversial bill that would ban religious conversions. One church leader in Saurashtra was asked whether Christians would hold demonstrations if the anti-conversion bill is introduced in the assembly, sources say.
"Several families in Ahmedabad city and other parts of Gujarat have been visited. Many have had the police knocking on their doors as late as 10 or 11 in the night, asking them questions like when they converted and who converted them," says Cedric Prakash of the United Christian Forum for Human Rights. "This is increasingly intimidating, and our people are feeling harassed."
Christian leaders say police visited some houses in Ahmedabad, Sabarkantha, Banaskantha, and Kutch districts over the past few days and asked about the ancestors and assets of Christian families.
"This survey is a build-up to the anti-conversion bill the government wants to introduce in the state assembly during this session," Prakash says.
Critics say the ruling BJP is backing anti-conversion bills across the country to win the support of Hindu voters. Following an attack on Christians and the burning of churches in the Dangs district around Christmas 1998, the state intelligence department ordered a similar survey. The agency abandoned it after critics filed a petition in the Gujarat High Court.
Related Elsewhere
Recent articles on the Gujarat survey include:
Christian council to move court against survey (Hindustan Times)
Christian body criticizes survey of Christians in Gujarat (Econnect India)
HC notice to Modi on Christian survey (Hindustan Times)
Minority report | Disquieting reports are surfacing once again to suggest that a survey of Christians is being carried out in Gujarat (Editorial, Hindustan Times)
Counting Christians (Editorial, Hindustan Times)
Christian groups in Indian state protest government probe of their funding  (Associated Press)
Indian Christians go to court after govt 'survey' (AFP)
Christian council demands apology (The Hindu)
Hindu campaigners combat Christian conversions (Reuters)
Previous Christianity Today articles on religious tensions in India include:
Machete Attack on American Alarms Local Christians | Hindu militants threaten to expel evangelists, stop conversions. (Feb. 18, 2003)
Indian Christians 'Living in Terror,' Rights Groups Report  | Accusations against priest lead to intense conversion pressure in Rajasthan. (Nov. 6, 2002)
Indian State Bans Conversion | Christians say Tamil Nadu ordinance threatens relief work. (October 11, 2002)
Hounded, Beaten, Shot | What you can do to help persecuted Christians in India. (June 11, 2002)
Critics Assail Dialogue with Hindu Radicals | But some Christians see talks as an opportunity to build bridges in times of persecution. Critics Assail Dialogue with Hindu Radicals. (May 14, 2002)
Article continues below
New Curriculum 'Tampering' with History, Indian Churches Protest | Christian leaders allege that a current education proposal promotes Hindu nationalism. (Dec. 12, 2001)
Law Could Curb Foreign Donations To Churches, Indian Christians | Worry Stringent legislation is aimed at cutting off terrorist funding, but could hurt non-government organizations. (Nov. 9, 2001)
Christians Encouraged as 50,000 Dalits Leave Hinduism | Low-caste Hindus see conversion as their only escape from oppression. (October 11, 2001)
India's First Dalit Archbishop Holds 'No Grudge' Over Predecessor's Attack | Once "untouchable" Dalits make up bulk of country's Christians. (May, 11, 2001)
Plans to Resolve India's Interfaith Tensions Face Delays and Accusations | Did India's National Commission for Minorities plan a meeting to discredit Christians? (July 20, 2000)
Foes Claim BJP is Using Arms Training to Win Crucial Election in India | Fears mount that reason for camps is to galvanize support for temple construction. (June 29, 2001)
Bomb Explosion During Mass Stirs Fear, Public Outcry in Bangladesh | Suspects linked to rash of attacks. (June 25, 2001)
India Election Results Rattle Ruling Nationalists | Hindu BJP "getting irrelevant day by day" say rivals. (June 13, 2001)
Despite Tensions, Indian Churches Agree to Talks With Hindu Groups | Mainline churches will join talks, but other Christians say "partisan" meeting is dangerous. (Apr. 11, 2001)
India Relief Abuses Rampant | Radical Hindus hijack supplies in quake intervention. (Mar. 20, 2001)
In Orissa, You Must Ask the Government If You Want to Change Religion | Christian church leaders say they're trying to ignore the controversial law, but police aren't doing the same. (Mar. 12, 2001)
Churches Angry that Indian Census Ignores 14 Million Christian Dalits | Only Hindu, Sikh, and Buddhist members of "untouchable" caste being counted. (Mar. 2, 2001)
India's Christians Face Continued Threats | We must preach what we believe in spite of Hindu pressure, says Operation Mobilization India leader. (Feb. 15, 2001)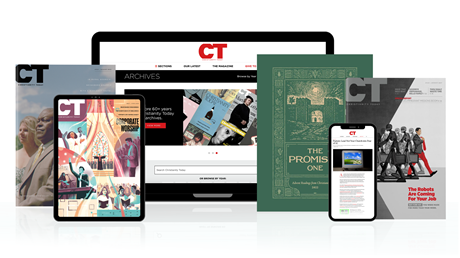 Annual & Monthly subscriptions available.
Print & Digital Issues of CT magazine
Complete access to every article on ChristianityToday.com
Unlimited access to 65+ years of CT's online archives
Member-only special issues
Subscribe
Gujarat Religious Survey Troubles Indian Christians
Gujarat Religious Survey Troubles Indian Christians