Several newspapers this morning report clergy members' reaction to President Bush's address last night (text | audio | video ) promising military action if Saddam Hussein does not go into exile. Given denominational leaders' earlier comments opposing any U.S. military action in Iraq, it's not surprising that most clergy members still oppose it.
"It's not Thomas Aquinas, who gave reasons for a just war, but the founder of Christianity, Jesus Christ, who said 'Blessed are the peacemakers, for they are the children of God,' " J. Alfred Smith, senior pastor of Allen Temple Baptist Church in Oakland, California, said at a news conference. "If it's wrong for blacks to kill each other in the Oakland flatlands, it's also immoral for them to participate in a war where they would be pouncing on a small country."
The Vatican, which has opposed an attack on Saddam Hussein, responded to Bush's speech in a somewhat cloudy one-line statement: "Those who decide that all peaceful means that international law makes available are exhausted assume a grave responsibility before God, their conscience, and history."
But there's some indication through other newspapers that clergy are supporting Bush now that war seems more inevitable. "I respect President Bush and his moral character," Mark Eaton, pastor of Porterfield Baptist Church in Little Hocking, Ohio, told the Marietta Times. "I know he would not send our troops to war without a real threat from Saddam Hussein. … For weeks, months, our church has been praying for Bush, for his advisers, for Congress. We have been praying for wisdom to do what is right."
"I am not in favor of a total anti-war movement. I stand opposed to that," Lawrence Richmond of Anchor Baptist Church in Ledyard, Connecticut, told Newsday. "We have a biblical responsibility to submit ourselves to … authority."
Kenneth Hostetler, pastor of Trinity United Methodist Church in Arcadia, Florida, approved of Bush's address. "It didn't leave any doubt in the American mind as far as where we stand," he tells the Charlotte Harbor Sun. "I really feel, biblically, God has given nations the responsibility to administer justice and the church the responsibility to administer mercy and grace. [Bush has been] generous in mercy and grace to Saddam Hussein."
Charles J. Simones of St. Sophia Hellenic Orthodox Church in New London, Connecticut, apparently has the opposite problem of many church leaders around the country: he's more in favor of military intervention than his parishioners are. "You have a holy responsibility to take up arms to protect your family, your country, and the Christian faith," he tells Newsday.
Even Unitarian Universalist ministers are backing Bush. "It's hard to argue with his logic," Diane Dowgiert told the Marietta Times, though she adds, "I have not seen anywhere in the world where war has made a more peaceful planet."
But does what a pastor thinks about war really influence the congregation? Richard Ostling of the Associated Press notes a Gallup poll earlier this month that says 63 percent of those who attend church almost weekly favored a U.S. military invasion of Iraq, while 59 percent of the general public supported it. The difference isn't much more than the three-point margin of error.
Washington Episcopalian Jim Oakes says his church's presiding bishop, Frank Griswold, is free to oppose the war "as a private citizen," but says, "I strongly object to his claiming to represent the body of the Episcopal Church, because he doesn't. It's similar to a rock star making pronouncements on world peace. It's very interesting, but what do they know?"
Religion historian Martin Marty puts it this way: "The mainstream Protestant laity has been roughly where the public is as long as I've known them. Barring some special factor, the laity is indistinguishable from the larger culture."
The mainline is indistinguishable from the larger culture? Hey, he said it. Not us.
Meanwhile, the National Association of Evangelicals is keeping clear of the should-we-or-shouldn't-we debate. Rich Cizik, the group's vice president of government affairs, has been one of the more hawkish voices in the religious debate lately, but a press release from new NAE president Ted Haggard calls for prayer without taking sides. "I encourage prayers for a peaceful resolution to this situation," Haggard says. "As the likelihood of armed conflict increases, I ask Americans to pray for God to protect innocent lives, give wisdom to our leaders, and advance the cause of freedom."
More on war with Iraq:
More articles
Persecution and violence:
Holy Land:
Crime:
Church and state:
Education:
Missions and ministry:
Interfaith relations:
Church life:
Christianity and faith:
Related Elsewhere
Suggest links and stories by sending e-mail to weblog@christianitytoday.com
See our past Weblog updates:
March 17
March 14 | 13 | 12 | 11 | 10
March 7 | 6 | 5 | 4 | 3
February 28 | 27 | 26 | 25 | 24
February 21 | 20 | 19 | 18 | 17
February 14 | 13 | 12 | 11 | 10
February 7 | 6 | 5 | 4 | 3
and more, back to November 1999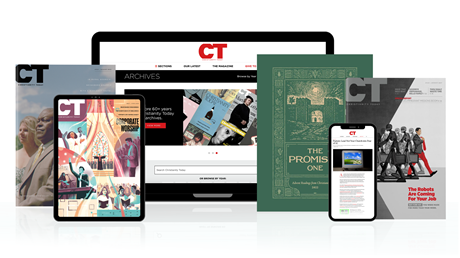 Annual & Monthly subscriptions available.
Print & Digital Issues of CT magazine
Complete access to every article on ChristianityToday.com
Unlimited access to 65+ years of CT's online archives
Member-only special issues
Subscribe
Clergy Respond to Bush's Ultimatum to Saddam
Clergy Respond to Bush's Ultimatum to Saddam