Since I last lived here more than four years ago, authorities have erected a transparent barrier atop the stone wall of the Bailen Street viaduct to keep the hopeless from leaping to their deaths.
Was it a Frenchman who said the more things change, the more they stay the same? The same fellows who worked the Madrid kiosks when I lived here from 1994 to 1998 continue to sell their periodicals. Madrilenos still like to dress in black. The advent of the euro notwithstanding, they still think in pesetas to make sense of the value of things. And hope, here, is still hard to find.
The U.S. missionary who pastored the church I used to attend announced, last Sunday, that he is leaving. Clinically depressed after more than 20 years of church-planting that was nothing short of miraculous in Gospel-resistant Spain, he is leaving the professional ministry altogether to run a coffeeshop back home.
He used to speak of Spain being on the verge of an eruption of the Holy Spirit. He used to encourage the church to dream big. The average Protestant church in Madrid numbers 50, and as our church was large at 150 he had a vision for growing it to several hundred. It has indeed grown, to about 200, since I left—mostly from Latin American immigration.
Among the Spaniards whom I could no longer find at the church was Miguel, who had testified of being healed of homosexual behavior. He has not reverted to former ways, as far as anyone can tell, but he has withdrawn from all church life.
Despair in Madrid takes several forms. Long-term unemployment is a big one. A friend named Juanma (a contraction of Juan Manuel) obtained a law degree but has never worked for a law firm. Still living at home in his mid-30s, he is now taking classes in computer programming.
Before and after our chess games, in which Juanma would methodically deprive my king of all hope, we often had the same discussion. He would talk of his sin-filled life in neutral terms, though sometimes as boasting. I would explain the Gospel in relation to my own sin. He would reply that he had to see God—that if God existed, he should just show himself. I would tell him that God has already manifested himself in Christ. Each time we had this exchange, Juanma would act as though he were hearing the Gospel for the first time. He wasn't ready to absorb it.
It seems that Juanma now has joined a metaphysical group. He explained that he and an entire hall full of people witnessed the visible aura of a conference speaker, as well as her guardian angel.
Juanma has sometimes fantasized about learning English and going to England to find work. The economic hope of many Madrilenos is to leave Madrid, and this was the case for another friend, Sonia, who studied six years to become a nurse and ended up cleaning apartments. Fed up, she found work in a medical clinic in the Canary Islands. As she was one of my favorite Madrid friends—and the one who most hurt me—I left the gloomy Madrid rains to meet her on the bright island of Lanzarote. Six years ago, the previously New Age-minded Sonia had professed Christ, and we had become good friends. She then disavowed Christ, which meant cutting me out of her life.
That I was so attracted to her compounded the pain. In four days in Lanzarote we let bygones be bygones, but I did hope for the right moment to bring up our rupture. There was no use arguing about her fleeting faith, but I wanted to address an open wound.
The desired moment came on my last day on the island. On the beach I was sporting a T-shirt from Arizona that I had originally bought for her six years ago—and never got the chance to give her. I had cut out the sleeves to make it fit me, and now also some little rips appeared in the worn threads. When she presented me with a Lanzarote Emergency Rescue T-shirt she had received in the course of her work, I offered her the modified beach tank in return.
"It was originally supposed to be yours," I said. "When you left my life, it hurt me badly. I cut the sleeves out and kept it for myself."
She made the expected excuses, and when I pressed a little more she changed the subject. In the strident defiance typical of many Spaniards, she had no words of appeasement to offer. But she later admitted she had "deserted" me, and there was symbolism, if not significance, in her accepting the tattered tank in good humor and promising to mend it.
The primary reason missionaries to Spain last an average of just two years is axiomatic. They become discouraged over the high proportion of Spaniards who seem to come to faith only to deny it under family and other pressures. There are no mass conversions in Spain—only scattered, isolated miracles of faith. Followed, often, by scattered, isolated denials of faith.
One of these miracles of faith was Mayte (the contraction of Maria Teresa). Of indeterminate Sephardi lineage, Mayte had once recounted for me a beautiful encounter with Christ. Now meeting again, we talked for two hours before she nervously confessed that she had stopped going to church and, moreover, was exploring Judaism. She had grown weary of the evangelical church of 15 to 20 people she had faithfully served for ten years. Having just moved into the mountains north of Madrid, she said, it was no longer feasible to make it to church.
She reminded me that she was 32 years old with no immediate prospects for marriage. When I asked if she had her eye on a Jewish fellow, she only laughed and shook her head no. We commiserated about the marriage thing, and as we walked through the wet winds to the bus that would take her out of Madrid, I encouraged her to explore away at Judaism and to take a season away from the church. I was confident, I added, that Christ would complete his work in her through the process.
As her bus pulled up, I marked a cross on her forehead with my forefinger and said, chidingly, "Remember—the Messiah has already come."
After the customary farewell kiss on each cheek, though, there was no hint of kidding in the goodbye hug. I held her tightly, desperately, clasping her head to my shoulder. As if she were my last hope for Madrid.
Jeff M. Sellers is an associate editor of Christianity Today.
Related Elsewhere
Christianity Today sister publication Books & Culture presents Books & Culture Corner and Book of the Week Mondays at ChristianityToday.com. Earlier editions of Books & Culture Corners and Book of the Week include:
Lessons in Nation-Building From a Fledgling Democracy | Shays's Rebellion describes a time when revolution was no longer cool. (March 24, 2003)
Whose Reality TV? | Tune in this week to Frederick Wiseman's PBS documentary, Domestic Violence, to see some real survivors. (March 17, 2003)
Oh, Brother | Most everyone agrees that the James ossuary is a significant find. Ask what it means, however … (March 17, 2003)
Vanity Fair  | A chronicler of religion plays the straight man. (March 10, 2003)
Diagnosing "The Doctor" | A new assessment of Martyn Lloyd-Jones, preacher. (March 3, 2003)
Taken Prisoner | Stories from the far-flung frontiers of the British Empire, 1600-1850, challenge our preconceptions. (Feb. 24, 2003)
Another Third Way? | The mixed record of Catholic social thought. (Feb. 17, 2003)
Divine Numbers | Can you say "Christian" and "mathematics" in the same sentence? (Feb. 10, 2003)
Getting Beyond Victimology | A provocative collection of essays for "the black silent majority." (Feb. 3, 2003)
Strange Bedfellows | Christopher Hitchens and Christopher Caldwell collaborate on a collection of political writing. Has the millennium arrived unnoticed? (Jan. 27, 2003)
Article continues below
Encounters of the Gods | Christianity and Native American religion in early America. (Jan. 20, 2003)
Books Present, Books Past, and Books to Come | Plus: A new format for this column. (Jan. 13, 2003)
Double Indemnity Meets Dead Souls | A conversation with novelist Richard Dooling. (Jan. 6, 2003)
Books of the Year | The top ten. (OK—make that twelve.) (Dec. 30, 2002)
Entertain Us | Nirvana, Pearl Jam, and the rapture of distress. (Dec. 16, 2002)
Boys Will Be Boys | A new book by a leading Christian feminist scholar inadvertently reveals the flawed assumptions underlying much talk about "flexibility" in gender roles. (Dec. 9, 2002)
Street Cred | Dave Eggers: The portrait of an artist as a … what? (Dec.2, 2002)
Epicurus'—and Darwin's—Dangerous Idea | How we became hedonists. (Nov. 18, 2002)
Weird Science? | A Darwinian debate continues. (Nov. 11, 2002)
Of Moths and Men Revisited | A Darwinian debate. (Nov. 4, 2002)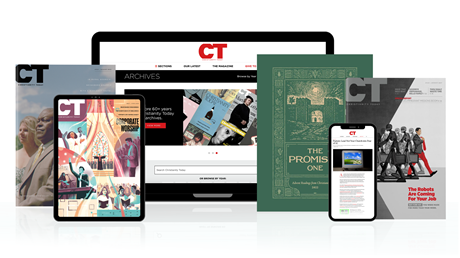 Annual & Monthly subscriptions available.
Print & Digital Issues of CT magazine
Complete access to every article on ChristianityToday.com
Unlimited access to 65+ years of CT's online archives
Member-only special issues
Subscribe
Letter from Spain
Letter from Spain