Crabwalk
Günter Grass, translated by Krishna Winston
Harcourt
234 pp.; $25
Günter Grass has always polarized his fellow Germans, as he has continuously written about Germany's Nazi past. His literary breakthrough, The Tin Drum (1959), was in fact one of the first German novels that plainly addressed the cruelties of the Nazi regime. For decades, Grass has been regarded as a major European writer who has clearly left his mark on world literature; novelists as various as John Irving and Salman Rushdie have repeatedly expressed their indebtedness to him. Thus it came to hardly anyone's surprise that the prolific German author was awarded the Nobel Prize for Literature in 1999.
Now at 75, Grass has remained faithful to his literary mission by writing a novella on a historical incident that had been suppressed for a number of decades. In Crabwalk, Grass revisits the tragedy of the Wilhelm Gustloff, a German ship that embarked from Gotenhafen/Gdingen on January 30, 1945 filled to the brim with thousands of German refugees. Westward bound, as the eastern territories of the Third Reich were under attack by Soviet troops, the Wilhelm Gustloff never reached its destination. When the ship was sunk by Soviet torpedoes, more than 10,000 Germans, among them 4,500 children, were killed—approximately six times the loss of life from the Titanic.
The Nazi regime never released any information about the fate of the ship and its passengers, not wishing to further demoralize Germany's already discouraged soldiers and citizens. After World War II, the incident in the Baltic Sea was hardly mentioned in either West Germany or East Germany. Since West Germans had to come to grips with the stigma of being a society of former perpetrators, war crimes committed against Germans were scarcely dealt with. In communist East Germany the Gustloff incident was seen as a self-inflicted tragedy, as the Soviet submarine had every right to open fire.
Grass was not the first German author to write about German refugees during World War II. A number of writers from East and West Germany, among them Christa Wolf and Walter Kempowski, had already tackled this theme before. However, these incidents were hardly discussed outside of literary circles, as many mainstream politicians viewed them as taboo. Meanwhile, right-wing extremists began to exploit this rather neglected aspect of Germany's past.
When Grass's novella appeared in Germany last year, it rekindled the public debate about memories of war crimes against German civilians. W. G. Sebald's lectures on "Air War and Literature" at the University of Zurich in 1997 triggered highly controversial discussions, which were given new life in 1999 when the lectures were published in Sebald's collection of essays, On the Natural History of Destruction (an English translation of this volume appeared earlier this year). However, Sebald's claim that no German author had written a literary work on the devastating Allied air campaign was exaggerated. Gert Ledig's novel Payback (1956) but also Thomas Bernhard's autobiographical account Gathering of Evidence (1975-1982) prove that Sebald was exaggerating. Nor is it true, as Sebald wrote, that the bombings of German cities "left scarcely a trace of pain behind in the public consciousness." In 1999, Heinrich Breloer published a collection of diary entries by German eyewitnesses that tell a different story. Clearly, many Germans have viewed themselves as victims and not as perpetrators, as Konrad H. Jarausch and Michael Geyer have recently pointed out in their book Reconstructing German Histories.
Only months before Crabwalk was published in Germany, Jö;rg Friedrich's bestseller The Fire: Germany Under Bombardment 1940-45 added more fuel to the highly emotional public debate about German victimization. While some critics praised Friedrich's book for illuminating the catastrophic British air raids, it was harshly criticized by others for allegedly comparing the air campaign to the Holocaust. Similarly, the reception of Grass's Crabwalk was overshadowed by a long political debate. American readers will certainly value the literary qualities of the impeccably translated novella and will not be as distracted by its political implications.
Paul Pokriefke, the narrator in Crabwalk, is a mediocre, opportunistic journalist without any clearly defined political, religious, or moral convictions. His rather dismal professional career mirrors his sad private life. Divorced, he failed to establish a close relationship with his son, Konny, while he was still married. Now that Paul lives in Berlin, he does not get to see his son often, and it seems that they will remain estranged. Indeed, Konny—who despises his father and disrespects his mother—has become a loner who spends all of his free time on the Internet, and finally finds hope among neo-Nazis. He creates a website in memory of Wilhelm Gustloff (1895-1936), a fanatical Nazi who was responsible for the Swiss branch of Hitler's party (the NSDAP). A year after Gustloff was shot by David Frankfurter, a Swiss Jew, the NSDAP honored their "martyr" by naming one of their ships after Gustloff.
Paul Pokriefke stumbles upon Konny's website while doing research for a piece on the ship Wilhelm Gustloff. He is shocked when he realizes that the webmaster has to be Konny, who uses the pseudonym Wilhelm in his online debates with a Jew named David. In Konny/Wilhelm's tirades against Jews and his apologetic stance for everything related to Nazism in general and Gustloff and the maritime tragedy in particular, Paul recognizes that his own mother—Konny's grandmother—has shaped his son's extremist mindset.
By focusing on three generations, Grass fleshes out some of the prevailing notions of how Germans view and (re)interpret their recent past. Paul finds it very difficult to face the past and especially the Gustloff tragedy, as he is strongly tied with its fate. Pregnant with Paul, his mother was onboard the ship and was rescued only minutes before she gave birth. Paul grew up ashamed of his birthday and the circumstances of his birth, but he finally comes to grips with his own past when he carefully retraces and re-creates the historical events of that dark January night.
Paul compares his very cautious historical approach to the peculiar locomotion of crabs, and Grass obviously chose the disjointed narrative style of Crabwalk to call into question any linear historical discourse that pretends to give a seemingly omniscient account. Hence he recasts the attack and the sinking of the ship from various angles.
Unfortunately, Konny and his grandmother do not share Paul's complex view of Germany's past: both of them see the world in black and white. When Konny eventually meets his online opponent, David, in person, Konny kills him after he "desecrates" the former site of a memorial to Gustloff, spitting on it. "I fired because I am a German," Konny tells the police.
But Grass has another twist in store. It turns out that David, whose real name was Wolfgang, only pretended to be Jewish. It is interesting to note that Wolfgang's apparently a-religious family are descendants of Protestant clerics from Württemberg. This reference should not go unnoticed, as Grass clearly critiques the once very prominent Württemberg Pietist movement that apparently failed to regenerate Christianity in Germany. After all, Wolfgang did not find hope in Christianity, but in Judaism, and he did not even find Germany an attractive place to live. Just like Paul de Lagarde, a highly influential German nationalist of the 19th century, and Theodor Herzl, the prime visionary of the modern state of Israel, Konny/Wilhelm and David/Wolfgang agree that it would be best for all Jews to settle in Israel. For these diametrically opposed characters, Europe—and especially Germany—will always be a breeding ground for anti-Semitic notions and hate crimes. Hence Grass's novella ends on a very pessimistic note, as there seems no hope that the seed of Nazism will ever vanish from Germany.
But is today's Germany really such a hostile, anti-Semitic place as Grass suggests? Although many Jews still grapple with the question what it means for them to live in Germany, nevertheless today's Germany has one of the fastest-growing Jewish communities in the world. Indeed, since Germany's unification in 1990, tens of thousands of Jews have left the territories of the former Soviet Union for Germany. Despite the presence of active neo-Nazi cells and anti-Semitic right-wing politicians, as can be found elsewhere in Europe as well, there is good reason to believe that on the whole Germany has changed for the better.
Gregor Thuswaldner is assistant professor of German at Gordon College.
Related Elsewhere:
Christianity Today sister publication Books & Culture presents Books & Culture Corner and Book of the Week Mondays at ChristianityToday.com. Earlier editions of Books & Culture Corners and Book of the Week include:
Are Movies Fundamentally Inferior to Books? | Two responses to Ralph Wood's claim that "biblical tradition elevates word over picture." (May 12, 2003)
Buffy and the Meaning of Life | Buffy the Vampire Slayer finally gets some respect. Too bad the life is slowly ebbing out of the show. (May 5, 2003)
Bird Watching with Anne Lamott | A PBS documentary enters the unruly, grace-filled world of the author of Traveling Mercies. (April 21, 2003)
A Story Darwin Might Love | Brian McLaren's evolutionary interpretation of the faith promises more than it delivers, but what it delivers is good enough. (April 14, 2003)
Why We Are in Iraq | Michael Kelly, R.I.P. (April 7, 2003)
Letter from Spain | A former resident returns to find that it is still stony ground for the Gospel. (March 31, 2003)
Lessons in Nation-Building From a Fledgling Democracy | Shays's Rebellion describes a time when revolution was no longer cool. (March 24, 2003)
Whose Reality TV? | Tune in this week to Frederick Wiseman's PBS documentary, Domestic Violence, to see some real survivors. (March 17, 2003)
Article continues below
Oh, Brother | Most everyone agrees that the James ossuary is a significant find. Ask what it means, however … (March 17, 2003)
Vanity Fair | A chronicler of religion plays the straight man. (March 10, 2003)
Diagnosing "The Doctor" | A new assessment of Martyn Lloyd-Jones, preacher. (March 3, 2003)
Taken Prisoner | Stories from the far-flung frontiers of the British Empire, 1600-1850, challenge our preconceptions. (Feb. 24, 2003)
Another Third Way? | The mixed record of Catholic social thought. (Feb. 17, 2003)
Divine Numbers | Can you say "Christian" and "mathematics" in the same sentence? (Feb. 10, 2003)
Getting Beyond Victimology | A provocative collection of essays for "the black silent majority." (Feb. 3, 2003)
Strange Bedfellows | Christopher Hitchens and Christopher Caldwell collaborate on a collection of political writing. Has the millennium arrived unnoticed? (Jan. 27, 2003)
Encounters of the Gods | Christianity and Native American religion in early America. (Jan. 20, 2003)
Books Present, Books Past, and Books to Come | Plus: A new format for this column. (Jan. 13, 2003)
Double Indemnity Meets Dead Souls | A conversation with novelist Richard Dooling. (Jan. 6, 2003)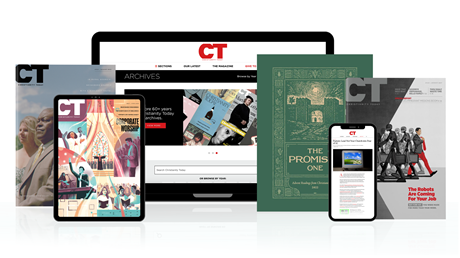 Subscribe to Christianity Today and get access to this article plus 65+ years of archives.
Home delivery of CT magazine
Complete access to articles on ChristianityToday.com
Over 120 years of magazine archives plus full access to all of CT's online archives
Subscribe Now
Books & Culture' s Book of the Week: Facing the Past
Books & Culture' s Book of the Week: Facing the Past