No, Zondervan did not release a Bible for homosexuals called the gNIV. No, Wal-Mart did not ban a racy worship album for "suggestive imagery depicting the church's love affair with Christ". And no, the Bob the Tomato did not call VeggieTales "bigger than Jesus."
But if you stumbled on to the satirical online newspaper Lark News without a sense of humor, you might think so.
Because such humor-impaired readers have been taking the site seriously, a radio program in Wisconsin last month heavily discussed the nonexistent worship album and was forced to issue a retraction. Christian Retailing reported that Big Idea Productions received phone calls from two pastors upset with the comments that Bob the Tomato, an animated character, never made. Zondervan told Christian Retailing that the gNIV story was "a sick joke."
"It gets people into embarrassing situations when they don't recognize outright that it is satire, and I'm surprised that they don't," says Joel Kilpatrick, founder and editor of Lark News. "I am also surprised that when people read something they don't move to the next stage to examine the source." (At the bottom of each page on the Lark News site is a link to a disclaimer.)
Launched in January, Lark News each month publishes articles in the spirit of The Onion: humorous false news reports that poke fun at certain topics and events. For Kilpatrick and his staff, the world it satirizes is the evangelical Christian community.
"We're in the evangelical world but not of it," says Kilpatrick, a freelance writer with a master's degree from the Columbia School of Journalism. "There's knowledge, familiarity, and real love for our subculture, but there's also a certain outsidedness. We are not campaigning for a certain point [or agenda]. It's like the relationship the moon has to the Earth. We can observe from afar, but we're in the same orbit."
Lark News articles focus squarely on inside Christian lingo, happenings, and people. Past stories have dealt with church potlucks, Petra, biblical archaeology, and Carman's The Champion. Lark News often pushes boundaries with sexual or risqué topics, but Kilpatrick says the site is not for readers under 18.
Kilpatrick says he wanted to launch a Christian satire vehicle for more than two years. As he gradually developed more ideas, he hired a web designer and a small staff to launch the site on January 1. Stories are written by a paid staff of five and several contributors. None of the Lark News employees, including Kilpatrick, is full time.
The Lark News site tells a much different story of its beginnings. The newspaper says it began in 1956 as a local church newsletter and built a national audience as the "little newsletter that could." The site also has a fake staff list and a "hearing impaired version."
Despite no outside advertising for itself, Lark News's traffic numbers have seen recent dramatic increases. Before the beginning of April, Kilpatrick said the site drew in about 75 unique visitors a day. But since then, more than 300 have come to Lark News daily. He credits word of mouth and the controversies about misunderstood stories as the reasons for the traffic boost.
How openly has the Christian community received the site?
"The spectrum of different responses has shown me almost a portrait of the body of Christ," Kilpatrick said. "On the negative side, you range from those who are rather vicious to those who say they're sad that someone would do this to those who think it's funny but not right.
"On the other hand, you have people who enjoy satire as an art form and they critique our stories on whether they are well done or not. Other readers tell me that this is the kind of thing that helps keep them in the ministry. It surprises me how many people in full-time ministry I hear from who say they needed a laugh."
This is why Kilpatrick started the site. The bottom line is to be funny, he told CT, but satire serves an important role in any subculture or community as well. "Satire is a way of speaking to people," Kilpatrick. "It is healthy. If you don't look at yourself, you get stale. Everybody needs it. I was inspired by [musician] Steve Taylor, because he showed that satire could not only be fun and amusing, but has a prophetic element to it."
Todd Hertz is the assistant online editor for Christianity Today.
Related Elsewhere:
Christianity Todayrecently examined The Door, another publication that began with a focus on satirizing the evangelical subculture.
The U.K. based Ship of Fools also has a heaping dose of Christian satire.
Fake church sites like Landover Baptist are much more biting—and much less "inside."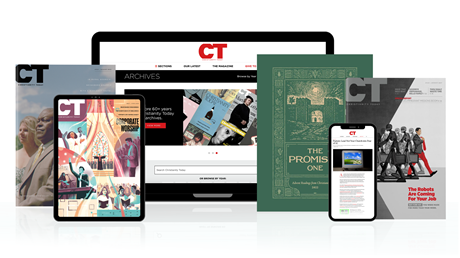 Subscribe to Christianity Today and get access to this article plus 65+ years of archives.
Home delivery of CT magazine
Complete access to articles on ChristianityToday.com
Over 120 years of magazine archives plus full access to all of CT's online archives
Subscribe Now
Christian Satirical Website a Blessing to Some, 'Sick Joke' to Others
Christian Satirical Website a Blessing to Some, ...