A year after a member of the Canadian Parliament proposed a bill that Christians say could censor Scripture, the mainstream media are finally catching up.
New Democratic Party MP Svend Robinson, sponsor of the hate crime bill, says there's no way a pastor would be prosecuted for preaching against homosexuality on the basis of the Bible.
"There's not an attorney general in the country anywhere at any level who would consent to the prosecution of an individual for quoting from the Bible," he told a House of Commons committee, according to Reuters. "An attorney general who tried something like that would be run out of town on a rail."
But just because the attorneys general wouldn't prosecute doesn't mean it wouldn't be illegal. Five months ago, a Saskatchewan court ruled under a different human rights law, that a pastor's quoting of Leviticus "exposes homosexuals to hatred."
For more on this story, check out ChristianWeek's archives. The Canadian newspaper's stories are a bit older than the Reuters piece, but no less current.
Chimpanzees are human, say Wayne State University scientists
After finding 99.4 percent correlation between "key genes" in humans and chimpanzees, scientists from the Wayne State University School of Medicine say it's time to start monkeying with taxonomy. Chimpanzees, they say, should be considered humans and placed in the Homo genus under the Hominid family. They're currently part of the Pongidae family, which include other apes.
But the researchers' argument seems to suggest that it's humans who should be moved, not chimps. "We humans appear as only slightly remodeled chimpanzee-like apes," says the study, published in the Proceedings of the National Academy of Sciences.
Anatomy professor Morris Goodman, one of the study's authors, admits that part of his motivation for the change is political advocacy. "The loss of the [wild] chimp and gorilla seems imminent," he says. "Moving chimps into the human genus might help us to realize our very great likeness, and therefore treasure more and treat humanely our closest relative."
Well, now that we've decided that fetuses aren't really human, there's some extra room in our definition anyway. Come on in!
More articles
New Sweden church poisoning:
Police: Poisoner did not act alone | Authorities say two or more people were involved in a plot to poison members of a New Sweden church last month, and they have narrowed their focus to six to 10 parishioners as possible suspects (

Portland Press Herald

)


Faith and spirituality:
Finding grace on death row | My mother hated my father for giving her AIDS. I blamed them both, until a visit with a brutal murderer taught me to forgive (Diana Keough, Beliefnet)


Evangelism's place in Christianity | If Christianity is to thrive into the new millennium, it seems clear that it will do so only if it responds in the same way it has in previous periods of history, and that is by a deep and searching commitment to evangelism (Gregory Elder,

Redlands Daily Facts

, California)


Just because bad things happen it doesn't mean there's no God | Whoever said that God is good as good human beings are good? (

The Times

, London)
Bible and theology:
Church life:
Being stingy with God | Tithing dropped by 62 percent in 2002, says Barna Research Group (UPI)


News reports illustrate brutality of a 'rite of passage gone awry' | Hazing is alarmingly prevalent in schools and churches (

Religion Journal

)


Church joins university 'milk round' in hunt for young vicars | The Church of England is planning to compete with Britain's largest corporations by taking part in the university "milk round" as it attempts to recruit young vicars (

The Daily Telegraph

, London)


A Christian community falters | Loss of leader, governing body hurts group formed in Boston (

The Boston Globe

)


Silence of the Quakers | Heartland Friends is the largest of several unprogrammed Quaker groups in Wichita and the only one to have its own meetinghouse (

Wichita Eagle

)
Clergy sex abuse:
Sexual ethics:
Pop culture:
Media:
Newspapers fall short on religious accuracy and context, study alleges | Stories about religion rarely discuss its beliefs, values and practices, says Curt Smith (CNSNews.com)


Religion in American newspapers: A critique and challenge (Curt Smith, University of Rochester)
Interfaith relations and other religions:
Related Elsewhere:
Suggest links and stories by sending e-mail to weblog@christianitytoday.com
Check out Books & Culture's weblog, Content & Context.
See our past Weblog updates:
May 20 | 19
May 15 | 14 | 13 | 12
May 9 | 8 | 7 | 6 | 5
May 2 | 1 | April 30 | 29 | 28
April 25 | 24 | 23 | 22 | 21
April 17 | 16 | 15 | 14
April 11 | 10 | 9 | 8 | 7
and more, back to November 1999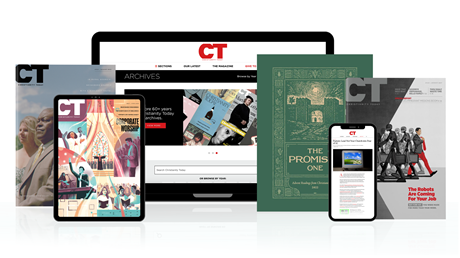 Annual & Monthly subscriptions available.
Print & Digital Issues of CT magazine
Complete access to every article on ChristianityToday.com
Unlimited access to 65+ years of CT's online archives
Member-only special issues
Subscribe
Reading the Bible as Hate Literature
Reading the Bible as Hate Literature