Warlord takes six missionaries hostage on Guadalcanal
Solomon Islands warlord Harold Keke has reportedly killed at least 50 people the last year, and 20 in the last month, the AFP news agency reports. Several people murdered were his own supporters.
Now Keke is holding hostage six missionaries from the Melanesian Brotherhood, part of the Anglican Church of Melanesia.
"The recent report from someone who managed to escape from the camp is that the six brothers are still alive but held as prisoners," Archbishop Ellison Pago said in a press release. "The Head Brother and I agree that we must do two things: to ask friends far and near to pray for the safety and release of the Brothers, and for me to communicate with the militants to establish some form of understanding which will lead to a possible immediate release of the six brothers."
Ministry Matters, a publication of the Anglican Church of Canada, recently published an article about the Melanesian Brotherhood and the other three related religious communities. "This is real evangelism that goes on largely unsung, unfinanced, undocumented," wrote Richard Carter.
These evangelists walk the roads with bare feet and no money. These are evangelists whom people can welcome in their homes like returning sons or daughters, who will share whatever food there is and who will sleep on a mat and help hoe the garden, catch the fish or repair the roof. These are the evangelists who will come whenever they are called to pray for the sick, solve a village dispute, calm down a husband who is drunk. And when they visit, they bring a sense of goodness, the sense that something better is possible.
Keke reportedly told the Solomon Islands government why he took the missionaries hostage, but that reason isn't being made public. It's unclear if there have been political or monetary demands.
Details are emerging about Todd Bair, one of seven Americans killed in Monday's bombings in Riyadh, Saudi Arabia. A retired Army captain, Bair was in the country as a contractor training Saudi national workers.
His wife, Samantha, said that the two would regularly communicate through e-mailed Scripture. "He would write, 'I can't tell you what's going on but if you look at this Scripture, then this Scripture and that scripture, you'll know what's taking place,' " she told The News Chief of Winter Haven, Florida. But the most interesting details come from his mother, Emmy Thompson. The News Chief's William Bygrave writes:
Bair's relationship with his boys was such that his mother said he visited a Muslim-owned jewelry store in Riyadh and commissioned to have three gold fish signs made for him and the boys to wear on gold chains.
"He went back to the store and the owner asked what that was about," Mrs. Thompson said. "'It is just something special between me and my boys, Bair (told him).'"
She explained that in Jesus' time when Christians were being persecuted, they would draw the sign of a fish in the sand and Christians would know if they were talking with another Christian.
She said the jeweler was so impressed he made other gold fish to put in his window, but they were soon sold out.
More articles
Gracia Burnham:
Hostage: Captors negotiated for ransom (Associated Press)
The Matrix

:
The spiritual message of The Matrix | Authors find inspiration in film's mythology of fighting for truth (Morning Edition, NPR)


They don't call him 'The One' for nothing | The first

Matrix

movie is seen by many Christians as a retelling of the story of Jesus. Whether the sequels will fit that theory remains to be seen (Siri Agrell,

National Post

, Canada)
Politics and law:
Life ethics:
Doctors oppose assisted suicide | More than half of doctors have been approached by a patient seeking medical help to die, an Internet survey suggests. However, most (74%) would refuse to perform assisted suicide if it were legalized (BBC)


Gov. Jeb Bush to seek guardian for fetus of rape victim | Move has angered women's rights groups and reignited the debate over abortion in Florida (

The New York Times

)


New cases stir US abortion fight | Two pregnancies, a rape, and a murder have merged to redraw the battle lines over abortion in America (BBC)
Missions and ministry:
Help unwanted | What's wrong with Christian groups helping Iraqis? (Vincent Carroll,

The Wall Street Journal

)


And here's where it gets uninteresting | Church youth worker runs "The Dullest Blog in the World" (

The New York Times

)


World Vision leader's vision is fight against AIDS | Rich Stearns was an advocate for the victims of the global AIDS epidemic four years ago, pressing for his organization to make AIDS its No. 1 priority (

Chicago Tribune

)


Education:
College president's résumé fails student exam | A student reporting assignment at a small evangelical college in Toccoa, Ga., resulted in the resignation of the college president. (

The New York Times

)


Harvard is pressured to return $2.5m gift | President of the United Arab Emirates tied to a controversial Arab think tank with alleged anti-Semitic and anti-American leanings (

The Boston Globe

)
Church and state:
Students react to suit over silence | Another graduation and another lawsuit over what will go into the ceremony. But, this time, it's from students who say it's their right to have a moment of silence (KTIV, Iowa)


Principal criticized for school prayer | Ellen Green asked teachers to stand by students' desks and pray on the National Day of Prayer (Associated Press)


Old World would be wise to look to New when drafting constitution | While an 'American solution' is probably the last thing many Europeans want to hear, U.S. has some insight on issue of God and government (Charles Haynes, First Amendment Center)
Crime:
Holy Land:
Israel's unshakable allies | American evangelicals and fundamentalists - the so-called ''religious right'' - are among the most tolerant and respectful friends the Jewish people have (Jeff Jacoby,

The Boston Globe

)


The Bible is their 'road map' | Christian Zionists meet to plan strategy to spoil Bush's peace plan (Bill Berkowitz, WorkingForChange.com)


Jerusalem holy site tensions mount | The Islamic authority (Waqf) which administers the disputed Haram al-Sharif, or Temple Mount, in Jerusalem has said it will continue to bar non-Muslims from praying there (BBC)
American and Canadian faith:
Has the United States become Judeo-Christian-Islamic? | Leading Muslim organizations say it's time for Americans to stop using the phrase "Judeo-Christian" when describing the values and character that define the United States (Religion News Service)


Canada ain't America when it comes to religion | Americans are just more religious than Canadians. It wasn't always so (Jeffrey Simpson,

The Globe & Mail

, Toronto)


God keep our land | At a glance, the stats suggest that more Canadians than ever have no religion. Look more closely, (Reginald Bibby,

The Globe & Mail

, Toronto)
Church life:
Clergy sex scandals:
Money and business:
Vicars flock to heavenly trade fair | The Christian Resources Exhibition, staged on a racecourse at Esher just outside London each year, is a Godsend for the eager ecclesiastical shopper (Reuters)


"Jesus and Mary" sandals cause a scandal in Denmark | A local Catholic parish filing charges against the store for blasphemy (AFP)


Also: Jesus sandals ditched by Danes | A supermarket chain in Denmark has withdrawn from sale sandals with the images of Jesus Christ and the Virgin Mary on them after criticism from religious groups (BBC)
Persecution:
Catholicism:
Sexual ethics:
Gay, lesbian group denied specialty tags | Plates are confusing police, lawmaker says (

The Times-Picayune

, New Orleans)


Williams tries to avert gay schism | Archbishop of Canterbury and his fellow Anglican leaders will debate a report which gives warning of "anarchy and division" if liberal bishops permit homosexual "marriages" (

The Daily Telegraph

, London)
Books:
Anti-Catholicism in the U.S.: A hate much loved and lied about | A review of

The New Anti-Catholicism: The Last Acceptable Prejudice

by Philip Jenkins (Michael Pakenham,

The Baltimore Sun

)


Gospel truth | Research throws new light on Lindisfarne manuscript—it might have been written with Bede's

Ecclesiastical History of the English People

(

The Guardian

, London)


Vatican releases modern Latin dictionary | It is a project to keep the language updated, even if they didn't have dishwashers, discos, and miniature golf in Roman times (Associated Press)
Theology:
'The God of old': recovering theological imaginings | In the early books of the Bible, the subject of these seven meditations by James L. Kugel, God is truly present; he can be seen and touched (Jack Miles,

The New York Times

)


Does the devil really make you do it? | Evangelical Protestants, who generate many of American religion's notable innovations, are at war over one of them, known as "spiritual warfare" (Associated Press)
Other stories of interest: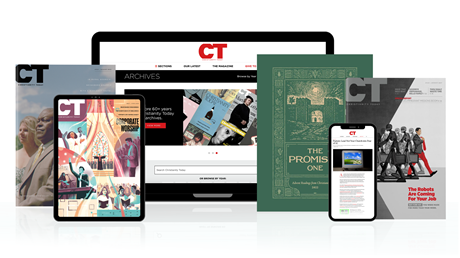 Annual & Monthly subscriptions available.
Print & Digital Issues of CT magazine
Complete access to every article on ChristianityToday.com
Unlimited access to 65+ years of CT's online archives
Member-only special issues
Subscribe
Anglican Missionaries Taken Hostage in Solomon Islands
Anglican Missionaries Taken Hostage in Solomon Islands