Joseph Hills, who ran a Christian nonprofit organization called A Little Sonshine from Arizona, wanted to offer kids a summer camp. Students could take classes in camping, gymnastics, golf, Spanish, or other courses. Among the 19 offerings were two on the Bible: Bible Heroes and Bible Tales. A brochure describing the classes was clearly religious in nature, though it specified that they were "non-denominational in nature. All faiths are welcome." Here's what it said about Bible Tales:
Guys and Gals! Did you know that if a child does not come to the knowledge of JESUS CHRIST and learn of the importance of Bible reading by the age 12, chances are slim that they ever will in this life? We think it is important to start as young as possible! We will Sing, Act, Dance and Relive some [of] the Greatest stories ever told! And maybe … we'll even have a surprise visit from Bob the Tomato and Larry the Cucumber, the award winning "VeggieTales" guys! (so much for the surprise!)
Here's the description of the Bible Heroes class:
Did you know … some of the greatest people who ever lived never had a home-run record? Never flew a plane or rode a train? Never starred in a motion picture (except Moses), and still do not have a Monday holiday named after them? It's true! Come, take an adventurous ride back into time with us, and learn about some ordinary people whose faith in GOD helped them accomplish extraordinary things! Remember Noah? Just how does a man build a boat that big? And Moses … he gives a whole new meaning to the phrase "You da Man!" We will explore Bible heroes from both the Old and New Testaments, and of course we will learn about our Greatest example JESUS. We will explore this through play acting, and puppetry, costuming, and set design, make-up and surely we will learn our lines! Come, join us in the Word, and learn what we mean by "role model."
When Hills started distributing his brochure to students in the Scottsdale Unified School District, some parents were outraged.
"I am a strong believer in God, but it's not anyone's place but my own to instill religious beliefs", Benita Sonabend, told The Arizona Republic in 2000 (the article isn't available online, but it is quoted in this Arizona American Atheist Newsletter).
Concerned about the parental reaction, district administrators ordered Hills to put a disclaimer on the brochure—then told him he couldn't distribute it at all unless he was willing to remove the descriptions of the Bible classes and images of a Bible, a cross, and a dove carrying an olive branch. He also had to change his group's name from Sonshine to Sunshine.
The district also issued a new policy barring literature of a "commercial, political or religious nature."
Instead of heading back to Kinko's, Hills headed to the American Center for Law and Justice, filed suit, and lost.
Yesterday, however, the 9th U.S. Circuit Court of Appeals said the school district violated the U.S. constitution. "Application of Supreme Court precedent requires the conclusion that the district discriminated against Hills on the basis of his religious viewpoint, and requires us to hold that the district violated Hills's First Amendment rights by denying him equal access to the District's schools," the court ruled.
But the court very specifically said that it wasn't saying that all religious material was acceptable. "The district cannot refuse to distribute literature advertising a program with underlying religious content where it distributes quite similar literature for secular summer camps, but it can refuse to distribute literature that itself contains proselytizing language," the judges said. In fact, they said, Hills's original pamphlet "was promotional not only of the [Bible Tales] class but of religion, and went beyond a description of the organization's general religious mission to directly exhort the reader to involve children in religious observance."
But rather than "parse each individual line," it sent the case back to U.S. District Judge Susan Bolton, who earlier said the district was right to ban the pamphlet completely.
ACLJ attorney Walter M. Weber tells the Associated Press that the decision "sends an important message about the constitutional rights of religious speakers. School districts cannot legally discriminate against the type of literature distributed at schools simply because that literature promotes an event that includes religious speech."
But school district attorney Mary Ellen Simonson says the "important message" is unclear: "It does leave districts in a very distressing quandary of having to decide what is or is not acceptable as religious material," she told The Arizona Republic.
More articles
Church and state:
Town moves polling place | Framingham settles with a Jewish attorney who had filed a federal lawsuit claiming his voting rights had been violated when he was forced to vote in a Methodist church (The Metrowest Daily News, Framingham, Mass.)


District warns of proselytization on school campus | Superintendent Dr. David Anthony is meeting with McKinney school principals, warning them of lunchtime visits by so-called youth ministers who recruit students to join Christian-based youth groups such as K-Life and Young Life (

McKinney Messenger

, Tex.)


Religion-in-school speeches may graduate to higher court | Guidelines on the do's and don'ts of expressing religious beliefs in high school graduation speeches are so open to interpretation that those on both sides of the issue seek the intervention of a higher authority, the U.S. Supreme Court (

Contra Costa Times

, Calif.)
Politics and law:
Religious freedom and persecution:
Deputy wants to protect the faithful | Bill increases the penalties for those who use threats of violence to obstruct religious services, offend a religion in the media and vandalize church buildings, religious symbols or cemeteries (

The Moscow Times

)


US-Eritrean relations come under fire over human rights | One rights group is asking the government to free some 300 political prisoners Friday (

The Christian Science Monitor

)


Chinese clergy rebut U.S. report on religious freedom (

People's Daily

, China)
Abortion:
Maine lawmakers reject abortion bills | All proposals would have increased restrictions (

Kennebec Journal

, Maine)


Parental notification passes Senate | Abortion bill wins by one-vote margin (

Concord Monitor

, N.H.)


Also: New Hampshire Senate approves bill requiring parental notification for abortions (Associated Press)


Crime:
Sexual abuse:
Former Baptist missionary jailed over Philippines child sex abuse | David John Gillard, 57, was voluntarily deported to Australia in 2001 after local authorities caught him interfering with young boys at camps for disadvantaged children (

The Sydney Morning Herald

)


Pastor 'made victim repent' | The head of an evangelical church sexually assaulted a member of his congregation then asked her to repent by praying, a court has been told (BBC)


Sexual ethics:
Prayer and spirituality:
Interfaith relations and other religions:
In a Muslim city in Iraq, Christians enjoy their quarter | Tucked in a corner of an ancient, somber Muslim city is a neighborhood that wears skimpy clothing, eats cheeseburgers and drinks beer (

The New York Times

)


Court acquits Canadian in Chattisgargh | Prosecution argued that, in October 1998, Martin tempted residents of Dangwuda village to convert and did not inform the district magistrate of the matter (Sify, India)
Books:
Brimstone America | Jean Bethke Elshtain reviews James A. Morone's

Hellfire Nation: The Politics of Sin in American History

(

The Weekly Standard

)


Wheaton College to honor late British writer | Among the admirers attending Malcolm Muggeridge Centenary 2003 will be William F. Buckley Jr. (

Daily Herald

, Chicago suburbs)
Film:
'Matrix' hailed as best treatise on God-talk ever made | God-talk leaders are more likely to work in popular media than in religious institutions, says Phyllis Tickle (Terry Mattingly, Scripps Howard News Service)


God character appearing more in comedies | The character of God has become increasingly human and secular in comedies such as

Oh, God!

,

Dogma

, and the new

Bruce Almighty

, suggesting mainstream audiences are more open than ever to wacky, nonreligious versions of The Man Upstairs (Associated Press)


Watchdog group offers family ratings | Common Sense Media plans to push for a national rating system, but in the meantime it offers its own (

The Washington Times

)
Church life:
Holy Land:
The exit that isn't on Bush's 'Road Map' | There is a strengthening alliance between Jews who favor a Greater Israel and conservative Christians in the U.S. who are moved by the same ancient dream (

The New York Times

)


Also: Zionist meeting brands 'road map' as heresy | A Washington conference of Christian and Jewish Zionists yesterday heard attacks on the U.S. "road map" for peace in the Middle East as a breach of a 4,000-year-old covenant between God and Israel (

The Washington Times

)


Atlanta's Palestinian for Christ | The Rev. Fahed Abu-Akel, moderator of the Presbyterian Church (U.S.A.), uses parables to illustrate to Americans the complexities of the Middle East (

The Atlanta Journal-Constitution

)


Journeys of faith | Religious travelers are increasingly shunning the Holy Land for more obscure spiritual places—like Ethiopia, Cuba and Greece (

Newsweek International

)
Ecumenism:
Catholics ask evangelical radio to change policy | K-LOVE asked to rescind its policy against promoting Catholic musical events (

San Antonio Express-News

)


Vatican to give Rome church to Bulgarian Orthodox | It's part of an attempt by Pope John Paul II to improve relations between Catholics and Orthodox Christians (Associated Press)
Archbishop of Canterbury:
Christians 'greedy and bored' says Williams | Archbishop of Canterbury says too many people are "hereditary" Christians who have inherited their belief from their forebears as if it were "something obvious" (

The Times

, London)


Archbishop calls on Christians to rediscover surprise of faith | Rowan Williams's article has made waves for its searing comparison of mundane church culture in Britain with the vivacity of congregations in the developing world (

The Western Mail

, Wales)
Money and business:
Other stories of interest:
Everyday evil | Michael Welner examines 'depraved' behavior in ordinary life (ABCNews.com)


Related Elsewhere:
Suggest links and stories by sending e-mail to weblog@christianitytoday.com
Check out Books & Culture's weblog, Content & Context.
See our past Weblog updates:
May 22 | 21 | 20 | 19
May 15 | 14 | 13 | 12
May 9 | 8 | 7 | 6 | 5
May 2 | 1 | April 30 | 29 | 28
April 25 | 24 | 23 | 22 | 21
April 17 | 16 | 15 | 14
April 11 | 10 | 9 | 8 | 7
and more, back to November 1999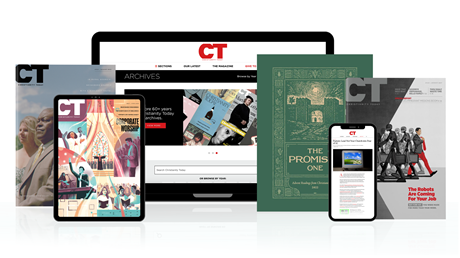 Annual & Monthly subscriptions available.
Print & Digital Issues of CT magazine
Complete access to every article on ChristianityToday.com
Unlimited access to 65+ years of CT's online archives
Member-only special issues
Subscribe
Schools Can't Bar All Religious Literature, Says Appeals Court
Schools Can't Bar All Religious Literature, Says Appeals Court