Former New Tribes Missionary Gracia Burnham, who was held hostage with her husband for more than a year by Muslim militants in the southern Philippines, has stirred the Philippine government and military with a few statements in her new book about her captivity.
"When the [captors] went out for [food and supplies], they'd pick up ammunition as well," writes Burnham in In the Presence of My Enemies, which was released this week by Tyndale. "You may wonder how such a group as the Abu Sayyaf seemed to be well supplied with weaponry. Were their al-Qaeda friends sending them supply boats in the middle of the night? No, no—nothing so exotic as that. The Abu Sayyaf told us [its] source was none other than the Philippine army itself. … I was amazed. The fact that such firepower could quite possibly wind up killing one's fellow soldiers seemed not to matter at all."
Burnham says that "more than once" she heard one of the Abu Sayyaf leaders call a woman named Ma'am Blanco in the nearby city of Zamboanga on a satellite phone, requesting specific kinds of weapons and ammunition.
"Who are you ordering from?" she finally asked him.
"Oh, the army," the Abu Sayyaf leader said. "We pay a lot more than it should cost, of course. So somebody's making a lot of money. But at least we get what we need."
Elsewhere in the book, Burnham wrote that the military wasn't just providing weaponry. In January 2002, she says, the food supply was plentiful for "a most unusual reason":
The Armed Forces were feeding us! A group of them met our guys and handed over quantities of rice, dried fish, coffee, and sugar. This happened several times over the course of a few weeks.
Why in the world did President Arroyo's troops provide the Abu Sayyaf with their daily bread? We were told that it was because [Abu Sayyaf leader Abu] Sabaya was wheeling and dealing with the AFP general of that area over how to split up any ransom that might be paid. … Sabaya was willing to give the general 20 percent of the action. But the messenger reported back that this wasn't enough. The general wanted 50 percent—when his own government condemned the ransom concept altogether. We weren't really surprised at this, as over the years we had read newspaper articles about generals' wives installing floors of smuggled marble in Corinthian Gardens, an elite section of Manila, and about their children attending the best schools abroad. These things don't happen on a Filipino general's salary.
Burnham said she and her captors learned negotiations had broken down by listening to Radyo Agong, a radio station that regularly aired satellite phone interviews with the Burnhams and their captors during their captivity. Using an alias for Sabaya, the station aired a coded message: "The bank turned down your offer for the house that you wanted to sell, and they're going to come now and take the house by force. My advice would be for you to leave the house so you don't get in any trouble."
The allegations were hotly denied by Philippine military officials. Lt. Gen. Gregorio Camiling, who commanded the army during the early part of the hostage crisis, says Burnham doesn't know what she's talking about since she was dependent on her captors for information.
"They were inside; their minds could easily be controlled by Abu Sabaya and the rebels who could have fed them wrong information and acted out some drama," Camiling told the Associated Press. "How can she say they were soldiers? She was misled."
Gen. Roy Cimatu, who replaced Camiling in the AFP's efforts to attack the Abu Sayyaf, says Burnham's claims are disrespectful. "We lost 45 soldiers just for the rescue," he said. "It's really unfair to make those allegations considering the soldiers risked their lives and many lost their lives."
Also killed in the rescue attempt were Gracia's husband, Martin Burnham, and Filipina nurse Ediborah Yap. Gracia Burnham was shot in the leg.
An unnamed ranking military official complained to The Philippine Inquirer that Burnham's report is biased. "To generalize that the military is in collusion with that terrorist group is unbelievable," he said. "We have lost lives in [going after these] people. Gracia Burnham is not in a position to give a balanced view of information. … Her captors influenced her perception. It is like listening to a one-sided telephone conversation."
A spokesman for President Gloria Macapagal Arroyo initially expressed "full trust and confidence in the Armed Forces," but later said Arroyo ordered the departments of National Defense and Foreign Affairs to investigate Burnham's claims and told the AFP to strengthen its rules of engagement against terrorists.
"There should never be any form of contact between troops and terrorists, except armed contact," Arroyo said. The investigation into "Mrs. Burnham's allegations," she said, would be "formal and thorough … so that the facts may be laid bare to the public."
"We cannot leave this story hanging, as it has grave implications on the image and stature of our Armed Forces. As Commander-in-Chief, I will not allow the military to live under the cloud of public doubt," she said in a statement. "Let us not make this issue a media or political feast."
The Philippine Department of Justice says it will ask Burnham to testify before a Philippine official in the investigation.
But Burnham is already commenting on the allegations. In what the Philippine military is characterizing as backpedaling, Burnham told Fox News that the collusion is "what I was told, and I always preface that in my book by that was what I was told. I didn't really accuse anyone. … I think the military was trying their very best to get us out of there. … I think they were doing all they could to locate us. And I think their agenda was to get us out of there safely."
As the controversy continued to rage, however, Burnham issued a statement "to [her] friends in the Philippines" through the U.S. embassy. "I understand it is being reported that I made allegations in the book of collusion between the Philippine military and the Abu Sayyaf," she said.
I do not like that word—allegations. I am not pointing an accusing finger at anyone. I am relating what I was told by the Abu Sayyaf. I will let my book speak for itself. We were told many things by the Abu Sayyaf; some of them true and some of them lies.
If there was collusion between the military and the Abu Sayyaf, God is the righteous judge and someday that will be made right.
The "bad guys" during our experience were the Abu Sayyaf. Martin and I were aware that many Philippine soldiers died as they attempted to end our captivity. The goal of those brave soldiers was to rescue us, and nothing more.
We want their loved ones to know that we appreciate the sacrifice they made for us and we honor their memory.
I continue to pray for you—my dear friends—my heart is there with you.
But while Gracia is letting her book speak for itself, it's not the first time that collusion between the military and the terrorists has been suggested. After the Abu Sayyaf escaped with the Burnhams and other hostages from a hospital in Lamitan, many witnesses and observers said it was because the militants had paid off soldiers.
Among the chief witnesses and critics at that time was Cirilo Nacorda, a parish priest who has been taken hostage by the Abu Sayyaf several times. "I'm happy that at least other victims are saying the same thing," he told the Inquirer. "It's good that I am not the one talking this time. Before, it was like I was a voice in the wilderness. One person talking is not strong [enough] in court, but with the revelations of Gracia Burnham, the case [will become] stronger."
In an exclusive interview with Christianity Today, Burnham said she believes there was a payoff but can't prove it.
"We were at a disadvantage because we only spoke English and a tiny bit of Sabwano, and there were four or five different languages going around there," she said. "When we heard that there were allegations of that, we asked the other hostages if that happened, and they said, 'Oh of course! Didn't you see that?" And, no, no we didn't."
Burnham thinks that perhaps a ransom for two other hostages—Reghis Romero II and his girlfriend, Riza—may have arrived before or during the Lamitan hospital siege, and that the Abu Sayyaf used it to pay the AFP. "But that's my own private little [speculation]," Burnham said. "I didn't see that. I don't have firsthand words."
An investigation by the Philippine Senate into the Lamitan Hospital raid found circumstantial evidence of collusion, and recommended that three military officers involved in the raid should be court-martialed. The AFP, however, did not follow the recommendation.
On Friday, the Philippine House of Representatives said it would reopen its investigation into the collusion at the Lamitan Hospital and elsewhere.
In her interview with Christianity Today, Burnham said she did not expect Filipinos to be surprised by her tales of collusion:
That didn't surprise us at all. That's a way of life in the Philippines. This was par for the course. We knew that. It's not going to surprise the Filipinos to see that. … It may embarrass them that I put it in my book, or it may make them think.
When I was writing this, part of my goal was to get them to think through their culture. Their culture is so … Well, ours is, too. But we have this Judeo-Christian culture that [says] certain things are wrong and certain things are right. You don't steal. You don't lie. People do it, but it's still considered wrong. In their culture, you can explain anything away, and it's not wrong anymore.
In the Lamitan Hospital, when [hostages] started looting the patients' rooms, they handed me something and I said, "I'm not going to take that. It's not mine." I was appalled at what I was seeing because I thought we were the good guys and the Abu Sayyaf were the bad guys. Here we were looting someone's room, taking anything we thought we needed.
What I would like them to see is even when you're in a tough spot it's not okay. It's "Thou shalt not steal." You don't need to be stealing. If Scripture says not to lie, we need to not lie. I'm not saying that I'm perfect here. I wanted them to see that because their culture says if you need something you just take it.
A full version of Christianity Today's exclusive interview with Gracia Burnham will be posted on our website Friday, May 23, along with our June cover story on Burnham's captivity. Christianity Today subscribers will receive the June cover story in the mail beginning May 17.
Ted Olsen is online managing editor of Christianity Today and the author of the magazine's June cover story on Gracia Burnham.
Related Elsewhere:
Other articles on Burnham's account of collusion between the military and Abu Sayyaf include:
Other recent articles on Gracia Burnham and her book include: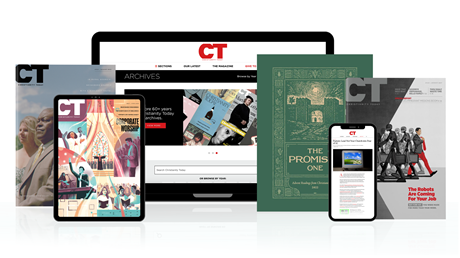 Annual & Monthly subscriptions available.
Print & Digital Issues of CT magazine
Complete access to every article on ChristianityToday.com
Unlimited access to 65+ years of CT's online archives
Member-only special issues
Subscribe
Gracia Burnham's Book Throws Philippine Government into Turmoil
Gracia Burnham's Book Throws Philippine Government into Turmoil