The continuing saga of Bush's faith-based initiative took a new turn this week: the White House announced regulatory changes that will make it easier for religious organizations to compete for federal funds.
According to Christianity Today'sweblog, "Faith-based organizations working to combat drug abuse, mental illness, and poverty can now apply for several grants from the Department of Health and Human Services. Previously, about $20 billion in these grants was off-limits to religious organizations." Ditto the $8 billion coffers of the Department of Housing and Urban Development—now open to Christian social organizations.
Yes, it's only a step. But it's a significant one, in a godly direction.
And it reminds me of a story I'd like to share with you. Well, six stories:
In issue 53: William Wilberforce: The Century of Reform, Christian History peered into the slums, hospitals, classrooms, prisons, factories, and houses of parliament of parliament of Victorian England. What we found in each of these six places was inspiring: Christians whose "faith-based" compassion for the poor and downtrodden of their nation motivated them to work for change.
What we did not find is equally telling: the devastating split between "evangelicalism" and "the social gospel" that later marred America's Christian witness.
Each of the reformers in these Victorian stories had asked themselves the same question:
Or as Charles M. Sheldon put more bluntly it in his beloved late-Victorian novel: "What would Jesus do?"
The answers of these Victorian Christians spurred them to pioneer some of the most remarkable social reforms of the modern era.
Whatever your views or faith background, I encourage you to click on the links above (in the paragraph beginning "In issue 53") and read these brief stories. You will see what has happened in the past when ordinary Christians have set out to make Christ's presence felt in the dark places of their world.
Then consider passing one or two of these stories on to a friend—or to someone inside the political process. Here, as in so many cases, a dose of Christian History can be strong medicine for what ails us.
Chris Armstrong is managing editor of Christian History magazine. More Christian History, including a list of events that occurred this week in the church's past, is available at ChristianHistory.net. Subscriptions to the quarterly print magazine are also available.
Related Elsewhere
Christian History Corner appears every Friday on Christianity Today's website. Previous editions include:
Article continues below
Breaking Down the Faith/Learning Wall | How the history of Christians in higher education has stacked the deck against Robert Sloan's "new Baylor." (Sept. 19, 2003)
Learning From the Other 9/11 | Words kill. So teachers, watch what you say. (Sept. 11, 2003)
The Lord of the Rings: What Harvest? | A reader's guide to the best of epic fantasy (Sept. 5, 2003)`
J.R.R. Tolkien and C.S. Lewis, a Legendary Friendship | A new book reveals how these two famous friends conspired to bring myth and legend—and Truth—to modern readers (Aug. 29, 2003)
The Ten Commandments, How Deep Our Debt | The words of the Decalogue run like a river through not only the church but also English and American history. (August 22, 2003)
Muscular Christianity's Prodigal Son, College Sports | In the wake of a basketball scandal at a prominent Christian university, we take time to remember the Christian roots of college athletics. (August 15, 2003)
Palestinian Christians, Strangers in a Familiar Land | They've called the Holy Land home for centuries, but they've never actually governed themselves. (August 8, 2003)
Liberia's Troubled Past—and Present | The nation's history explains why the current conflict succumbs to, yet simultaneously transcends, the stereotype of African tribal wars. (August 1, 2003)
Medical Missions' African Legacy | For generations, missionary doctors have healed body and soul in Africa. (July 25, 2003)
European Christianity's 'Failure to Thrive' | Why Christendom, born with an imperial bang, is now fading away in an irrelevant whimper. (July 18, 2003)
Where Have All the Classics Gone? | These days it's a triumph when a movie is simply inoffensive. But we can do better than that (July 11, 2003)
From Beer to Bibles to VBS | How America got its favorite summer tradition. (July 3, 2003)
The African Lion Roars in the Western Church | Anglican liberals are fretting, conservatives rejoicing, and all are scrambling to their history books: whence this new evangelical force on the world scene? (June 27, 2003)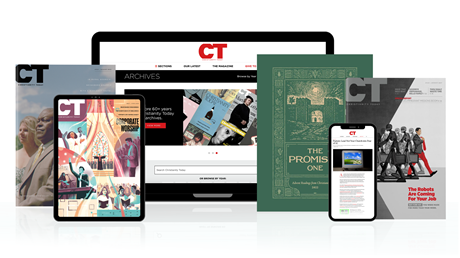 Subscribe to Christianity Today and get access to this article plus 65+ years of archives.
Home delivery of CT magazine
Complete access to articles on ChristianityToday.com
Over 120 years of magazine archives plus full access to all of CT's online archives
Subscribe Now
Six 'Faith-based' Stories and a Moral
Six 'Faith-based' Stories and a Moral