true
It's been almost a month since Film Forum included any updates on media coverage of The Passion of The Christ. But we had to call attention to Peter Bart's article in Variety, in which he points out the obvious—that The New York Times' coverage of the days prior to The Passion's release, their reviews of the film, and their stunned observance of its success were examples of severely biased reporting, a parade of outrageous and unjustified attacks on Mel Gibson and his movie. The paper might have changed its slogan temporarily to "All the character assassination and inflammatory speculation that's fit to print."
Bart recounts the Times' early declaration that The Passion was "an outrage and threat to social harmony."
He reminds us how the paper highlighted "the predictions of unnamed power brokers in Hollywood that Gibson would be blackballed by the film community, his career ruined."
He responds that readers deserve a major "correction" from the paper. "Despite the fact that Frank Rich compared it to 'a porn movie,' by the end of its run The Passion could rank second only to Titanic as the highest-grossing movie ever made. Further, there have been no signs of anti-Semitic outbreaks tied to the film's release—not even in places like France and Argentina. As for Gibson, there's no indication that his viability as an actor or filmmaker has been compromised. The Passion [is] a movie, not a political tract. It represents Gibson's vision, not his rhetoric. As such, it deserves to be judged as art, not prejudged as ideology."
Hear hear. And let's not stop at The New York Times. As years go by, people will look back at what the majority of the critical elite in America had to say upon the release of Gibson's film and shake their heads. The Passion made most critics blather on like fools and forget their responsibility—to bring their readers into a deeper appreciation of art and to help draw distinctions between excellence, mediocrity, and trash. Most critics who typically exhibit discernment and vision in examining art proved themselves susceptible to paranoia, fear, prejudice, and hysteria in this case.
The Passion, while flawed, was not propaganda, nor was it politically motivated or aimed at humiliating Jews. It was one man's expression of deep religious conviction through an arresting and excruciating confrontation with the gory and mysterious details of Christ's death. How telling that those who condemned it for being agenda-driven could not agree on the nature of that agenda; Gibson's work was too multi-layered to be so easily dismissed. He focused on one powerful chapter from the greatest story ever told, manifested with skill and determination. The Passion may not be the best artistic portrayal of Christ ever made. And as a film, it may lack subtlety or err on the side of excess. But it reflects myriad truths and brings to mind a world of essential questions. They're the questions moviegoers will still be revisiting in ten, twenty, fifty years, when many of this year's other critical favorites (The Girl Next Door?!) are gathering dust on the shelves of the local Blockbuster.
Vengeful terminator as Christ-figure?
Man on Fire, written by Brian Helgeland (The Order, Mystic River) is set in Mexico City where, we are told, a kidnapping occurs every 60 seconds and 70 percent of the victims are never seen again. Into this context comes John Creasy (Denzel Washington), a former U.S. counterterrorism agent and a deeply wounded alcoholic. He's the kind of believer who meditates on bullets as much as he does the Bible.
He takes a job as a bodyguard for young Pita (Dakota Fanning of Uptown Girls), who begins to break down the hard shell in which Creasy lives. But a sudden trauma causes him to harden his heart again and commit a spree of violent killings, determined to eliminate the villains who have struck at his employers. He ends up finding his enemy's weakness, and makes one last desperate choice to make things right.
Most critics both religious and mainstream see the obvious Christ-figure symbolism of Creasy's decisions. Most reviewers also find the glorification of bloody vengeance that fills the first two hours of the film rather dissonant with that symbolism. They're also put off by the film's relentless stylistic flourishes.
I found the assault of editing trickery and oversaturated colors to be extremely distracting. It felt as if the director was worried his story and his stars would not hold my attention. But I was far more troubled by the revelry in our hero's acts of punishing violence. We are right to hope for justice when something is done wrong. But those sinners who have experienced grace should never relish the sight of flawed human beings being spectacularly destroyed. We should attend to the execution of justice with solemn humility, grieved by the evil of which we are all capable, sobered by its consequences. My full review is at Christianity Today Movies.
Michael Elliott (Movie Parables) praises the actors, but dislikes the excessive style: "The performances and the story are involving enough without the gimmicks."
David DiCerto (Catholic News Service) calls it "a migraine-inducing exercise in self-conscious filmmaking. Though suffused with Catholic imagery and scriptural references, the film's treatment of the characters' faith and moral musings remain woefully superficial. The film would have been infinitely more interesting had it developed the story along this line of soul-searching, rather than kowtowing to moviegoers' blood lust."
Loren Eaton (Plugged In) says viewers need to notice both sides of this film. "Scott has created a quite literally thrilling thriller … [and] infused Man on Fire with heart. It extols familial love and undying loyalty. It treats the Bible with respect. And it maintains that even the most hopeless people can find healing." But is it biblical? Not so much, since it "buys into the idea that just restitution can be had through violent vigilantism."
Kevin Miller (Hollywood Jesus) shares his personal response to Creasy's revenge quest. "I know I felt more than a little gratified when Creasy vowed to kill whoever was responsible. … However, as I observed Creasy's transformation from sensitive loner to hardened killer, I began to wonder what made him different from the people he was hunting. It made me wonder how often we try to justify our own actions like this—both as individuals and as a nation. If our motives are right, does that mean we can use any means necessary to achieve our ends?"
Melinda Ledman (Hollywood Jesus) sees Creasy as a Christ figure in many ways, but she is also unsure of the film's portrayal of violence. "Vengeance seems acceptable given the circumstances, but it doesn't quite balance the fact that Creasy mercilessly kills people even after they cooperate."
Not everyone thinks the bad outweighs the good in this film. "Despite the horrific violence … the movie also offers a story about sacrificial, Christ-like love," writes Annabelle Robertson (Crosswalk). "The quality of this film is top-notch, with excellent acting, a fast-paced plot and haunting cinematography that relies on deep grays and blues to convey the sordidness of the story. The violence, however, is shocking, and not to be discounted." She describes the film's conclusion as "beautifully, though tragically, redemptive."
Carole McDonnell (The Film Forum) is still thinking through the issues presented by the film. "This is the first time in recent memory that I've seen a movie in which revenge and redemption are so closely linked. I'm still trying to see how this revenge/redemption business fits in with my moral compass. I only wish this very good flick didn't quite imply that like the proverbial cake, we could have our angry hatred and still have salvation too."
Alias

star leads in

13 Going on 30

In the season finale of TV's popular spy series Alias several months ago, agent Sidney Bristow, played by Jennifer Garner, woke up to discover that she could not account for the last two years of her life. In her first big screen leading role, Garner plays a character who wakes up missing seventeen years.

Garner plays Jenna, a frustrated, geeky 13-year-old who longs to be popular. When she makes a wish (yes, it's that kind of fairy tale) to be "thirty and flirty and thriving," she wakes up in the body of her future 30-year-old self. But this kind of success is not all it's cracked up to be, and Jenna has a lot to learn before returning to her 13-year-old state—if that return journey is even possible.

Mainstream critics have high praise for Garner, but offer ho-hum reviews for the movie. Most religious press critics appreciate some of the film's themes. Some are enthusiastic, while others voice reservations.

LaTonya Taylor (Christianity Today Movies) writes, "This is a lighthearted, warm-and-fuzzy flick for fans of romantic comedy that leaves you rooting for the triumph of its newly enlightened heroine." But she adds, "It would be a bit better (and more family-friendly) without the sprinkling of low-grade, corny, sexual innuendos."

Misty Wagner (Christian Spotlight) says, "I loved this movie! It was fun, entertaining, and left me with a great feeling. [It's] a beautiful story of forgiveness, second chances, accepting others for who they are, and making the best out of wherever we are in life. If you feel your teen can handle the objectionable content in this film, then I encourage it, because it has lessons and realities that today's youth need to learn."

Andrew Coffin (World) writes, "It will probably surprise no one that 13 Going on 30 is not in the least bit surprising. The film succeeds in being mildly amusing, but it's not terribly appropriate for the preteen audience most likely to appreciate its mild humor and simplistic (though worthy) lessons about being nice to others and true to oneself. Although relatively subdued by PG-13 standards, there's quite a bit of sexual innuendo in the humor."

Tom Neven (Plugged In) calls it "a sweet, humorous movie. Jenna's naïveté is refreshing, and her reaction to the sexual obsession of the people of 2004 is a breath of fresh air. Today's teens can learn lessons in appreciating what they have today while watching the potential outcomes of certain life choices." But he finds himself in a quandary regarding how to advise parents: "As the father of both a teenage daughter and son, I'd like them (especially her) to learn [the film's] positive lessons, but I'm not sure they won't also take away the idea that growing up naturally includes live-in relationships and male stripteases."

David DiCerto (Catholic News Service) also cautions parents that there is some "tame sexual humor." But he calls the film "a sweet, emotionally satisfying fairy tale. Garner displays a surprisingly honed sense of comic timing, which helps her maintain the convincing illusion of an ungainly girl trapped in a grown-up's body."

Michael Elliott (Movie Parables) says Garner gives "a surprisingly enjoyable comedic performance. She somehow managed to capture that strange and nebulous age that straddles childhood and adulthood. She is engaging, vulnerable, and delightful as the thirteen year old trapped in a thirty year old body. As a romantic comedy, 13 Going on 30 delivers big time."
Sexual predator
Young Adam

loses his soul

Director David MacKenzie turns in an adaptation of Alexander Trocchi's novel Young Adam this week. He's got a big star: Ewan McGregor (Big Fish, Moulin Rouge, the Star Wars prequels). His cinematographer captures a convincingly dreary and dark context along the canals between Glasgow and Edinburgh. But the story, which follows a young Scottish bargeman preoccupied with seducing women and then ruining their lives, is dispiriting. Worse, it is told with an excess of explicit and unnecessary sex scenes.

Some mainstream critics find meaning in this dark and bitter storytelling, while others find it merely pretentious. Most religious press critics have yet to report on the film, but the two that have find it dispiriting and excessive in its depictions of sex devoid of love.

David DiCerto (Catholic News Service) says it's "the kind of morally gray film that the cognoscenti love to heap laurels on. But underneath its fashionably somber nihilism, faux literary weightiness, and exploitative eroticism, the movie is little more than an ugly exercise in existential gloom that suffocates under the weight of its own self-importance."

J. Robert Parks (Looking Closer) calls it "a tawdry affair. The sex never feels exploitive or inappropriate, but its sheer prevalence interrupts both the plot and the character development. Furthermore, the social dimensions of the movie—the exploration of lower-class Scotland—are completely ignored in the film's second half."
Remember
The Alamo

?

John Lee Hancock's film The Alamo continues to disappoint at the box office. This week, Nicole LeBlanc (Christian Spotlight) says, "I was pleasantly surprised to find that The Alamo contains military violence without resorting to gross brutality that is all too commonly found in films these days." But she adds, "A few of the speeches were weak, and some pieces of the musical score were lacking. The film would have been stronger and more captivating if both had been more powerful."

Next week:Mean Girls, Laws of Attraction, Godsend and Bobby Jones: Stroke of Genius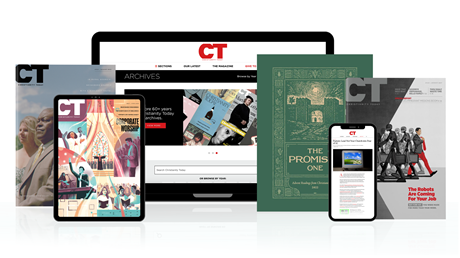 Annual & Monthly subscriptions available.
Print & Digital Issues of CT magazine
Complete access to every article on ChristianityToday.com
Unlimited access to 65+ years of CT's online archives
Member-only special issues
Subscribe
Taking the NY Times to Task
Taking the NY Times to Task