Oakland-based lawyer and bioethics author Wesley J. Smith is a senior fellow at the Seattle-based Discovery Institute and a special consultant for the Center for Bioethics and Culture. His latest book entitled Consumers Guide to a Brave New World, published by Encounter Books, is due out in October.
How would you describe Proposition 71, the California bond initiative?
It would pay for human cloning research and embryonic stem cell research with billions in borrowed money. In California if you have a big enough budget, you can basically buy a law. That's what's being attempted here. Proponents are asking Californians to borrow $6 billion (including interest) in a state that's already in financial ruin—where our senior citizens are having services cut, roads are not being repaired, schools are closing, children's health care needs of today are not being met—and we're supposed to go deeper into debt for this speculative biotechnological research.
Who is poised to benefit the most from this referendum?
Biotech corporations and research centers and universities that will be paid with borrowed money to conduct research into human cloning and embryonic stem cells. Moreover, Proposition 71 is a proposed constitutional amendment! If it passes, the biotech industry and affiliated researchers will have a constitutional right to receive borrowed money in the amount of $295 million per year for 10 years. This is one of the most audacious corporate welfare money grabs I have ever seen. Only another constitutional amendment could alter its terms.
What do you believe is at stake?
Much is at stake, actually. First, whether the State of California should borrow money to pay for biotechnological research at a time when essential services are being pared to the bone. Second, I think democratic principles are at risk here. I question whether the public will actually understand the terms of this complicated measure or that it seeks a constitutional right to conduct research into human cloning, or somatic cell nuclear transfer (SCNT) as it is known scientifically. For example, the initiative doesn't tell voters that SCNT is the same procedure used to make Dolly the cloned sheep. Nor does it detail that the act of SCNT is the same whether done to make a baby or to conduct research on a cloned embryo. This law wouldn't fund reproductive cloning, which is currently against California law in any case. The measure says the cloned embryo initially would have to be destroyed in 12 days. The key word is "initially," because it implies that time can be lengthened later on. But much of the information that might be acquired from the state-funded research into SCNT is the same that would be needed to do reproductive cloning, and once that data got out, it could be used by others to bring cloned babies into the world.
It is a huge scam these folks are trying to play. They are saying it's not about cloning but only allows somatic cell nuclear transfer. But SCNT is the act of cloning. It creates a new human embryo through "asexual" means. After that there are no other acts of cloning, only a determination as to what to do with the new human life that has been created. The initiative obfuscates this point to the point of unintelligibility. This is just an attempt to fool the people of California so that they will not understand what they are being asked to authorize.
Here's another example: [Referendum supporters] don't call an embryo an embryo. They call it "a surplus product of in vitro fertilization." This whole thing is so disingenuous.
And media doesn't usually catch that there's been a complete bait and switch. The topics keep changing and the definitions keep changing, and the media haven't kept people apprised of the shifting definitions, which in my view is a strategy to hide and obfuscate what the biotechnology boosters are really after. People should have the factual information on what we're actually being asked to vote upon, presented in a simple and accurate way that they can understand.
Another big scam initiative supporters are pushing is that they claim it will almost pay for itself by lowering health costs. But these supposed cures, if they come, are many years away. Moreover, the initiative sponsors want taxpayers to borrow money to pay for research because private investors aren't coming forward. Think about it. If this were really likely to bring about cures any time soon, you would have to beat venture capitalists away with a stick. But the money to pay for cloning and embryonic stem cell research is not flowing from the private sector, so they want the public to pay for the research with borrowed money that is not accountable to the legislature or to the governor. People are going to be convinced to borrow money that this state can't afford on the false promise that we'll see material benefits. It's a corruption of science. Basically, they are trying to buy a law for themselves. This is the kind of big money power grab, that, if it benefited the oil industry or big pharmaceuticals, or any other special interest other than biotech, the media would be howling.
Who is opposing it?
You have strange political bedfellows, including feminists, environmentalists, doctors, the Catholic Church, and pro-lifers—including people who disagree with each other on abortion. The stereotype is that only religious conservative pro-lifers oppose this. That's flat-out false.
What do you believe the referendum's ethical impact would be?
A constitutional right to engage in human cloning research could lead to reproductive cloning by teaching the world how to reliably make human embryos via somatic cell nuclear transfer. Once that information gets out, the day of the cloned baby will be much closer than it is today. This is important because human cloning is an essential technology to learn how to genetically engineer our progeny, that is, to create designer babies. That is an obvious ethical issue. But here is one that concerns me even more and which has received less attention: When you pass laws authorizing the creation of human life that must be destroyed, you transform that form of humanity into a commodity. Even nascent human life should not be dehumanized in this way. It changes the way we think about what it means to be human and why being human is important. The question we should all be pondering in these debates, I believe, is: "Does human life matter, simply because it is human?" This measure, says "No!" It says, literally, that IVF embryos in excess of need are "products" and that we can create some human lives as an experiment to be destroyed. It's a tremendous objectification of human life. Allowing human cloning is one of the most dangerous biotechnologies for this society, both because of what it will lead to and what it does to our values. And the money we're diverting into human cloning could be put into adult tissue research that are already in early human trials. But this is constantly ignored. Using a patient's own tissues is not the right source of cures, apparently.
Supporters claim that the measure does permit the funding of adult stem cell research. But they don't mention that Proposition 71 explicitly requires that funding "priority" be given to areas of research that the federal government doesn't fund, meaning human cloning research, or which has policy limitations, meaning embryonic stem cell research. So in the [California state] constitution, priority would have to be given to funding these most controversial areas of research, since the federal government abundantly finances research into adult stem cells and other nonembryonic sources, such as stem cells found in umbilical cord blood.
More on Wesley J. Smith is available from the Discovery Institute.
Christianity Today's Life Ethics page has more on stem cells, including:
Weblog: Britain Starts Cloning | Send in the clones (Aug. 12, 2004)
When Does Personhood Begin? | And what difference does it make? (June 18, 2004)
Cloning Report Breeds Confusion | Does it open the door to 'therapeutic cloning'? (May 13, 2004)
A Law That Shouldn't Be Cloned | New Jersey legalizes human cloning for research (Feb. 10, 2004)
Federal Funds Approved to Study Fetal Stem Cells | Life ethics advocates troubled by the discrepancy that allows days-old embryos more protection than more mature fetuses. (July 10, 2002)
Two Cheers | President Bush's stem-cell decision is better than the fatal cure many sought. (Aug. 10, 2001)
Britain Debates Cloning of Human Embryos | Scientists want steady stream of stem cells for "therapeutic" purposes. (Nov. 22, 2000)
Beyond the Impasse to What? | Stem-cell research may not need human embryos after all. But why are we researching in the first place? (Aug. 18, 2000)
Articles elsewhere on Proposition 71 include:
Calif. Voters Divided on Stem Cell Research | Voters in California are almost evenly divided on a ballot measure that could approve state funding for stem cell research, according to a poll released on Sunday. (Reuters, Aug 15, 2004)
Stem cell issue shows partisan division | Voters are sharply divided on a $3 billion bond issue on the November ballot to fund stem cell research, according to a statewide Field Poll. (San Diego Union Tribune, August 15, 2004)
Stem Cell Debate Is Getting Personal | It's not a religious thing. I respect everyone's faith, but this is for humanity. If they think we're killing people, I say, 'You're killing me.' " (Dana Parsons, Los Angeles Times, August 13, 2004)
Governor in tight political spot on stem cells | Gov. Arnold Schwarzenegger appears to be in a tight political spot over Proposition 71, a bond measure that would provide $3 billion for human embryonic stem cell research in California. (Associated Press, Aug. 06, 2004)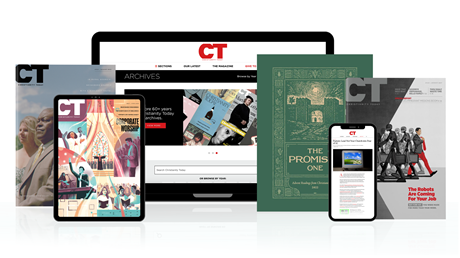 Subscribe to Christianity Today and get access to this article plus 65+ years of archives.
Home delivery of CT magazine
Complete access to articles on ChristianityToday.com
Over 120 years of magazine archives plus full access to all of CT's online archives
Subscribe Now
The Proposition 71 Stem Cell Scam
The Proposition 71 Stem Cell Scam