The Library of Congress has awarded its annual John W. Kluge Prize in the Human Sciences to Yale University historian Jaroslav Pelikan (along with French philosopher Paul Ricoeur). The $1 million award focuses on those academic disciplines not covered by the Nobel prizes and have only been awarded since 2003.
In 1990, historian Mark Noll of Wheaton College wrote a brief profile of Pelikan for Christianity Today. This year, Noll was also honored by the John W. Kluge Center at the Library of Congress, serving as the Cary and Ann Maguire Chair in American History and Ethics.
The office of Jaroslav Pelikan holds few clues to explain what has made him what he is: perhaps the foremost living student of church history. In his old, high-ceilinged office, an open semicircular arrangement of chairs suggests friendliness and availability to students. On the wall is a painting of a pelican, and around the edges of the room are an old briefcase, cardboard boxes, and piles of books laid in convenient stacks. But telltale signs of hobbies or outside interests (like an old clarinet or a tennis racket in the corner) are absent. Two computers—one a laptop on his desk—are the only obvious concessions to modernity.
It is just as hard to tell much about the Sterling Professor of History at Yale University from the way he looks. He wears standard-issue academic garb: a gray flannel jacket with a charcoal suede vest, and rubber-and-leather boots from L. L. Bean. He is congenial, and as he talks he makes occasional eye contact with his interviewers, but just as often peers at the ceiling and the book shelves around him as he swivels and rocks back and forth in his desk chair.
None of these things provide the key to Jaroslav Pelikan, for he is nothing more nor less than what he is advertised to be—a scholar and teacher of church history. Many think he is the best there is. He has chronicled the history of Christian doctrine (in a recently completed five-volume work) on a scale no one has attempted in the twentieth century. To understand what you see, you have to keep in mind Pelikan's singular commitment to his vocation.
Even when Pelikan talks about his early life, the stories and anecdotes all relate to his preparation for the tasks of a scholar.
Pelikan will tell you, for instance, about the problem he created for his parents, Anna and Jaroslav Jan Pelikan, in the summer of 1926, when he was two-and-a-half-years old, growing up in Akron, Ohio. He had, his mother's memoirs recorded, taught himself to read and now wanted to write. But he could not yet manage a pen or pencil. "My father," recalls Pelikan, "took me over to a typewriter and showed me how it worked." The result, much to the later consternation of his teachers, was a child who could type better than he could write.
By the time Pelikan started school, his parents had given him more than an introduction to the typewriter. The home was a veritable hothouse of languages, an environment guaranteed to give the young Jaroslav Pelikan what he needed to develop prodigious linguistic skills. Slovak and English were spoken in his home, as was German, which his father taught the young Pelikan before he was six years old. His mother, in turn, introduced him to Serbian. "My mother learned Serbian," Pelikan recalls, "growing up in Serbian-speaking territories [what is now Yugoslavia]. That meant that I learned the Cyrillic alphabet. From that, learning to read Russian was not hard. I started doing that at fifteen or so." And in the Lutheran parsonage of his childhood (his father was a Slovak Evangelical Lutheran pastor), there were texts of ancient languages—Latin, Greek, and Hebrew—that Jaroslav, Jr., began to study as a young adolescent.
The household's religious environment also shaped Jaroslav's later scholarly focus. He remembers both his father and grandfather as "orthodox Lutherans, in one way or another," firmly committed to the classical teachings on the Trinity, justification by faith, and the sacramental presence of Christ in the Lord's Supper as articulated by the Lutherans' Augsburg Confession. Both were energetic pastors, the grandfather an early president of the Slovak Evangelical Lutheran Church (which came to have close ties with the Lutheran Church-Missouri Synod). Pelikan remembers his father as "an Easter Christian, an enabler, a man whose enthusiasms were contagious, and a great preacher in several languages."
Pelikan breezed through school, finding a "tonic" in his schoolwork at Lutheran Church-Missouri Synod parochial schools. His childhood introduction to languages gave him what he calls "a fantastic early start" in his scholarly pursuits. Indeed, he completed a bachelor of divinity degree from the Missouri Synod's Concordia Theological Seminary and a Ph.D. from the University of Chicago before he was 23. Even by then he had intimations of his life's work, and a growing sense of personal destiny.
By the time he was 30, Pelikan had published his first book, From Luther to Kierkegaard, and was well launched on a distinguished teaching career that has taken him from Valparaiso University in Indiana and Concordia Theological Seminary in Missouri to the University of Chicago and then, in 1962, to .Yale. In addition to his teaching, Pelikan read omnivorously, wrote constantly, and lectured widely. As editor, he helped produce editions of Luther, Chrysostom, Augustine, and Erasmus and advised in the production of several large-scale religious encyclopedias. As author he wrote several books on Luther, and he turned lectures into books on Augustine, Bach, and several ancient fathers. His Jesus Through the Centuries, richly illustrated with reproductions of paintings and icons of Jesus, has been his most popular.
All the while, Pelikan never lost sight of the ultimate goal of writing a history of doctrine on a grand scale. "There was never a day I didn't think about it—whether I was fishing or whatever."
Even family life was affected. Pelikan recently wrote sons Martin and Michael, both of whom work at local outlets of National Public Radio, and daughter Miriam, a classics student at Berkeley. "I wrote to thank them," he says, "not just for being there [through the long years of my writing], but for their understanding and forgiveness along the way. They admitted that there were times when they wished I had been more available than I was. But they also said they believed that it meant something to them that their father was engaged in a mission important beyond the personal gratification. One of my sons said, 'If you had spent those years making lots of money, it would have been something different.'"
In 1989 the University of Chicago Press issued the fifth and final volume of Pelikan's epic work, The Christian Tradition: A History of the Development of Doctrine. The first of its four predecessors, The Emergence of the Catholic Tradition (100-600), had been published nearly two decades before. The five volumes (dedicated to his wife, Sylvia) were devoted to an apparently simple subject—the history of what, in its 20 centuries, "the church of Jesus Christ has believed, taught, and confessed on the basis of the word of God."
Doing that, however, took Pelikan more than 2,100 pages, 80 pages of references to modern authorities, and another 100 pages for "authors and texts" in their original languages (Latin, Greek, German, French, Russian, Danish, Czech, and Swedish, for starters). The volumes treat the whole sweep of doctrinal history, from early Catholicism and Eastern Orthodoxy to the Reformation and modern era. There has been nothing like it since the controversial German church historian Adolf von Harnack published his multivolume history of Christian dogma in the 1880s.
"For those who believe that you don't need tradition because you have the Bible," he reflects, "The Christian Tradition has sought to say, 'You are not entitled to the beliefs you cherish about such things as the Holy Trinity without a sense of what you owe to those who worked this out for you.' To circumvent Saint Athanasius on the assumption that if you put me alone in a room with the New Testament, I will come up with the doctrine of the Trinity, is nave. So for these readers I have tried to provide a degree of historical sophistication, which is, I believe, compatible with an affirmation of the central doctrines of Christian faith.
"And then, partly because of how I earn my groceries, but also because of my sense of where the gaps are in our contemporary world, I've written it for those who may not believe much of Christianity, and who are ignorant. I want them at least not to be ignorant, whatever they end up believing."
The concern that others understand what he is saying is central to Pelikan's life. For several years he has taught Yale freshmen in a special seminar designed to introduce them to the treasures of great books and the rewards of careful writing. "I write for people like these students," Pelikan says, "who love language, who love ideas, who don't know a great deal, but who are willing to learn and work hard."
Could Pelikan have accomplished what he has done if he had stayed in Christian institutions? Most churches or seminaries, Pelikan reflects, remain fundamentally ambiguous about scholarship. Many are eager to use it when it reinforces their settled positions, but they become skittish when it moves into uncharted areas. "You have to give the church what it needs, not what it wants. And in order to do that you may have to leave its payroll. It hurts me to say this because I want to be part of a church where that doesn't have to be said. But show me one where it is not true."
Yet Pelikan's academic career, carried on largely outside of Christian institutions, has not lessened his commitment to the faith. Although he has long worked in the precincts of the secular university, he continues to uphold, as the title of one of his earlier books puts it, The Finality of Jesus Christ in an Age o f Universal History.
Pelikan's life work has given him a way to combine his scholarly passion with just such convictions about the enduring reality of Christian orthodoxy. "I came to think that the same historical study which relativized absolute claims at the hands of Harnack could also reintroduce the next generation to the valid and continuing affirmations of the Christian tradition. Historical study became for Harnack the bridge by which he crossed from the orthodox Christian tradition to a kind of reductionist liberalism. At some point I discovered the bridge was a two-way street. As someone who had come from the tradition and lived in the tradition and never really seriously contemplated believing any other way, I became not just a curiosity in a museum but a spokesman for what was still a living reality."
The road for Jaroslav Pelikan from the manse of a Slovak-American Lutheran minister to his professor's office at Yale has been a long one, full of hard work and high honor. But it has been a straight road. At its beginning, and now, at perhaps its summit, the road has led Pelikan from words to the Word and back again.
This article first appeared in the September 10, 1990 issue of Christianity Today.
More Christian history, including a list of events that occurred this week in the church's past, is available at ChristianHistory.net. Subscriptions to the quarterly print magazine are also available.
Related Elsewhere:
Pelikan joined the Orthodox Church in America on March 25, 1998.
Christian History Corner, a weekly column from the editors and writers of Christian History & Biography, appears every Friday on Christianity Today's website. Previous editions include:
The Real Twelve Days of Christmas | Celebrating Christ's birth with saints of the faith during the actual Christmas season. (Dec. 23, 2004)
Compassionate in War, Christian in Vision | The man behind the Geneva Conventions knew the heights of success and the depths of failure. (Dec. 16, 2004)
A Problematic Mission? | Would the Spanish friars of California's historic missions have lobbied for the separation of church and state? (Dec. 10, 2004)
Advent: Close Encounters of a Liturgical Kind | 'Tis the season when even the free-ranging revivalist pulls up a chair to the table of historic liturgy. (Dec. 03, 2004)
Shaken Up by the Peace-Lovers | A trip through Pennsylvania's Lancaster County. (Nov. 24, 2004)
Eat, Drink, and Relax | Think the Pilgrims would frown on today's football-tossing, turkey-gobbling Thanksgiving festivities? Maybe not. (Nov. 19, 2004)
Article continues below
Now That You've Got Political Power, What Are You Going to Do with It? | History offers warning and hope for our modern-day Christian populism. (Nov. 12, 2004)
How to Pray for Our Troops | This Veteran's Day, let's commend our men and women of the services to the God who brings good even from the most evil circumstances. (Nov. 05, 2004)
Reports of the Revival | The Confederate camp became "a school of Christ." (Nov. 05, 2004)
Courting the Catholic Voter | A new book tells the fascinating story of how America's Catholics decided past elections. (Oct. 29, 2004)
The Politicians' Patron | As the Roman Catholic "patron saint of politicians," Thomas More is not quite a model for all seasons. (Oct. 22, 2004)
The Vanishing Act of the Church in Turkey | A church worn down by Christian rivalry and Islamic jihad hangs on in the land of Nicea and Ephesus. (Oct. 15, 2004)
Cockroaches and the Nicene Creed | To an accompaniment of whale songs, the worshippers glory in God's creation; there's no service quite like the annual blessing of the animals at St. John the Divine. (Oct. 08, 2004)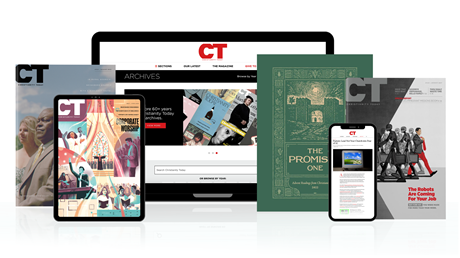 Subscribe to Christianity Today and get access to this article plus 65+ years of archives.
Home delivery of CT magazine
Complete access to articles on ChristianityToday.com
Over 120 years of magazine archives plus full access to all of CT's online archives
Subscribe Now
The Doctrine Doctor
The Doctrine Doctor